Weather and climate hit the top spot for news this Wednesday morning as winter storms coast-to-coast are wreaking havoc across the board — here in California's Central Valley we're in the middle of heavy rains and high winds.
Looks to be the theme for the next three/four days.
And is epic — via The Washington Post this morning:
Setting off the extreme weather is a strong low pressure system diving southeast along the Pacific Coast.
Southwesterly winds ahead of it have dragged ashore a fire hose of moisture, with an atmospheric river aimed Wednesday morning at areas south of the Bay Area.
This phenomena is a narrow funnel of extreme moisture content that, in this case, is contributing to high precipitation rates and snowfall totals across the West.

A strong atmospheric river such as the one involved in this event can move an amount of water vapor that's nearly equivalent to 7.5 to 15 times the average flow of water at the mouth of the Mississippi River, according to a National Oceanic and Atmospheric Administration fact sheet.
Our future in a wet nutshell with heat the source:
Snowfall in the west is making headlines but rain in the lower elevations will bring a flash flood threat as well. A moderate risk is in effect for excessive rain and flash flooding today in Central California, especially around recently burned areas. https://t.co/OQbq2lFu1I pic.twitter.com/fARSMloXki

— National Weather Service (@NWS) January 27, 2021
Climate change and these 'atmospheric rivers' go hand-in-hand as our planet continues to experience global warming — per NASA in May 2018:
"The results project that in a scenario where greenhouse gas emissions continue at the current rate, there will be about 10 percent fewer atmospheric rivers globally by the end of the 21st century," said the study's lead author, Duane Waliser, of NASA's Jet Propulsion Laboratory in Pasadena, California.
"However, because the findings project that the atmospheric rivers will be, on average, about 25 percent wider and longer, the global frequency of atmospheric river conditions — like heavy rain and strong winds — will actually increase by about 50 percent."
As been said, climate change makes everything worse. Bigger, stronger hurricanes/tornadoes, more drought and spiraling temperatures. And even more disheartening is a key factor to aiding carbon dioxide flow is being fucked: 'But scientists have identified an unsettling trend – as levels of CO2 in the atmosphere increase, 86-percent of land ecosystems globally are becoming progressively less efficient at absorbing it.'
Fortunately, Joe Biden is in charge, and not what's-his-orange-fuck-name — and today Biden is expected to sign more Executive Orders to bolster plans to fight the climnate crisis.
Among these Orders (via White House Fact Sheet) is one that should have been created a long time ago — Take a Whole-of-Government Approach to the Climate Crisis:
The order formally establishes the White House Office of Domestic Climate Policy — led by the first-ever National Climate Advisor and Deputy National Climate Advisor — creating a central office in the White House that is charged with coordinating and implementing the President's domestic climate agenda.

The order establishes the National Climate Task Force, assembling leaders from across 21 federal agencies and departments to enable a whole-of-government approach to combatting the climate crisis.
A good starting point: '"This is the single biggest day for climate action in more than a decade, and what makes it all the better is that President Biden and Vice-President Harris are just getting started," said Gene Karpinski, president of the League of Conservation Voters.'
Yet global warming still waits for no one or anything — per the Guardian this morning:
The planet is hotter now than it has been for at least 12,000 years, a period spanning the entire development of human civilisation, according to research.

Analysis of ocean surface temperatures shows human-driven climate change has put the world in "uncharted territory", the scientists say. The planet may even be at its warmest for 125,000 years, although data on that far back is less certain.

The research, published in the journal Nature, reached these conclusions by solving a longstanding puzzle known as the "Holocene temperature conundrum."
Climate models have indicated continuous warming since the last ice age ended 12,000 years ago and the Holocene period began.
But temperature estimates derived from fossil shells showed a peak of warming 6,000 years ago and then a cooling, until the industrial revolution sent carbon emissions soaring.
…
"We demonstrate that global average annual temperature has been rising over the last 12,000 years, contrary to previous results," said Samantha Bova, at Rutgers University–New Brunswick in the US, who led the research.
"This means that the modern, human-caused global warming period is accelerating a long-term increase in global temperatures, making today completely uncharted territory. It changes the baseline and emphasises just how critical it is to take our situation seriously."
Joe at least does rake the situation seriously…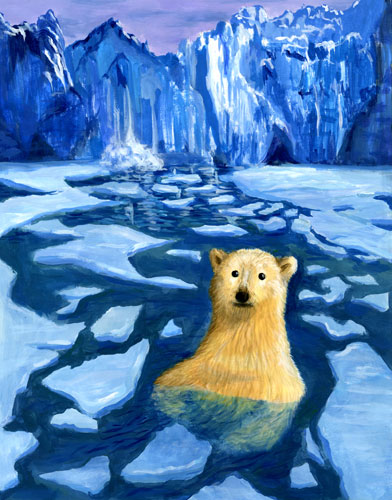 (Illustration found here).