A major problem in Amerca right now is the Republican Party. They're all assholes. As a nation we're facing a massivce health event — COVID-19, whch has already claimed 550,000 American lives in just a bit more than a year — with the way-added weight of the economic fallout off the virus (770,000 unemployment claims this past week) and not one GOP vote for any relief.
Instead of actual help for millions in need, Republicans went-off in a blather about Dr. Seuss books.
This morning, another pissant whine from Rand Paul of Kentucky (MoscowMitch's Senate mate, so there's some explanation) about a simple science-induced factor of wearing masks even after being vaccinated — Paul tried to get snotty with Anthony Fauci and ended up looking the asshole turd:
Sen. @RandPaul: "If we're not spreading the infection, isn't it just theater? You have the vaccine and you're wearing two masks, isn't that theater?

Dr. Anthony Fauci: "Here we go again with the theater. Let's get down to the facts."

Full video here: https://t.co/61RnSUvayG pic.twitter.com/xDWnCuFjjO

— CSPAN (@cspan) March 18, 2021
A contest between real 'theater' of the imbecilic and reality of an out-of-control pandemic with a shitload of terrible side issues — via BusinessInsider this morning:
Fauci, the director of the Institute of Allergy and Infectious Disease at the NIH and the Biden administration's chief medical advisor, testified before the Senate Help, Education, Labor, and Pensions Committee, where he and Paul have traded barbs before.

Paul began his question by citing numerous studies proving, he claimed, that people who have previously been infected with the coronavirus have little to no chance of being reinfected.

Paul and fellow GOP Sen. Ron Johnson have both argued, contrary to prevailing guidance from the Centers for Disease Control and Prevention, that they don't need to wear masks or get the COVID-19 vaccine because they've already tested positive for the infection.

"You're telling everybody to wear a mask, whether they've had an infection or a vaccine. What I'm saying is that they have immunity, and everybody agrees they have immunity," Paul said. "What studies do you have that people that have had the vaccine or have had the infection or the vaccine are spreading the infection? If we're not spreading the infection, isn't that just theater? You've had the vaccine and you're wearing two masks, isn't that theater?"

"No, it's not — here we go again with the theater. Let's get down to the facts," Fauci responded, telling Paul that the studies he cited "look at in-vitro examination of memory immunity" and pointing out that the authors "specifically say, 'this does not necessarily pertain to the actual protection, it's in-vitro."
…
"The other thing is that when you talk about reinfection and you don't keep in the concept of variants, that's an entirely different ballgame. That's a good reason for a mask," Fauci said.

Fauci cited Johnson & Johnson's study in South Africa, which found that when people who had been infected with the original "wild type" strain of COVID-19 were exposed, this time to the country's predominant B.1.351 strain, "it was as if they had never been infected before, they had no protection."

But Paul continued to press Fauci on what studies showed "significant" reinfections or hospitalizations from reinfections.

"You're not hearing what I'm saying about variants, we're talking about wild-type vs. variants," Fauci said, adding, that the B.1.1.7 variant is "growing in prevalence" in the United States.
…
In response to a question from Sen. Patty Murray, the committee's chairwoman, Fauci explained that people who are vaccinated against the wild-type strain, for example, "get a certain level of antibody that's specific to a particular viral strain."

"If there's a circulating variant, you don't necessarily have it. You have some spillover immunity to be sure, but you diminish by anywhere from two to eight-fold the protection. So the point I'm saying is that there are variants that are now circulating," Fauci added, citing the B.1.1.7 variant and other concerning variants emerging out of New York and California.
And a humanitarian pop at the end: 'Afterwards, Democratic Sen. Chris Murphy made a point of praising Fauci for "setting an example … that has not been followed by other leaders in this country" by wearing a mask.'
Yeah, right. WTF does Rand and other Republicans hope to gain by these public stunts other than just being assholes with people's health? Really, nothing.
Except protecting racism and coups — per The Washington Post yesterday:
A dozen House Republicans voted against a resolution to award three Congressional Gold Medals to the Capitol Police, the D.C. police and the Smithsonian Institution in recognition of those who protected the U.S. Capitol when it was attacked by a pro-Trump mob on Jan. 6.

The GOP lawmakers, who said they objected to the use of the term "insurrectionists" in the resolution, are: Andy Biggs (Ariz.), Thomas Massie (Ky.), Andy Harris (Md.), Lance Gooden (Tex.), Matt Gaetz (Fla.), Marjorie Taylor Greene (Ga.), Louie Gohmert (Tex.), Michael Cloud (Tex.), Andrew S. Clyde (Ga.), Greg Steube (Fla.), Bob Good (Va.) and John Rose (Tenn.).

"We had to combine it with these editorial comments about the January 6 sequence of events, and then we had to logroll it with this exhibit at the Smithsonian, and … that was a little much for me," Gaetz said after the vote.
…
Earlier Wednesday, Gohmert corralled several other Republicans to support a separate resolution honoring the Capitol Police — one that made no mention of the events of Jan. 6, according to a copy obtained by Politico, but included the names of three police officers who defended the building that day and died in the days that followed.
And another pop at the end:
House Majority Leader Steny H. Hoyer (D-Md.) lashed out at the Republicans who voted against the resolution to award the medals, one of the nation's highest civilian honors.

"It is deeply unfortunate that a number of House Republicans opposed this action as they attempt to erase the events of January 6 and deny the responsibility of a far-right, insurrectionist mob incited by former President Trump," he said in a statement. "Such disrespect for the heroes who courageously tried to protect the American people's Capitol is disgusting."
No matter which direction you turn, a Republican is there with a piece of shit. This mornng, Steve M.summed it up: 'You can look for good Republicans all you want. You won't find them.'
Not a Republican, though…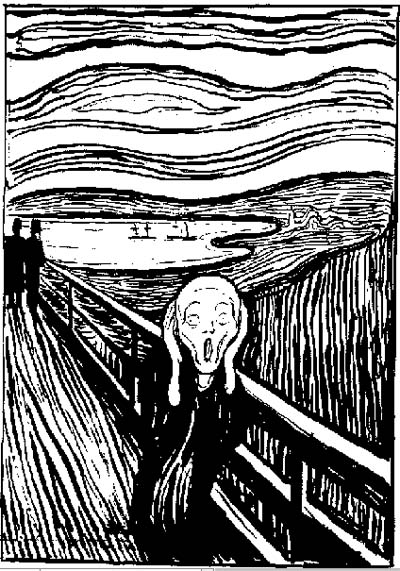 (Illustration: Edvard Munch's 'The Scream,' lithograph version, found here).