The mass murders in the Atlanta area yesterday is another kicker for racism influenced by the nasty, racists years of the T-Rump and his swaddling Republican enablers — fear and cruelty the point:
The three shootings Tuesday that killed eight people, six of them Asian women, has dramatically increased the sense of fear in the Asian community, which has already been experiencing an increase in violence and hate incidents.

Police arrested a suspect in the shootings at three spas in Atlanta and a northern suburb Tuesday night.
Atlanta police said Wednesday that it was too early to determine the motive; Cherokee County Sheriff Frank Reynolds said the suspect told authorities he had a sex addiction.

Even if the incident is not determined to be racially motivated, community leaders and experts say a series of violent attacks this year and a rise in hate incidents are fueled by racist rhetoric about the coronavirus pandemic and are "distinct but related trends."
Yesterday, research from Stop AAPI Hate: 'This report covers the 3,795 incidents received by the Stop AAPI Hate reporting center from March 19, 2020 to February 28, 2021. The number of hate incidents reported to ourcenter represent only a fraction of the number of hate incidents that actually occur, but it does show how vulnerable Asian Americans are to discrimination, and the types of discrimination they face.'
And of course, the T-Rump shit-mouth:
White House Press Sec. says there is "no question" that the Trump administration calling COVID the 'Wuhan virus' has led to uptick in attacks on Asian Americans pic.twitter.com/pcuEfkmYum

— Breaking911 (@Breaking911) March 17, 2021
Last October, the slur off COVID-19 was already well embedded in right-wing bullshit with analysis:of Republican ass-talk (HuffPost):
In a new report, University of Michigan professor Melissa Borja and a team of researchers analyzed tweets from all of this year's presidential, vice presidential and U.S. Senate candidates that mentioned the pandemic or Asian Americans, from January through the end of August.

Trump is by far the "main source of the rhetoric that stigmatizes Asian and Asian American people," Borja said during a press briefing, referring to both the frequency of his tweets and their reach and engagement.

The advocates and researchers stressed that while both parties have criticized the Chinese government and Chinese leaders' initial handling of COVID-19, only Trump and Republicans have actively used scapegoating language, which leads to racism and xenophobia against Chinese Americans and anyone of Chinese or East Asian descent.

For example, 136 of the tweets used or defended racist terms like "Chinese virus."
All of them came from Republicans.

The analysis of the tweets found that Democrats did not use such stigmatizing rhetoric.
And as for any politicians tweeting support for Asian Americans facing racism during the pandemic, all but one of the tweets came from Democrats.

In September, the House passed legislation to condemn and denounce "any and all anti-Asian sentiment in any form," and to urge federal, state and local officials to document, investigate and collect data on any reports of anti-Asian hate incidents.

But what lawmakers thought would be a bipartisan issue, especially given that the resolution was nonbinding and largely symbolic, became a divisive one.
The vote was largely along party lines, and instead of quickly moving to pass the resolution, lawmakers spent more than two hours debating it on the House floor.
Republicans repeatedly dismissed the magnitude of the issue and claimed the legislation was simply meant to attack Trump.
And the whole-wide world knows T-Rump/Republicans are racist assholes — from a UN report, also from last October: 'US authorities, it said, have "utterly failed to take the steps required to detect, monitor, and prevent racist and xenophobic incidents," resulting in a "state of impunity" for hateful chauvinists.
Plus, WTF of a sitty excuse:
yesterday was a worse day for his victims https://t.co/1X766MyCXy

— Mike Drucker (@MikeDrucker) March 17, 2021
Maybe because he's a white guy:
This Asian-American Woman Has Been Having a Year of Bad Days Without Committing Any Hate Crimes: https://t.co/e2KMdlKq4N pic.twitter.com/IfsmUAItRV

— Reductress (@Reductress) March 17, 2021
Links of hate:
Assholes fingered by the T-Rump…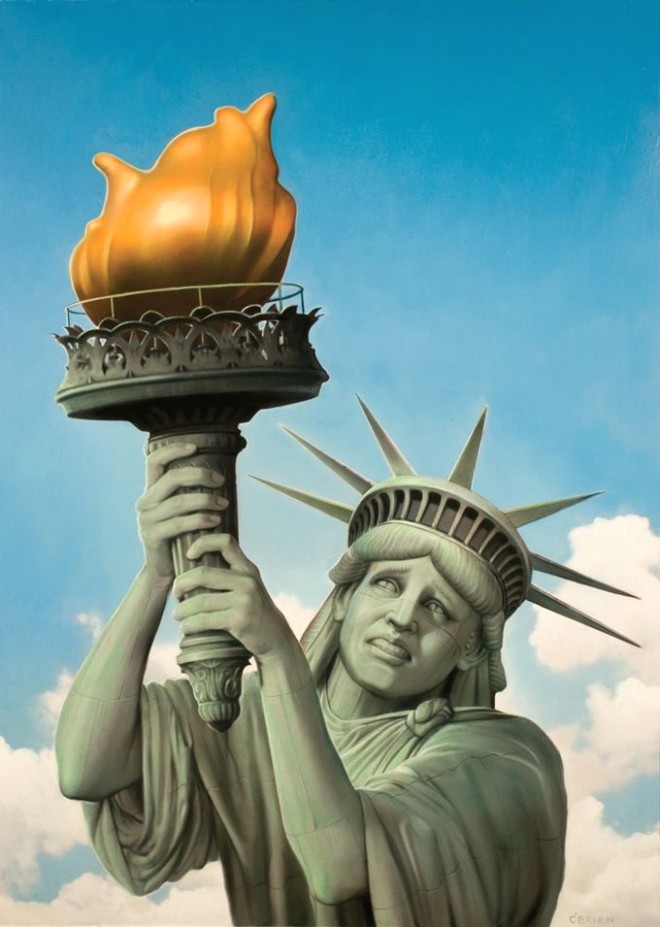 (Image by illustrator and portrait painter, Tim O'Brien, and can be found here).