(Illustration: 'We've Got Your Back,' by Linda Carmel, and found here).
Even as Republicans worry themselves senseless about 'freedoms' with the handling of the COVID pandemic, polling out today reflects a different viewpoint of a goodly chunk of Americans, with citizens enjoying the job Joe Biden and company are doing.
And they think he's way-right-on in the rollout of vaccines:
72% of Americans say the Biden administration has done an excellent or good job managing the manufacturing and distribution of COVID-19 vaccines to Americans. https://t.co/3gTBhWrYT1 pic.twitter.com/C6cfHPyGD2

— Pew Research Center (@pewresearch) April 15, 2021
The data from Pew Research:
Joe Biden approaches the 100-day mark of his presidency with a relatively strong job approval rating and the public continuing to express positive views of the coronavirus aid package passed by Congress last month.
Moreover, nearly three-quarters of Americans (72-percent) say the Biden administration has done an excellent or good job managing the manufacture and distribution of COVID-19 vaccines to Americans.

Currently, 59-percent approve of the way Biden is handling his job as president, while 39-percent disapprove.
Biden's job approval rating has increased modestly from 54-percent in March. Biden's job approval is comparable to several of his predecessors — including Barack Obama and George H. W. Bush — and much higher than Donald Trump's in April 2017.

Views of Biden and his administration highlight several stark contrasts with opinions of his predecessor.
Far more Americans say they like the way Biden conducts himself as president (46-percent) than say they don't (27-percent), while another 27-percent have mixed feelings about his conduct.
Similarly, 44-percent say he has changed the tone of political debate for the better, while 29-percent say he has made the tone of debate worse (27-percent say he has not changed it much).
And a big point:
While an overwhelming share of Democrats and Democratic-leaning independents (88-percent) say the administration has done an excellent or good job in managing the vaccine rollout, so too does a much smaller majority (55-percent) of Republicans and Republican leaners.
An added plus:
Public support for the coronavirus aid package, which Biden signed into law a little more than a month ago, remains robust.
More than twice as many Americans approve (67-percent) than disapprove (32-percent) of the $1.9 trillion aid bill. That is little different from the 70-percent who favored the economic aid package in March, shortly before it was enacted.
Biden's shift on political discourse also has brightened most respondents:
44% of Americans say Biden has changed the tone of political debate for the better, while 29% say he has made the tone of debate worse. https://t.co/mRWVVF9EaY pic.twitter.com/TJ2G4tAkoD

— Pew Research Center (@pewresearch) April 15, 2021
Joe is no T-Rump and the public knows it — via the Guardian this afternoon and a look at the Pew result on political chatter:
One recurring theme of Biden's January inauguration address was unity, following the turbulence and division of the four years of the Trump administration.
Americans, he said, needed to "show respect to one another. Politics need not be a raging fire destroying everything in its path. Every disagreement doesn't have to be a cause for total war."

In terms of his own personal conduct, at least, Biden appears to be making progress.

More Americans (44-percent) say they like the way Biden conducts himself than don't (27-percent), with another 27-percent having mixed feelings.

Meanwhile, 46-percent say Biden has changed the tone of political debate for the better, with 29-percent saying worse and 27-percent seeing little change.

On both questions, the study suggests, there are sizable differences in views of Biden and Trump.
Last year, only 15-percent said they liked the way Trump conducted himself as president, a figure that barely fluctuated through his presidency.
In 2019 and 2020 surveys 55-percent said Trump had changed political debate in the US for the worse.

However, deep partisan divisions remain about how well the panel felt Biden was doing over matters of policy.
Eighty-one-percent of Republicans, or those who lean Republican, disapproved, while 93-percent of Democrats or those who lean Democrat approved.
And more on that last notion:
Job approval ratings of President Joe Biden by party and education subgroups show wider gaps than those of his recent predecessors. https://t.co/p6vHE1qGDa

— GallupNews (@GallupNews) April 15, 2021
Stats from Gallup today:
President Joe Biden's job approval ratings during his first two full months in office show greater divisions by party and educational attainment than those of his recent predecessors.
Gaps in Biden's job approval by gender and race are similar to those of Donald Trump but larger than those of Barack Obama, George W. Bush and Bill Clinton.
…
Biden has averaged 56-percent job approval over this period, similar to the averages for Clinton (55-percent) and Bush (58-percent). Obama had a higher job approval average during the same period of his presidency (64-percent), while Trump's was significantly lower, at 42-percent.

An average of 86 percentage points have separated Democrats' (96-percent) and Republicans' (10-percent) ratings of Biden so far, eclipsing the 77-point gap in the early ratings of Trump.
This difference results from Biden's higher scores among his fellow partisans than Trump received (87%-percent among Republicans).
Each got the same low 10-percent approval ratings from supporters of the opposition party.

Party gaps in approval ratings were about 30 points lower for Obama, Bush and Clinton than they have been for Biden.
This is primarily because about one-third of opposition-party supporters approved of the job those presidents were doing early in their terms.

But Biden's approval rating among his fellow Democrats is also higher than those for Obama (89-percent) and Clinton (78-percent) among Democrats, and for Bush among his fellow Republicans (89-percent).
,,,
The correspondence between one's party identification and evaluation of presidents early in their terms has never been greater than it is for Biden. Much of that is tied to the growing reluctance, if not unwillingness, of partisans to support a president of the other party, even during the honeymoon period of the presidency.
Biden's nearly unanimous approval among Democrats, something neither Obama nor Clinton enjoyed, also contributes to the larger party gaps for Biden.
…
As a result, Biden not only has a greater partisan divide to bridge than his predecessors did, but he is also facing larger divides among other subgroups.
Those factors make governing difficult, especially given the narrow Democratic majority in the House of Representatives and the evenly divided Senate.
Yet we must hold on for way-dear life…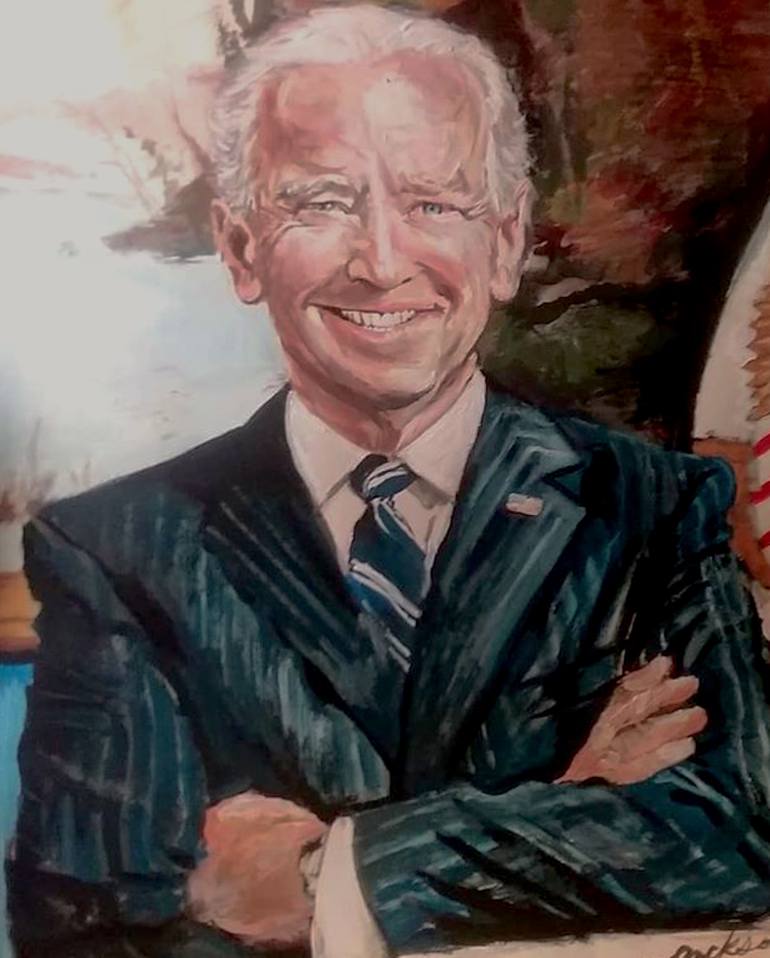 (Illustration: 'Joe Biden,' acrylic by Billy Jackson, and found here).