Nice and still somewhat-cool this mid-morning Thursday here in California's Central Valley, though, enjoyable right now, we're in for some hot-spanking weather later today, and for days into the climate-changing future.
Beyond weather and our physical-surrounding environment, we take a quick glance at the shitty mood of politics in America nowadays and how our current natural ambience is anything but cordial with nearly half the country screaming lies and bullshit right out in the open. In the past, there was shit you didn't say outloud, or at least kept the tone at low whisper-like, especially in stuff that doesn't look good for your side.
We're at the point, however, where Republicans just don't give a fat-rat's ass about blathering anything — like MoscowMitch a couple of days ago, just brazenly put his assholeness right up front:
Mitch McConnell on the American Rescue Plan:

"Not a single member of my party voted for it. So, you're going to get a lot more money. I didn't vote for it but you're going to get a lot more money."

Thanks for the helpful reminder, Mitch! pic.twitter.com/aqEKVemi2Z

— Rep. Pramila Jayapal (@RepJayapal) July 7, 2021
Yesterday, Joe Biden threw that shit back in his face, mimicking McConnell and gesturing widely: ' "Mitch McConnell loves our programs … Have you seen what Mitch McConnell said? He told me he wasn't going to get a single vote in order to allow me to get, with the help of everybody here, that $1.9 trillion … program for economic growth … Look it up, man. He's bragging about it in Kentucky … It's a great thing for Kentucky, it's getting $4 billion to help poor — it's amazing,"'
In this scenario, Republicans no longer give a shit. The biggest threats to this country comes throuh the GQP, from COVID-vaccine denial, to Russia-baiting and the wink-wink to white nationalism, all attacks on the democratic foundations which have persisted for 245 years, though thick and thin. Up until now, anyway.
And within the GQP it's not isolated cases, it's the whole enchilada:
I wrote about the clusterfuckery that is today's GOP in ?@thedailybeast? https://t.co/ebIWQkFObG

— Molly Jong-Fast (@MollyJongFast) July 8, 2021
Molly Jong-Fast at The Daily Beast this morning reaches the conclusion Republicans seemed to think they have a full-blown get-out-of-jail card for saying/doing whatever terrible shit they want — some high-points, underscoring greatly-despised asshole, Paul Gosar:
This is the Republican brand now: death before decency. What Roy's colleague Paul Gosar learned from Trumpism is that working with terrifying far-right extremists is totally cool.
Gosar is now even more far-right than Steve King, who was censured for his white nationalist statements back when Republicans at least pretended to give a shit.

Now Gosar is being praised by white nationalist Nick Fuentes — and minority "Leader" Kevin McCarthy is fine with that, just like he's fine with Marjorie Taylor Greene raving about the Jews and Matt Gaetz (R-Sex Creep) staying on the House Ethics Committee so that he could question the head of the FBI while continuing to be investigated by the FBI.

Meanwhile Stop the Steal speaker Mo Brooks is now running for Senate in Alabama. Brooks, who was a planner of the Jan. 6 rally, according to a deleted video from Ali Alexander, claims in a new civil filing that he only spoke at the rally-turned-riot because the White House told him to.
That was in the same legal filing in which he said he believes that Trump still won the election (Trump did not).

Since no one in Trumpworld has been punished for anything, Republicans have learned that you do anything at all and no one will ever hold you accountable.
Local Republicans continue trying to make it harder for the "wrong people" to vote, including Native Americans in Montana this week.
It's not about racism, they insist; it's about stopping groups that back Democrats who oppose racism.

Trump taught Republicans that they can be as shitty as they want, and no one will stop them, as long as they don't cross Trump.
Just look at former Missouri Gov. Eric Greitens, who resigned after he was indicted on felony charges after cheating on his wife with a woman he blackmailed and abused. He's running for Senate now, and a GOP mega-donor just gave him $2.5 million because allegations of sexual assault are no longer a barrier to entry in today's GOP; they may even be the mark of a "real man."
Just ask Donald.
What a fucking mess we're in, without a stop-gap coming or going.
Best bet is go Joe and threw the shit back in their lying faces, continually…
History reports — not:
Long ago, far-the-fuck away…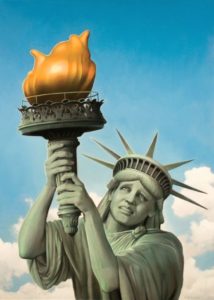 (Image out front by illustrator and portrait painter, Tim O'Brien, and can be found here).