In place of the horrors of the nowadays, a flashback Sunday afternoon to sounds of long ago, and way-way far away — music as memory of decades past and the history since then.
Alternative rock in a trend-shaping music era.
Inspiration for this particular subject slant came from a post yesterday on music/movies/media at First Draft (one of my blog favorites) with a title lead-in song I hadn't heard/thought-of in a long time — "Tired Of Waiting For You" by the Kinks and released in the US in January 1965.
The Kinks were a group among a shitload of music-makers then surging across the Atlantic during the original "British invasion" in the mid-1960s — 'Early in 1964, Life magazine put it like this: "In [1776] England lost her American colonies. Last week the Beatles took them back."'
I was a nit-twit 10th-grader in January of '65, and having no fun. Acne had finally arrived full force (my face was like the moon), I had bad posture, shitty grades, and was already chocked-full of sarcasm. My friends were the same, so it wasn't really that bad.
Music was my safe space — only the month earlier after I'd spied the Beatles new album, "Rubber Soul," at my local supermarket, I almost wanted to cry I do remember near-shouting: "Look, the boys got a new one!" as I came across it in the album rack. The Beatles were still way-out-in-front of the 'invasion.'
Yet I also really liked the Kinks, their music more hardcore, more garage-band like — except for "Tired of Waiting," a different charm, but still effective. Here it be:
And a fairly-decent cover by Green Day;
The song changed the Kinks musical direction — the first two singles from then the year before were more raw, with some jagged, near-scraping hard-guitar work — and became more even. Dave Davies said of the song: 'It was a change of style for us, we got a bit posher! Our material started to get a bit more melodic after that."'
Dave, and his older brother, Ray, formed the band, which included Pete Quaife, and Mick Avory — Dave was one of the first rockers with shoulder-length hair, and my 10th-grade brain was freaked. Up until then, the Beatles, Rolling Stones, Dave Clark Five, and so forth, all had hair longer than the 1950s with a near-bowl cut, but down to the shoulders? WTF!
However, it way-quickly became way-normal.
Those initial two songs from the Kinks continue to resonate — first, "You Really Got Me" and the raunchy chords:
And a really-good  cover by Van Halen — great opening rift from the late-great Eddie:
And the second release, "All Day And All Of The Night"  — released just three months later:
A sufficient cover by the Scorpions:
Leap forward a half-decade later (1970) and the last Kinks' song I really noticed, "Lola," and it was different, too:
Thus, we'll end there…
And after that flashback respite, we now return to normal programming:
At his rally in Alabama on Saturday night, Trump tells the crowd to "take the vaccines" and promptly gets booed.

Not even Trump can convince these people to get the jab.

And, that, folks is why we can't have nice things. https://t.co/2lnCVqqvTV

— Bryan Schott (@SchottHappens) August 22, 2021
Shit! Shit! Shit! — let's go back to bad acne and walking with a slouch.
And, once again, here we are…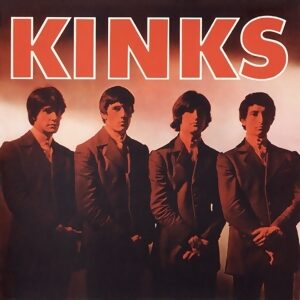 (Illustration out front: Cover of self-titled debut Kinks album, and found here).