Another boilermaker day — 109-degrees outside right now (late-afternoon Monday in California's Central Valley) — as we spin through work-week kick-off with shit hitting the fan everywhere.
Probably the most-historic event today was an end to an inspired bit of action begun a month shy 20 years ago, but quickly shit the roost, and now all this time later, ingloriously concluding:
The home page of The New York Times at 5:20 p.m. Eastern on Aug. 30, 2021. pic.twitter.com/klS0wPzeML

— The New York Times (@nytimes) August 30, 2021
Low-note details via CNN:
The last US military planes have left Afghanistan, Gen. Frank McKenzie, the commander of US Central Command, announced Monday at the Pentagon. The US departure marks the end of a fraught, chaotic and bloody exit from the United States' longest war.

"I'm here to announce the completion of our withdrawal from Afghanistan, and the end of the military mission to evacuate American citizens, third country nationals, and vulnerable Afghans," McKenzie told reporters.
"The last C-17 lifted off from Hamid Karzai International Airport on August 30th, this afternoon, at 3:29 p.m. East Coast time, and the last manned aircraft is now clearing the airspace above Afghanistan."
"There's a lot of heartbreak associated with this departure," McKenzie said.
"We did not get everybody out that we wanted to get out."

President Joe Biden weighed in with a statement later on Monday and thanked the final US forces serving in Afghanistan for executing the "dangerous retrograde from Afghanistan as scheduled," with no further loss of American lives.

"The past 17 days have seen our troops execute the largest airlift in US history, evacuating over 120,000 US citizens, citizens of our allies, and Afghan allies of the United States. They have done it with unmatched courage, professionalism, and resolve," the President said in the statement.
He said he will make an address about Afghanistan to the nation on Tuesday.
"Now, our 20-year military presence in Afghanistan has ended," Biden said.
Although the US military is now out of Afghanistan and the official end to the war, the Afghan clusterfuck will continue, and it will be shit to see — Susan Page at USAToday this afternoon: 'Even without boots on the ground, Secretary of State Antony Blinken vowed that the effort to help Americans and Afghan allies leave, if they wish, "will continue every day past Aug. 31." The work to resettle thousands of Afghan refugees around the world is likely to take years and fuel the fierce debate about immigration in the USA and elsewhere. Some Americans see a moral obligation to try to protect Afghan women and girls from the brutal treatment that marked Taliban rule. War or not, Afghanistan isn't over. Not yet.'
Meanwhile, stateside we still have to put up with this kind of lying, dumb-ass shit:
Narrator: "It literally occurred to everyone." https://t.co/F0u8SsE3QW

— David Corn (@DavidCornDC) August 30, 2021
MoscowMitch is a complete political asshole — he's full-steam party and a reason we're in the deadly shape we've found ourselves — a note on this shit at Forbes, also this afternoon:
Senate Minority Leader Mitch McConnell said Monday he doesn't believe it would "serve any particular purpose" to criticize members of his party who voice skepticism of the coronavirus vaccines, even as he expresses shock and disappointment at the number of Americans refusing to get vaccinated.

McConnell told local radio station WUKY during a stop at the University of Kentucky that the "best thing" he can do to encourage people to get vaccinated is to "say how I feel" about the shots.
…
McConnell said it "never occurred" to him the U.S. would face a challenge in getting people vaccinated — despite former President Donald Trump's consistent downplaying of the pandemic last year.
Yet Joe Biden does his politics and tries: 'Coronavirus is one of the few areas in which McConnell may be more aligned with President Joe Biden than he was with Trump. A survivor of polio as a child, McConnell avoided visiting the White House during the height of the pandemic last year due to lax coronavirus safety precautions taken by the Trump administration. The Biden White House, by contrast, praised McConnell's "leadership" in April for promoting the vaccines to Republican men.'
I can't fathom it — despite what Republican shitheads like DeathSantis in Florida and Asshat Abbott in Texas are doing in their states, it wouldn't serve a 'purpose' to criticize these shitheels and help save lives, as he hypocritically says he really, really wants to do.
Asshole.
Added this at the end as a showcase of the real vs the reality:
climate change mentions as ida hit the u.s., broken out by network pic.twitter.com/j3tECB55UX

— John Whitehouse+ (@existentialfish) August 30, 2021
And not just on Hurricane Ida — per Media Matters last week:
Media Matters found that broadcast and cable TV news shows covered these disasters in earnest, airing a combined 95 segments and 113 weather reports on these various events from August 11 through August 18.
While over 30-percent of these segments referenced climate change, only 12 of them, or 13-percent, mentioned the IPCC report. Media Matters also found that 100-percent of the weather reports completely omitted climate change from their coverage — and, by extension, the IPCC report.
This mirrors the steep decline in TV news coverage of the IPCC report after its release.
The IPCC report "reveals in new detail just how connected extreme weather and climate change really are," and the recent coverage of extreme weather events was an opportunity to highlight that link.
Unfortunately, many networks missed their chance.
A shitload of missed chances nowadays — and we're getting close to running out of time.
And as with Charlie Watts, nowhere is time on our side:
Once again, and again, here we are…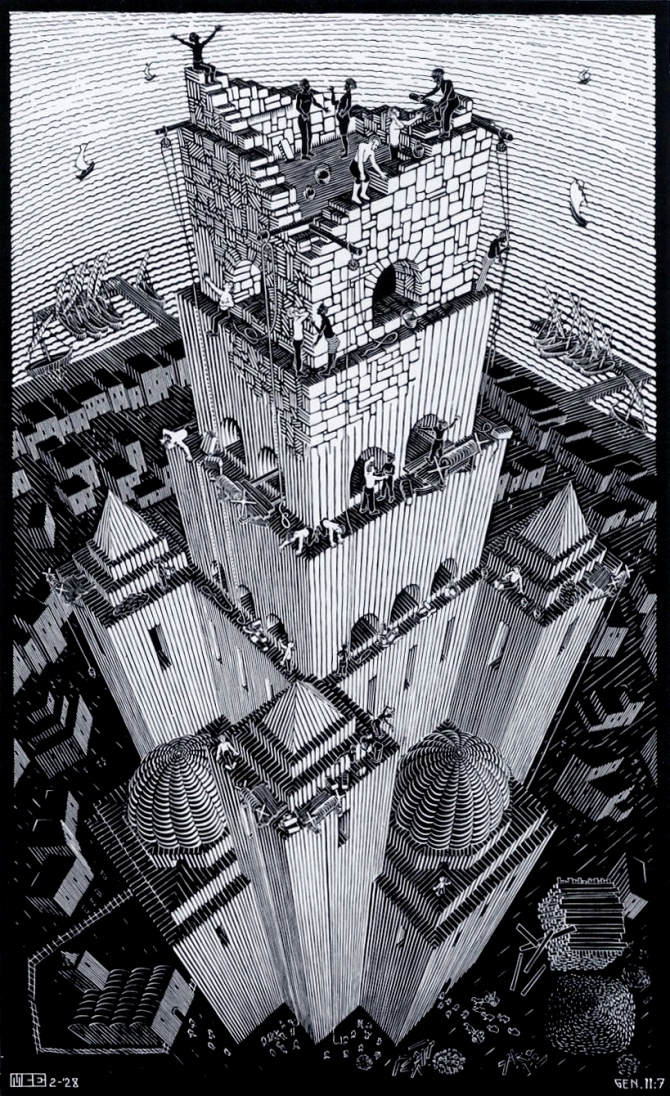 (Illustration out front: 'Tower of Babel,' a 1928 woodcut by M. C. Escher, found here).