Joe was pretty straight today:
He took charge of the endgame while also noting the contribution of the T-Rump, though, Republicans won't (literally) hear a word of it — despite the shit from the T-Rump and his asshat asshole Mike Pompeo in setting the stage for the chaos of evacuation, Biden will most-likely carry the whole war on his shoulders for the immediate future. Time is history's true end.
Even in real-time, and even in the operational chaos of withdrawal: "This is the way the mission was designed. It was designed to operate under severe stress and attack, and that's what it did," Biden said.
The pain of defeat coupled with a final, deadly scramble.
Biden handled the plight well in his speech and gave what's been noted as a 'defiant,' strong defense of the Afghan pull-out — an action he's wanted for a long time.
Dan Balz at The Washington Post this afternoon has a background-take of Biden's Afghan proclivities — some snips:
President Biden's address to the nation Tuesday was fierce in its defense of his decision to end the war in Afghanistan, full-throated in its delivery and defiant in tone in the face of what has been relentless criticism.
It was a speech he has been rehearsing for years.

If Americans were weary of war, as public opinion has shown for some time, so too was Biden. If Americans felt that the $2 trillion spent on the effort over 20 years had gone for little, so too did Biden. If Americans were astonished that the Taliban could so easily overrun the country and force the government to collapse and flee, well, so it seems was he.
This was a president who sounded angry and frustrated at the decisions of the past and determined to move on, regardless.
…
National security adviser Jake Sullivan told CNN that he disagreed with characterizations of the speech as defiant. Instead, he said the president spoke with "passion" and "conviction."
It is difficult to argue with that. What Biden said Tuesday reflects what he has believed for more than a decade.

He has long argued that the strategy pursued across multiple administrations was misguided.
He argued that in 2009 in the Situation Room in the Obama administration, ending up on the losing side of the argument as the United States poured tens of thousands of additional troops into the effort.

He has been bristling ever since, or so it would seem. Given the power to change course, he did, in the most emphatic way he knew.
As he put it Tuesday, "I was not going to extend this forever war and I was not extending a forever exit," he said. 
"It's time to end this war."

Biden said he took responsibility for the decision to withdraw by Tuesday, claiming it was done to protect the lives and security of U.S. military personnel aiding in the heroic evacuation that helped more than 120,000 people — some Americans but mostly others — get out by the deadline. He said his advisers, civilian and military, were unanimous in supporting the decision not to extend the deadline.
…
Biden said he was not only bringing an end to America's longest war but closing a chapter in the fight against international terrorism that has defined U.S. foreign policy since the attacks of Sept. 11, 2001.
A ground war in Afghanistan is not a policy for the future, he said. Nor, he added, is a U.S. intervention that is allowed to expand its ambitions to include nation-building.
"This decision about Afghanistan is not just about Afghanistan," he said.
"It's about ending an era of major military operations to remake other countries."
All correct. How long could the Afghan war continue? Years upon years — T-Rump did start the endgame, and in doing so, fucked the retreat. Ross Douthat, a conservative commentator usually disagreeable, did hit a right note in a piece this morning at The New York Times, especially this point:
The argument, for instance, that the situation in Afghanistan was reasonably stable and the war's death toll negligible before the Trump administration started moving toward withdrawal: In fact, only U.S. casualties were low, while Afghan military and civilian casualties were nearing 15,000 annually, and the Taliban were clearly gaining ground — suggesting that we would have needed periodic surges of U.S. forces, and periodic spikes in U.S. deaths, to prevent a slow-motion version of what's happened quickly as we've left.
A matter of now or never. This will be near top-of-the-news for a long time. However, there's a pushing match for the top spot — wildfires all over, hurricane blowback, COVID sick and dying, idiot anti-living Republicans pushing ant-health measures and screaming at school board members, and a shitload of other items not shitty enough to make the initial list.
Anyway, a relief maybe, and a final jab at some cute-like fun:
I'm sorry but this is the best thing I've seen all week
pic.twitter.com/gen1V3YqVr

— Molly Jong-Fast (@MollyJongFast) August 31, 2021
And so, here we are, once again…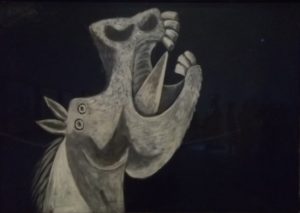 (Illustration out front: Pablo Picasso's 'Agonizing Horse,' found here),