Another T-Rump book hit the InterWebs this Tuesday morning, and shock and awe, he's still an asshole piece of shit. How many of these non-literary scandal sheets are coming — just last week was Bob Woodward's saga and dozens came before that, all tell the gross, nasty story of the horridness of the T-Rump.
In today's edition, former White House press secretary Stephanie Grisham has penned her own version, "I'll Take Your Questions Now: What I Saw At The Trump White House" (though, while press chief she didn't hold even one press conference), and has some shitty T-Rump stories to tell, mainly because there's a near-endless supply of them.
Grisham jumps not only the T-Rump, but Melania, Ivanka/Jared, the whole deal of how shitty it was working in the T-Rump White House:
This is the man the Republican Party has hitched their wagon to. https://t.co/FPI8MGiRL5

— Molly Jong-Fast (@MollyJongFast) September 28, 2021
Details via The Washington Post:
Little is known about what happened in the 90-minute conversation between President Donald Trump and Russian President Vladimir Putin in Osaka, Japan, two years ago. But as journalists were quickly ushered out of the room at the 2019 Group of 20 Summit, Stephanie Grisham once again found herself with a close-up view of the action.

She saw Trump lean toward Putin that day and tell him: "Okay, I'm going to act a little tougher with you for a few minutes. But it's for the cameras, and after they leave, we'll talk. You understand."
…
In Grisham's telling, Putin seemed to be attempting to throw Trump off his game in Osaka. She writes that Fiona Hill, the White House's top Russia adviser, told her that Putin brought to their meeting an unusually attractive female translator, whose presence seemed intended to distract the U.S. president.

Putin also seemed to be coughing and clearing his throat an inordinate number of times throughout the meeting. Hill speculated to Grisham that he was probably attempting to trigger Trump's well-known germaphobe tendencies, Grisham writes.

A major theme of the book is the culture of lies that pervaded Trump's administration. "Casual dishonesty filtered through the White House as if it were in the air conditioning system," Grisham writes.
…
She offers a new interpretation of the notorious September 2019 incident known as Sharpiegate. It apparently all began with Trump refusing to believe a report that Hurricane Dorian had altered its course and was no longer projected to strike Alabama.
To make his point, Grisham writes, the president grabbed a Sharpie during a staff meeting and drew on a weather map, altering the hurricane's course to show it slamming into the state.

Then someone ushered the media into the room, forgetting that the doctored map was still on display.
Trump kept pointing at the map as he spoke to reporters, making it seem like he was intentionally misleading them.
…
Grisham alleges that Trump became obsessed with a young, female press aide who isn't named in the book.
The president constantly asked where the aide was during press events, Grisham wrote, and allegedly once requested that she be brought to his cabin on Air Force One so he could "look at her [behind]."

Trump behaved inappropriately with Grisham, too, she wrote — once calling her from Air Force One to assure her that his penis was not small or toadstool-shaped, as the porn star Stormy Daniels had alleged in an interview.

Grisham wrote that Trump once asked her then-boyfriend, a fellow Trump aide, if she was good in bed.
Chip-off-the-old-asshole T-Rump, hilarious! There's just this for Stephanie, and all the other former assholes who worked for the horror-beyond-decent-horror T-Rump — why did you stay for so long? Grisham is an almost-original T-Rump worker, starting her tour of shit in 2016 and working her way up eventually into the Oval Office — she was Melania's chief of staff for a while, and only (finally) quit on Jan. 6 of this year, during the insurrection/riot at the US Capitol.
Give her some credit, I guess. Shit, but still.
A press secretary to be pressed away — Dick Nixon shoves his press guy, Ron Ziegler, because Nixon was scared of facing reporters. Nixon being fairly unhinged at this point (Aug. 20, 1973):
Here we are, once again…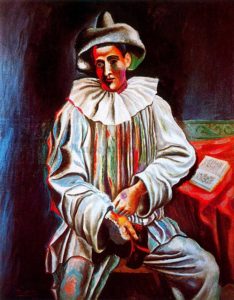 (Illustration out front: Pablo Picasso's 'Seated Pierrot,' found here).