Overcast and cold this early Wednesday evening here in California's Central Valley — a rainy out-of-doors, too.
We do feel like it's raining all over the world, especially among the imbecilic.
An example of knowing one and being one — Tony Blair, famous from the Iraqi war days of yore and who most-likely has some kind of idiot-like tendencies, yet was a bit candid about the COVID unvaxxed (UK's Hully Daily Mail this afternoon):
Former Prime Minister Tony Blair has confessed he was a "little too undiplomatic" when he branded people as "idiots" if they had not yet come forward to receive the coronavirus vaccine.

The former PM, who won three General Elections as Labour leader, was talking to Times Radio when he made initially made the comments.

He said: "Frankly, if you're not vaccinated at the moment and you're eligible, and you've got no health reasons for not being unvaccinated, you're not just irresponsible. You're an idiot.

"I'm sorry, truthfully, you are.

"This Omicron variant is so contagious, if you're unvaccinated and you're unvaccinated, you're going to get it.

"And that's what's going to put a lot of strain on the health service. Almost half the people in the ICU are unvaccinated, it's really important."

But now Mr Blair has said he was "undiplomatic."
Asked about the remark by BBC Radio 4's PM, the former prime minister said: "Possibly I was a little too undiplomatic in my use of language."
Which leads to behaviors:
She changed her name because her boss didn't like her uncle so perhaps she's not an expert on "family." pic.twitter.com/6kjVnAIaPn

— Molly Jong-Fast (@MollyJongFast) December 22, 2021
And with the mentioned rain above, Annie Lennox sparkles it coming again (haven't listen to this in awhile):
Here comes the rain again
Raining in my head like a tragedy
Tearing me apart like a new emotion
Oh
I want to breathe in the open wind
I want to kiss like lovers do
I want to dive into your ocean
Is it raining with you
And thusly, here we are once again…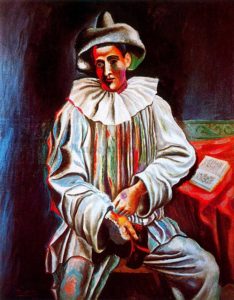 (Illustration out front: Pablo Picasso's 'Seated Pierrot,' found here).