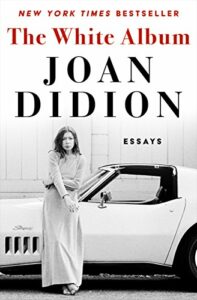 In the early 1990s, during the opening phase of my life-altering divorce, I took a nighttime college course in literary marketing — manuscript devices/ideas, finding agents, trolling for publishers, whatnot — and although the course was most-excellent, the instructor (can't remember her name now; she also worked for The Fresno Bee at the time as its Special Sections editor), was also a big fan of Joan Didion.
In the course of her instructions, she somehow turned me on to Didion's writings by discussing Didion at the drop of a syllable. Decades behind the times, I quickly devoured "Play It As It Lays," "A Book of Common Prayer," and especially, "The White Album," in a matter of a few weeks.
I do remember feeling bad during that period, and what an asshole I was for not enjoying Didion before then — I really don't understand how I missed her.
Sadly, now we all missed her.
Didion died this morning in her Manhattan home at age 87.
I haven't done much reading of her work the last few years, and frankly, I can't remember most of what I'd read 30 years ago, but like a lot of other literature, gave me solace during weird, frightful periods of my life. And Didion wasn't just a novelist — from The New York Times obit this morning:
Ms. Didion constructed a tripartite career devoted to reporting, screenwriting and fiction. Reporting, she once said, forced her into other people's lives and allowed her to collect the information and impressions that fed her fiction.
"Something about a situation will bother me, so I will write a piece to find out what it is that bothers me," she told The Paris Review in 2006.
Screenwriting, by contrast, offered a diversion, like working a crossword puzzle.
She was unusually successful at all three.
And of all the shit that's written about her over the ages, there's a most-excellent and in-depth interview, also in the NY Times from June 1979 at the publishing of 'The White Album,' and this small notice of how the young Joan flushed out living to write:
By 15, she was learning to type and learning how sentences worked by copying over chapters from Ernest Hemingway and Joseph Conrad. Her own stories of that period displayed a somewhat less eclectic taste; they all had one theme-suicide. In some, the hero walked through the streets of San Francisco to jump off the Golden Gate Bridge; in others, he simply walked into the sea.

One summer when she was in the eighth grade and her parents had a beach cottage, Joan determined to find out for herself how it would feel to walk into the ocean. After telling her parents she and her brother, Jimmy, were going to a square dance, she dropped Jimmy off at the Greyhound bus terminal, told him to wait for her and went on to the shore herself.
Then, note pad in hand, she gingerly walked into the ocean. The night was dark, and she had no sooner waded in knee-deep than a wave hit her in the face. Sopping wet, her romantic notions of suicide considerably dampened, she made her way back to the terminal, retrieved her brother, and sneaked back into the house.
She was strange and wondrous — RIP.
And sadly, once again here we are…
(Illustration out front and above found here).