As Republicans slowly-swiftly strangle democracy at the voting booth, there doesn't seem to be much we can do, other than get as many people out to vote next November as possible.
Until then:
Flag: GOP legislators have prefiled or carried over dozens of voting restrictions for 2022.

Republicans in four states — AZ, MO, NH, SC — prefiled at least 13 bills that would make it harder to vote. Nine other states will carry over 88 restrictive bills.https://t.co/D46BIIKWLl

— Kyle Griffin (@kylegriffin1) December 22, 2021
Shitty details via NBC News yesterday:
State Republicans spent 2021 hunting for the widespread voter fraud that former President Donald Trump told his supporters cost him the election.

They never found it. Still, the year was characterized by a wave of GOP-led voting restrictions fueled by Trump's lie — and more election changes are on the horizon next year, according to newly released numbers from the Brennan Center for Justice, which tracks voting bills and advocates for federal election legislation.

So far, Republican legislators in four states — Arizona, Missouri, New Hampshire and South Carolina — have prefiled at least 13 bills that the organization says would make it harder to vote.
Nine other states will carry over 88 restrictive bills from the last legislative session. Legislators in five states — Florida, Missouri, New Hampshire, South Carolina and Tennessee — have also filed six bills to initiate or allow partisan ballot reviews.
Four would initiate such reviews for the 2020 election results, according to the Brennan Center.

"There is a continual drumbeat from the former president that the election was stolen — this is an issue that state legislators feel pressure from Trump from above and from the base from below that's demanding that steps be taken," said Rick Hasen, a professor and election law expert at the University of California, Irvine.
"So this is an issue that's going to remain, unfortunately, front and center."

This year, 19 states, most of them controlled by Republicans, enacted 34 laws that made voting harder, while many blue states expanded access, particularly to mail voting, according to the Brennan Center's latest tally.
The changes touched off bitter legislative battles and brought major corporations off the sidelines under pressure to declare public support for the right to vote.

"What we've seen passed this year is more than a third of all the voting restrictions that have passed in the last decade happened this year," said Wendy Weiser, the vice president of the Democracy Program at the Brennan Center, adding that the count doesn't fully capture the sheer scale of the changes because of multiple provisions stuffed into large omnibus bills.
Hasen nails a prime example how the laws are worse because of asshole Republican 'people' working behind the scenes: '"In Georgia, the Republican secretary of state, Brad Raffensperger, stood up to Trump and refused to manipulate the outcome of the election … If he ends up being replaced by Jody Hice, who's running against him — a congressman who has embraced Trump's 'big lie' — it's hard to believe the Democrats are going to think that he is going to fairly administer the election even if he does."'
In the cut before the mid-terms next year, Democrats nee right now make a move on combating this bullshit — they have but it isn't a reality. From The Washington Post this morning:
One of the two bills that Democrats are considering, the Freedom to Vote Act, would bar partisan gerrymandering. If passed, the bill could trigger a cavalcade of lawsuits to force states to redraw new congressional maps that favor one party or the other, all before November 2022.

"The [legislation] says that courts cannot allow a method that's found to be illegal to be used simply because an election is imminent," Eric Holder, the former attorney general and current chairman of the National Democratic Redistricting Committee (NDRC), said in an interview last week.
"And so you would have the capacity once the bill is passed to challenge what Texas has done, what Georgia has done, North Carolina, Ohio — what they've either done or indicated they're going to do."

All four of those states have adopted maps in recent months that favor Republicans and, in the cases of North Carolina, Georgia and Ohio, are likely to cost Democrats seats, making their efforts to retain control of the House that much harder.
Doesn't look good next year.
Anyway, once again here we are…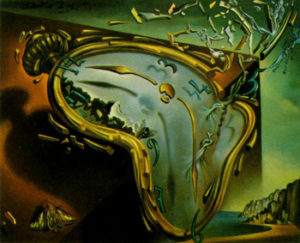 (Illustration out front: Salvador Dali's 'Soft Watch at the Moment of First Explosion,' found here).