Is the T-Rump going under or what?
Time will not tell:
"Had we won the election … " https://t.co/pMASCpYbbV

— Lawrence O'Donnell (@Lawrence) December 23, 2021
Did the T-Rump just misspeak as he has tons of times before? Or it's the itch of keeping a lid on such a most-prominent lie that caused him to spout off — via Salon this afternoon:
The former president made the admission while discussing his long-promised border wall in a Tuesday interview, lamenting President Biden's discontinuation of the project back in April.

"They could have had [the wall] done in four weeks if they pursued it," Trump complained to host Gene Bailey.
"We started building and we built almost 500 miles of wall, certain sections we couldn't get rights to and now we have rights."
"And had they, had we won the election, it would almost be — it would be completed now,"
Trump added, seeming to admit the reality of his loss.

It's unclear whether the admission was a gaffe, given that the former president has aggressively contested Biden's victory both during and after his time in office.

Immediately following his loss back in November, Trump signaled that he would refuse to step down as president to allow for a smooth transition of power, standing by this claim for months.
His posture on the transition became the subject of much speculation, with many pundits wondering whether the former president would have to be removed from the White House by force.

Finally, on January 7, just a day after the Capitol riot, the former president promised an "orderly transition" of power, saying: "Even though I totally disagree with the outcome of the election, and the facts bear me out, nevertheless there will be an orderly transition on January 20th."

In June, Trump came the closest he'd ever been to admitting electoral defeat, telling Fox News' Sean Hannity that "we were supposed to win easily at 64 million votes, and we got 75 million votes, and we didn't win."
"But let's see what happens on that," he added dubiously.
He'll never back down or re-cant.
And it appears the asshole won't be held accountant, too, for the Jan. 6 insurrection/riot:
"No matter where it goes. Those responsible should be held accountable." — President Joe Biden, 12/22/21https://t.co/nhpF4iSKwZ

— Laurence Tribe (@tribelaw) December 23, 2021
In a New York Times op/ed this morning, Tribe, Donald Ayer, and Dennis Aftergut, all former federal prosecutors, write that the T-Rump is a danger to democracy due to the ugly recent history and AG Merrick Garland needs to get off his legal ass — go read the whole opinion piece, but this the nailed point:
Based purely on what we know today from news reports and the steady stream of revelations coming from the House select committee investigating the attack, the attorney general has a powerful justification for a robust and forceful investigation into the former president and his inner circle.
As White House chief of staff, Mark Meadows was intimately involved in the effort to overturn the election. He traveled to Georgia last December, where he apparently laid the groundwork for the phone call in which the president pressured Georgia's secretary of state, Brad Raffensperger, to "find 11,780 votes."
Representative Jim Jordan of Ohio reportedly promoted a scheme to pressure Vice President Mike Pence to reject duly certified Joe Biden electors.
And from their war room at the Willard Hotel, several members of the president's inner circle hatched the legal strategy to overturn the results of the election.

The president himself sat back for three hours while his chief of staff was barraged with messages from members of Congress and Fox News hosts pleading with him to have Mr. Trump call off the armed mob whose violent passion he had inflamed.
That evidence, on its own, may not be enough to convict the former president, but it is certainly enough to require a criminal investigation.

And yet there are no signs, at least in media reports, that the attorney general is building a case against these individuals — no interviews with top administration officials, no reports of attempts to persuade the foot soldiers to turn on the people who incited them to violence.
By this point in the Russia investigation, the special counsel Robert Mueller had indicted Paul Manafort and Rick Gates and secured the cooperation of George Papadopoulos after charging him with lying to the F.B.I.
The media was reporting that the special counsel's team had conducted or scheduled interviews with Mr. Trump's aides Stephen Miller and Mr. Bannon, as well as Attorney General Jeff Sessions.
And once again, here we are…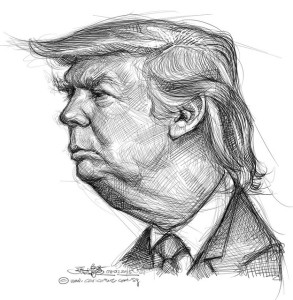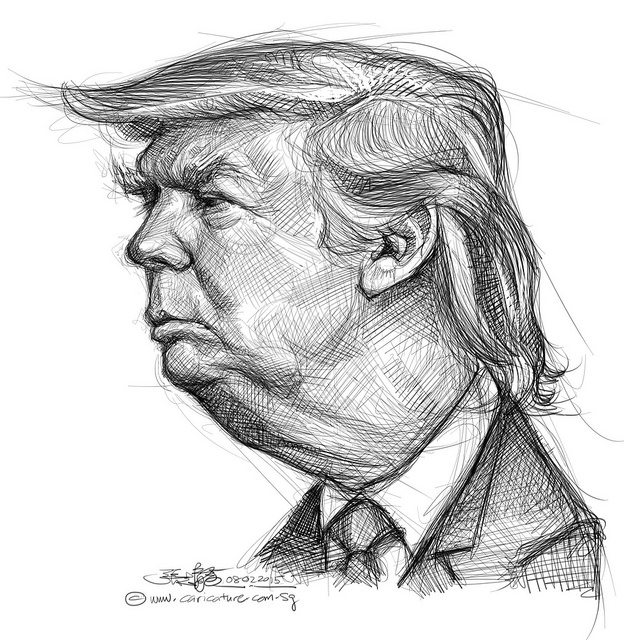 Image out front is my favorite of the T-Rump mugs, though, 'favorite' does not mean in any form or fashion, as in, 'my favorite movie,' or 'my favorite song.' It's more of an anti-appreciation/like.
And aptly titled, 'Basic Shapes,' by caricaturist/illustrator Chong Jit Leong (and found here), it's an image that displays the elemental form of a purloined sociopath — a bloated profile of flatulent bile and arrogant ignorance.