In lieu of dismal words this Friday morning on the eve of a holiday, another post in our 'Destination' series of music and non-hand-wringing (last one here and if you want, follow the series backward from there) and in a spirit of maybe there's a way out of this shitstorm we've found ourselves.
Music does temper the tantrum.
And once again, the light's on The Running Mates, a husband/wife duo who usually perform covers of classics in such a way they appear as originals — I wrote more in-depth about the 'Mates' a year ago today here — and in this particular episode, it's family, history and memory reflection within the sound. It's been nearly three months since our last musical outing, and the scene as always the last couple of years, has gone to shitheel in a wireless basket.
We will persevere — maybe?
Starting off and just for this day as a season with not-so-much joy despite the time; an internal song for the past as well as for the right now — "Ode To My Family" is for the current visuals, but seeks a happy past (original by The Cranberries found here):
Understand what I've become
It wasn't my design
And people everywhere think
Something better than I am
In honor of the late, great Michael Nesmith, and his life with The Monkees, the 'Mates' charge this extreme-acoustic version of "I'm A Believer" into indeed a sound for an adherent to living life (original here):
I thought love was more or less a givin' thing
The more I gave, the less I got, oh yeah
What's the use in tryin'
All you get is pain
When I wanted sunshine, I got rain
And then I saw her face, now I'm a believer
Not a trace, of doubt in my mind
I'm in love, I'm a believer
I couldn't leave her if I tried
In a bliss from nearly 50 years ago — "Tequila Sunrise" softly performed near-about the same as if  in a desert nowadays (original by the Eagles here):
Oh, and it's a hollow feelin'
When it comes down to dealin' friends
It never ends
Take another shot of courage
Wonder why the right words never come
You just get numb
It's another tequila sunrise
This old world still looks the same
Another frame
Hopefully not in reality.
And, finally, the anthem sort of for this series, "What's Up," a calling for optimism in the face of shit (original by 4 Non Blondes found here):
Twenty-five years and my life is still
Trying to get up that great big hill of hope
For a destination
And once again, here we are…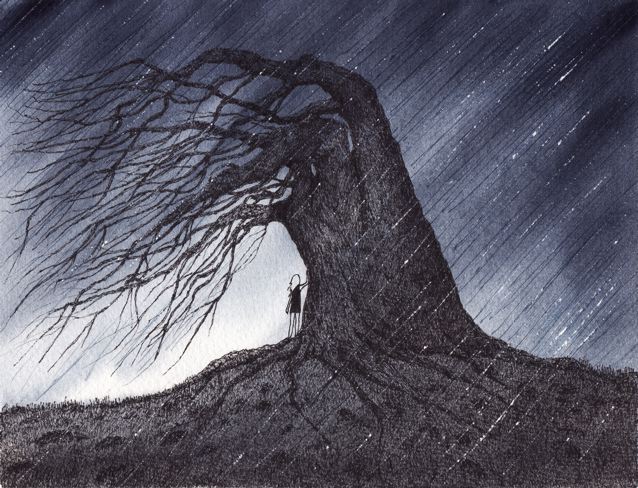 (Illustration out front: 'Shelter in the Storm," found here).