Clear with a chilled bit of wind this late-afternoon Wednesday here in California's Central Valley.
Beyond the domestic hard-tossed shit today, indications off those leaked intel files noted last week, peace in Ukraine seems to not be on the agenda for this year — apparently vicious war crimes will continue, however (Foreign Policy this afternoon):
Russia is facing new accusations of war crimes in Ukraine after two videos emerged online in the past week of what appear to be Russian soldiers beheading Ukrainian prisoners of war. The first video, which initially circulated on Russian Telegram channels, seems to show a Russian soldier using a knife to decapitate a still-alive man in a Ukrainian military uniform as a group of Russian soldiers look on. In another video of what seems to be a separate event, footage purportedly taken by Russian mercenaries with the paramilitary Wagner Group shows the beheaded bodies of two Ukrainian soldiers next to a destroyed military vehicle.

On Wednesday, Ukraine opened a war crimes investigation into the first video. What this video shows "is something that no one in the world can ignore: how easily these beasts kill," Ukrainian President Volodymyr Zelensky said in a video message posted on Telegram. "The execution of a Ukrainian captive, the world must see it. This is a video of Russia as it is." The European Union and United Nations also denounced the footage. Kremlin spokesperson Dmitry Peskov, speaking to reporters on Wednesday, called the video "terrible" but cast doubt on its authenticity.
Although Russia has a long, ugly list of certified, documented war crimes, time might not be on the decent side in this horrible conflict — no negotiations expected in the immediate future:
No Russia-Ukraine peace talks expected this year, U.S. leak showshttps://t.co/HdgYJN6oRG

— Dan Lamothe (@DanLamothe) April 13, 2023
Off the leaked classified documents, the synopsis is continued war — details from The Washington Post, also this afternoon:
The analysis concludes that, even if Ukraine recaptures "significant" amounts of territory and inflicts "unsustainable losses on Russian forces," an outcome U.S. intelligence finds unlikely, the nation's gains would not lead to peace talks.

"Negotiations to end the conflict are unlikely during 2023 in all considered scenarios," says the document, which has not been disclosed previously.

The assessment, based on close U.S. scrutiny of each side's troop counts, weaponry and equipment, could galvanize the war's critics who have called on major powers such as the United States and China to push for Kyiv and Moscow to reach a settlement and end a conflict that has displaced millions and left hundreds of thousands dead or wounded.

Asked about the DIA's assessment, a U.S. official said the decision on when to negotiate is up to President Volodymyr Zelensky and the Ukrainian people, underscoring what has been a hands-off approach to mediation espoused by the administration since Russia's full-scale invasion began in February 2022. The United States will continue to stand with Kyiv and provide it with the equipment and weapons that will bolster its position at the negotiating table, whenever that day comes, the official said.

[…]

Beyond forecasting a costly open-ended conflict, the newly disclosed document also predicts how Ukrainian and Russian military leaders will respond to battlefield challenges, and it anticipates that the year will end with the two sides achieving only "marginal" territorial gains as a result of "insufficient troops and supplies for effective operations."

Such a stalemate, where neither side achieves a decisive advantage, is described in the document as "the most likely scenario."

For the Ukrainian side, an ongoing war of attrition will lead to frustration within the country and "criticism" about how the war is conducted, "making leadership changes more likely," the document says.

It is unclear if the document is referring to leadership changes in a political or military context. Zelensky remains broadly popular in Ukraine, but tensions exist between his office and Gen. Valery Zaluzhny, head of Ukraine's armed forces, whom some in Kyiv view as a political threat.

A stalemate also will result in Ukraine enacting the "full mobilization" of its remaining eligible population, the document predicts, sending more young men to the front lines. At the same time, Ukraine probably will intensify its reliance on strikes in Russian territory, the document says, a dynamic that has disquieted some U.S. officials fearful that such attacks could compel President Vladimir Putin to escalate the conflict or give China cause to begin providing lethal support to Russia.

[…]

"It's always been a race to see who runs out of resources first," said Heather Conley, a Europe scholar and president of the German Marshall Fund.

She said she agreed with the U.S. intelligence contention that negotiations would begin only after one side is "exhausted," a prospect that appears far off.

Jeff Rathke, a scholar at Johns Hopkins University and former U.S. diplomat, said the assessment "reflects a sobriety about the likelihood of either side being able to mount or to mass decisive military power in places where it can achieve strategic effect."
Another soft-underbelly horror spot to explode into pieces too little to comprehend. Insane? Or doesn't make sense?
Vlad Putin and the T-Rump don't make sense.
And to aptly close us out, Edwin Starr:
Peace or most-likely not, yet here we are once again…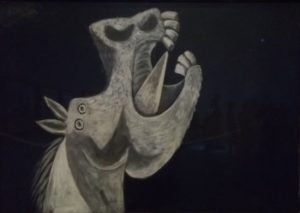 (Illustration out front: Pablo Picasso's 'Agonizing Horse,' found here.)