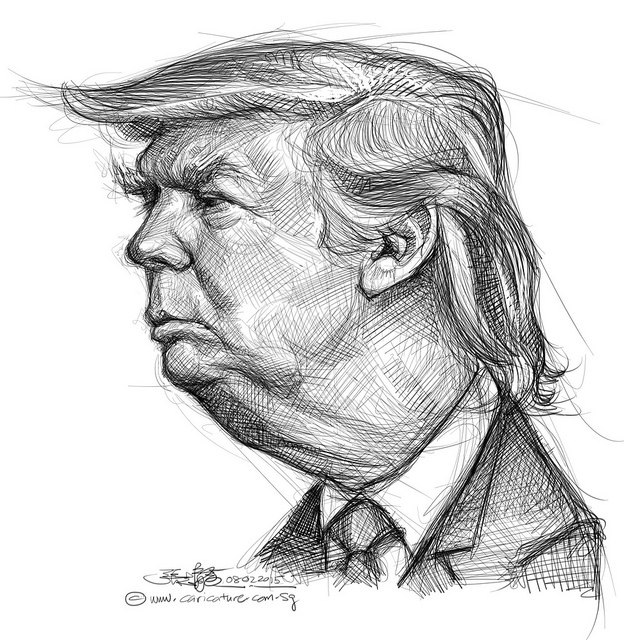 Sunshine and wind this early-evening Friday on California's north coast — supposedly, we're heading into a warm spell for the next couple of weeks, but here right along the shoreline, ambiance of heat lies in the wind.
Still, way-good…
Sucking, though, is the T-Rump — could-be-maybe the most shameful burst of shit yet from the US president (USAToday): 'The Times, citing a report on the meeting a source read to them, said that Trump told the Russians: "I just fired the head of the F.B.I. He was crazy, a real nut job … I faced great pressure because of Russia. That's taken off." The president also reportedly said: "I'm not under investigation."'
(Illustration: Donald Trump, 'Basic Shapes,' by caricaturist/illustrator Chong Jit Leong, found here).
Seemingly, shit pops up every few minutes nowadays — along with the above news story today, another Russkie/Trump-related scorcher (per NBC News):
The activities of an unnamed current White House official are now under investigation in the FBI's probe of President Trump's ties to Russia, two U.S. officials confirmed to NBC News.
The major and potentially damaging development was first reported by the Washington Post, which said the official was a person of interest in the investigation.
Shit hits the fan again just as the T-Rump and his entire clan are off on a nine-day trip to first Saudi Arabia, Israel, and the Vatican — a 'religious' trifecta — plus a stop with some NATO folks, and then on to a summit.
A high-level disaster awaiting of ignorant shame.
A preview via HuffPost this afternoon:
Yes, other presidents under siege at home have sought refuge abroad.
But they all knew much more about global affairs than Trump.
President Richard Nixon — sometimes called the "president of the world" — also went to the Middle East, hoping that a peace breakthrough could forestall impeachment momentum.
It did not.
"It's a huge burden on the American psyche to have a president go abroad when a sword of Damocles is hanging over them at home," presidential historian Douglas Brinkley told The New York Times, "It turns our president, instead of representing the best of America on the road, into a traveling can of worms."
And the worming got deeper — just a while ago, it was reported fired-director, and 'nutcase,' James Comey will testify in open session before the Senate intelligence committee, supposedly sometime after Memorial Day. Panel Chairman Richard Burr: '"The committee looks forward to receiving testimony from the former director on his role in the development of the intelligence community assessment on Russian interference in the 2016 US elections, and I am hopeful that he will clarify for the American people recent events that have been broadly reported in the media."'
And this whole post is just a current wrap of the T-Rump saga, growing unwieldy, and weird-creepy by the day.