Another day in the life…
(Illustration found here).
Anniversary of a nasty sort — Dick Nixon died today 26 years ago. A great hat-tip to tengrain this morning and a link to this flashback of the perfect Nixon obit penned by the great Hunter S. Thompson, a piece of epic truth-telling with the sharp, totally-awesome edge that only the good Doctor could provide. R.I.P to him.
Nauseously-odd the similarity between Nixon, a full shitbird, and the even-worse T-Rump. Read the whole obit, well worth it, but a few striking snips:
Let there be no mistake in the history books about that.
Richard Nixon was an evil man — evil in a way that only those who believe in the physical reality of the Devil can understand it.
He was utterly without ethics or morals or any bedrock sense of decency.
Nobody trusted him — except maybe the Stalinist Chinese, and honest historians will remember him mainly as a rat who kept scrambling to get back on the ship.
…
Nixon's spirit will be with us for the rest of our lives — whether you're me or Bill Clinton or you or Kurt Cobain or Bishop Tutu or Keith Richards or Amy Fisher or Boris Yeltsin's daughter or your fiancee's 16-year-old beer-drunk brother with his braided goatee and his whole life like a thundercloud out in front of him.
This is not a generational thing.
You don't even have to know who Richard Nixon was to be a victim of his ugly, Nazi spirit.

He has poisoned our water forever.
Nixon will be remembered as a classic case of a smart man shitting in his own nest.
But he also shit in our nests, and that was the crime that history will burn on his memory like a brand.
By disgracing and degrading the Presidency of the United States, by fleeing the White House like a diseased cur, Richard Nixon broke the heart of the American Dream.
T-Rump pulled that broken heart out and feasted on it.
And there's understanding between vile, cruel assholes — from last February, the T-Rump reflected: '"I would always think, well, every time in the White House, I pass this beautiful portrait of various presidents, right?" he said. "But the portrait of Richard Nixon, I sort of — I don't know. It's a little bit of a different feeling than I get from looking at the other portraits of presidents."'
Today the T-Rump's portrait will be live on the TV as he administers illness and death to Americans, displaying the horror of being worse than the Dick.
Coming this summer…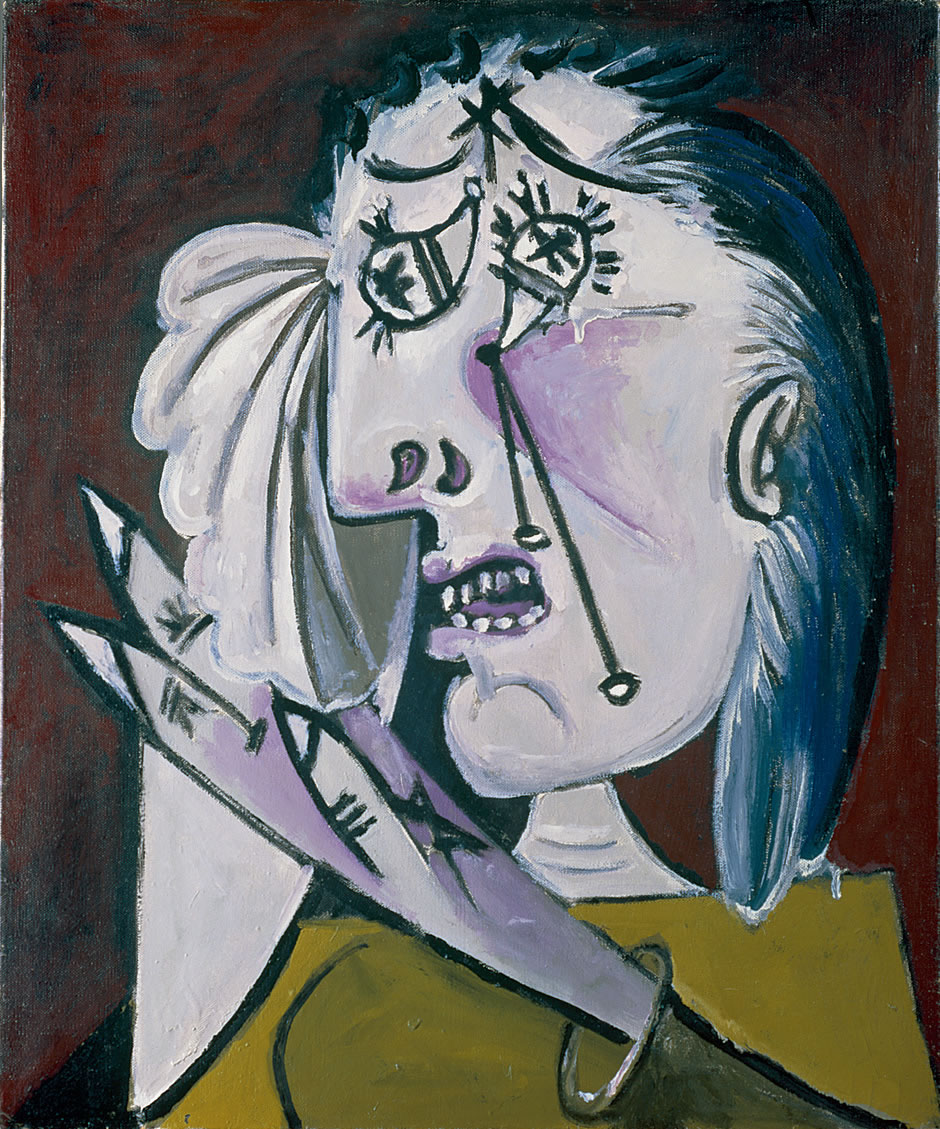 (Illustration: Pablo Picasso's 'The Weeping Woman [La Femme qui pleure],' found here).