Hot and still Saturday here in California's Central Valley. Another adventure of walking my daughter's dog, Leroy, along a small portion of the Rascal Bike Path here in Merced, which during the hike this morning was seemingly way-cooler and a bit overcast. An ambiance easily burned away upon our return leg, always quicker, and hotter.
Leroy…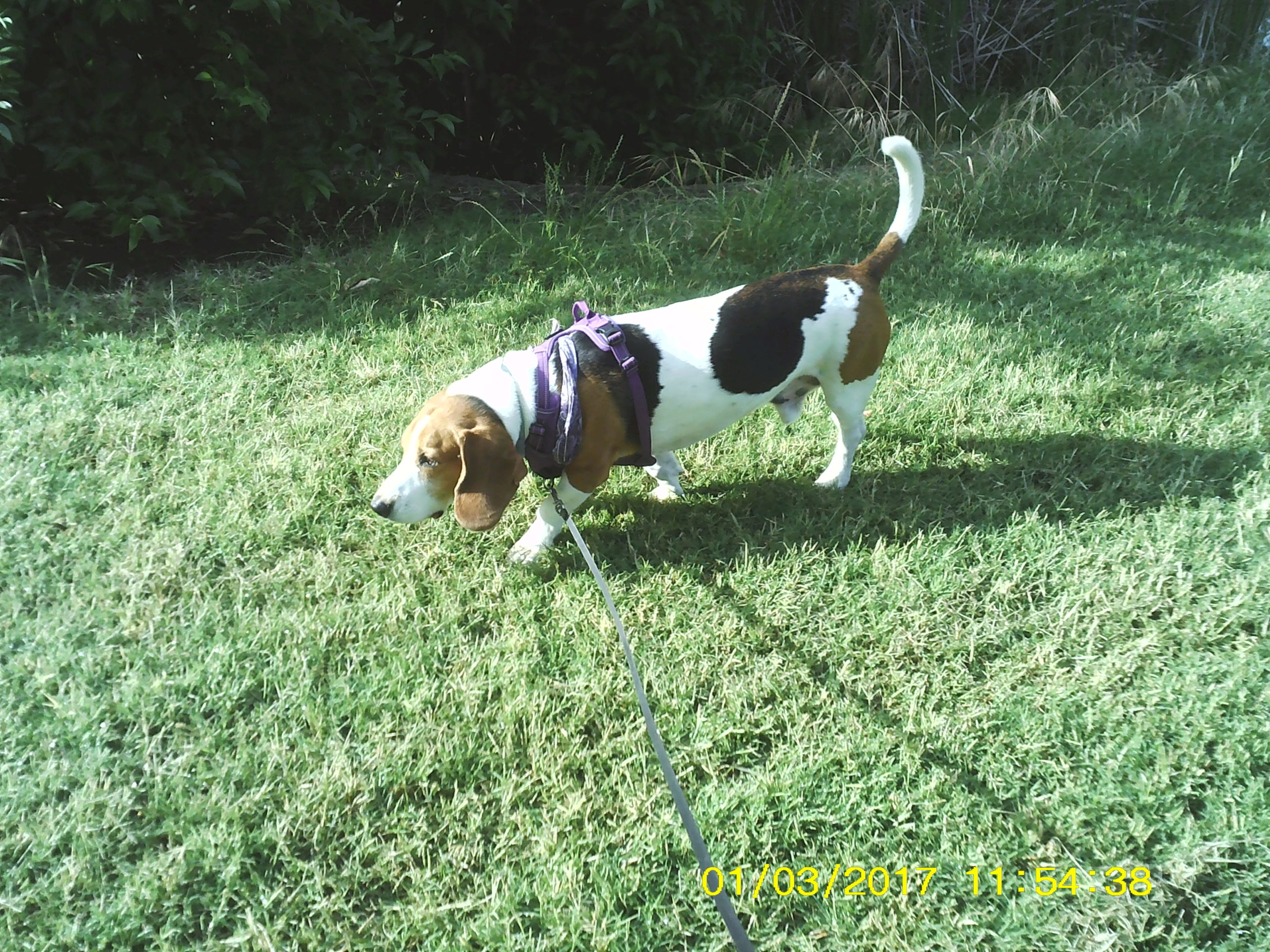 He's on the scent near the beginning, a small open space just past the entrance/exit to Sutter Court, a area Leroy likes, he spends a great deal of time seemingly following smell trails, even walking too close to the creek edge. He doesn't seem to understand he can fall in, and that would be the shits.
A basset hound/greyhound mix, Leroy has qualities from both breeds, but the sense of a small child (he's almost nine), and will eat anything, and I mean anything, a series of sniffs can way-quickly become crunching noises. Wonderful dog, though, and sweet, wants to smell everything, and everybody.
In this pandemic-of-a-time, I have to keep Leroy on a tight lease, and work him away from people/other dogs, maintaining way-proper space to allow the non-use of face masks, and other dog-walkers, joggers, bikers, all kept their distance.
A number of folks out this morning, bigger crowd than during the week — I'd think the shelter-in-place scenario would make a Saturday like a Tuesday, but I guess not. I saw just a couple of people with masks, but most without, as I. Hope it's okay, but so far everyone keeps to the virus rules, and it 'feels' safe, whatever that really means.
I mask-up going shopping, or anywhere out 'there.' A different set of operating rules, out 'there.'
A natural, pastoral scene…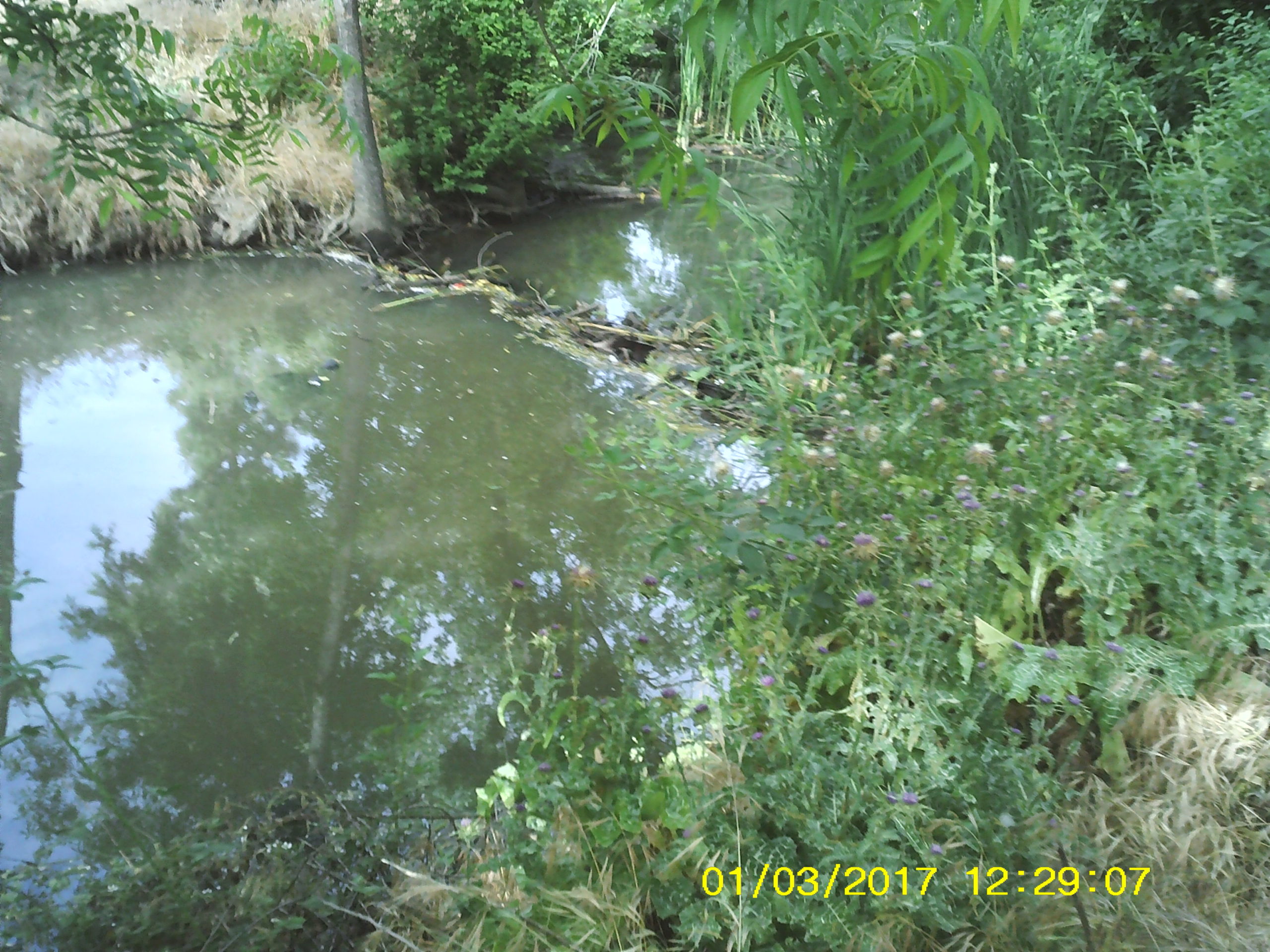 Spied this after hearing water gushing in a segment of the Rascal close to Rahilly Park and Parsons Avenue,. The nose was water over this dam, built by who-knows-who, was mostly tree limbs and weeds.
Leroy again…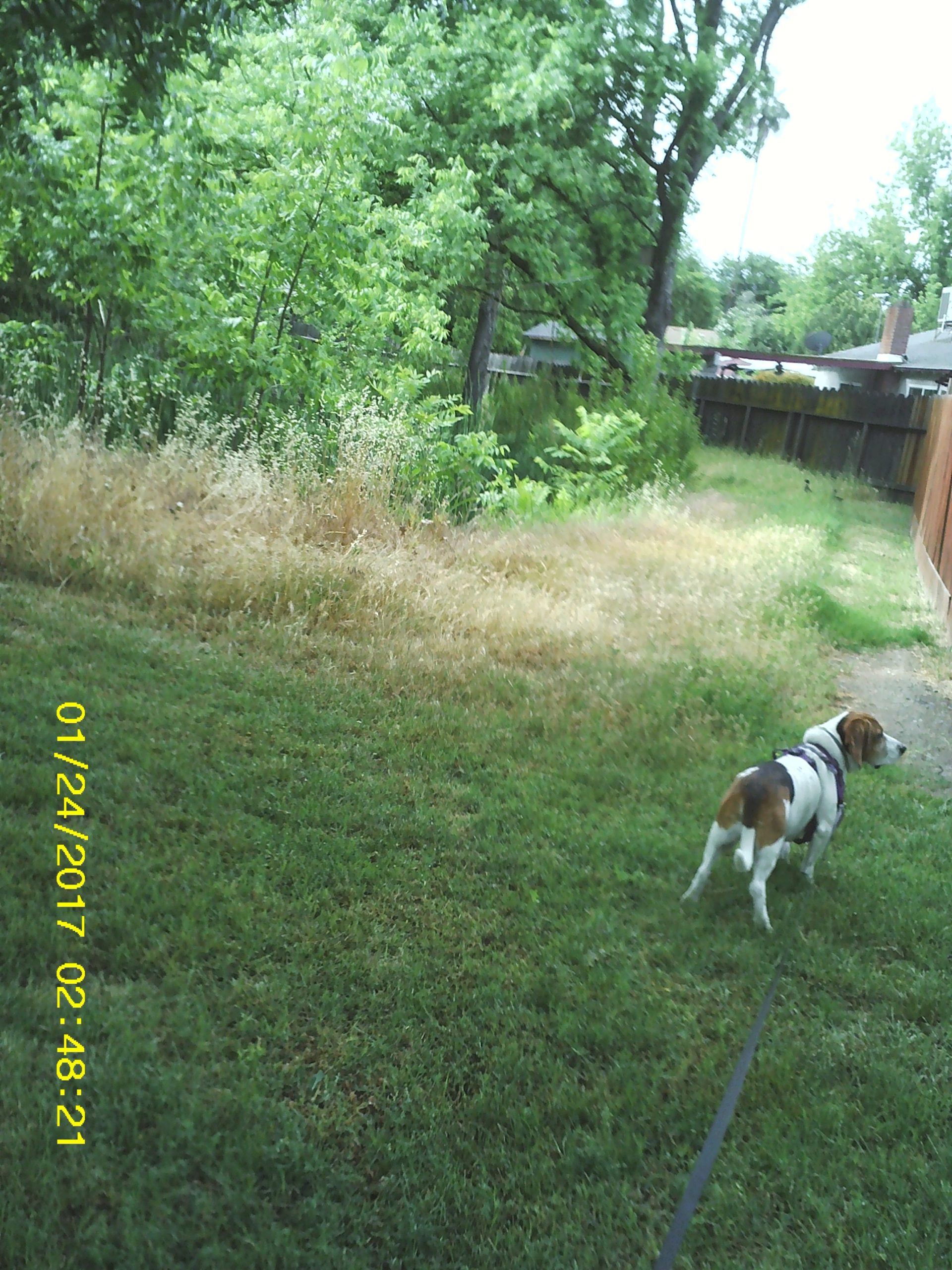 He's having a look-see at two ducks further down the fence line — you just can just barely make them out in this shitty photo (camera skills haven't improved), and I think he's reacting to a sound from the direction of Monet Vista Court. Leroy hears too good.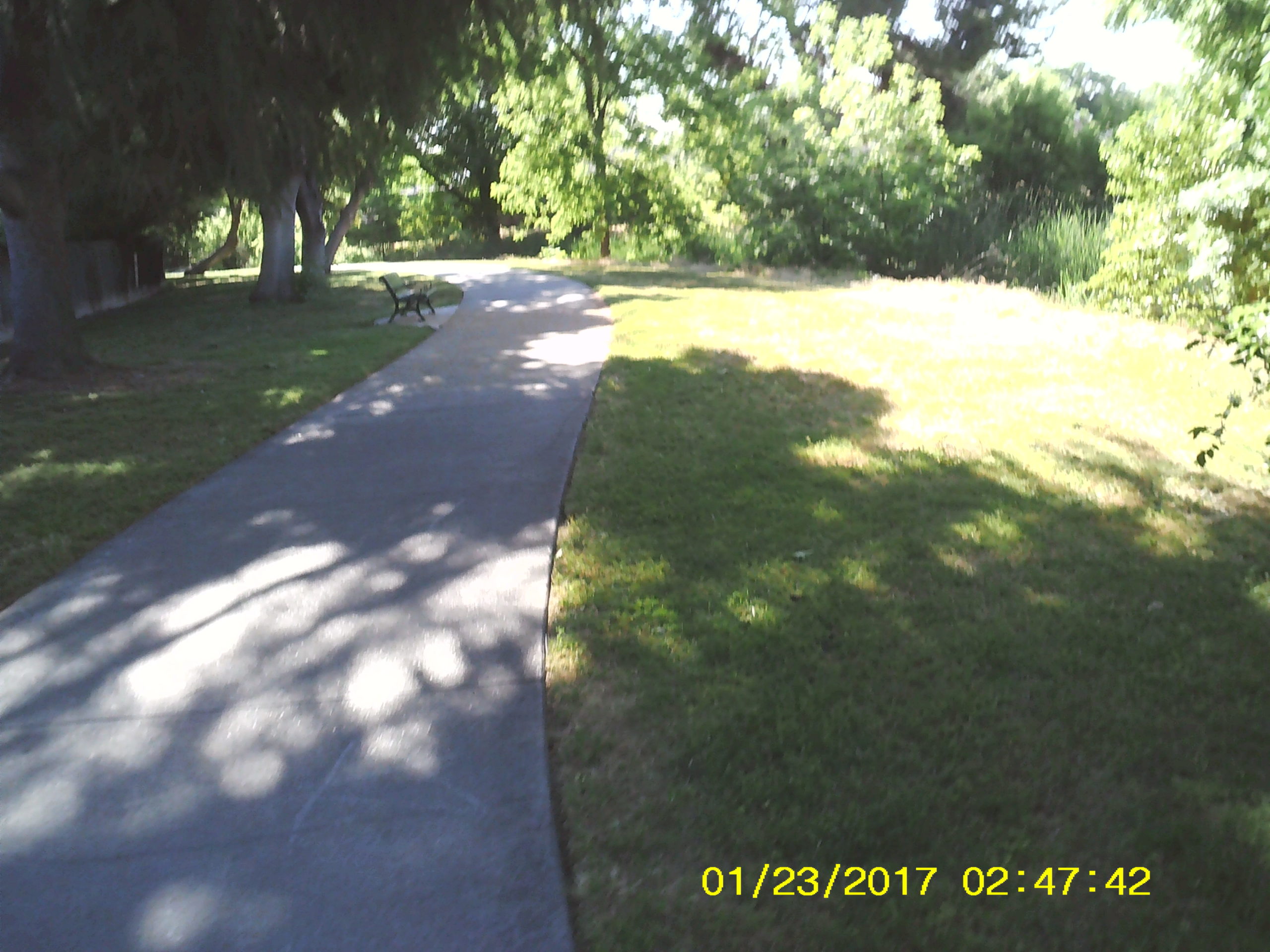 Quiet, peaceful segment of the Rascal yesterday just past the Columbia Avenue entrance/exit.
Leroy again…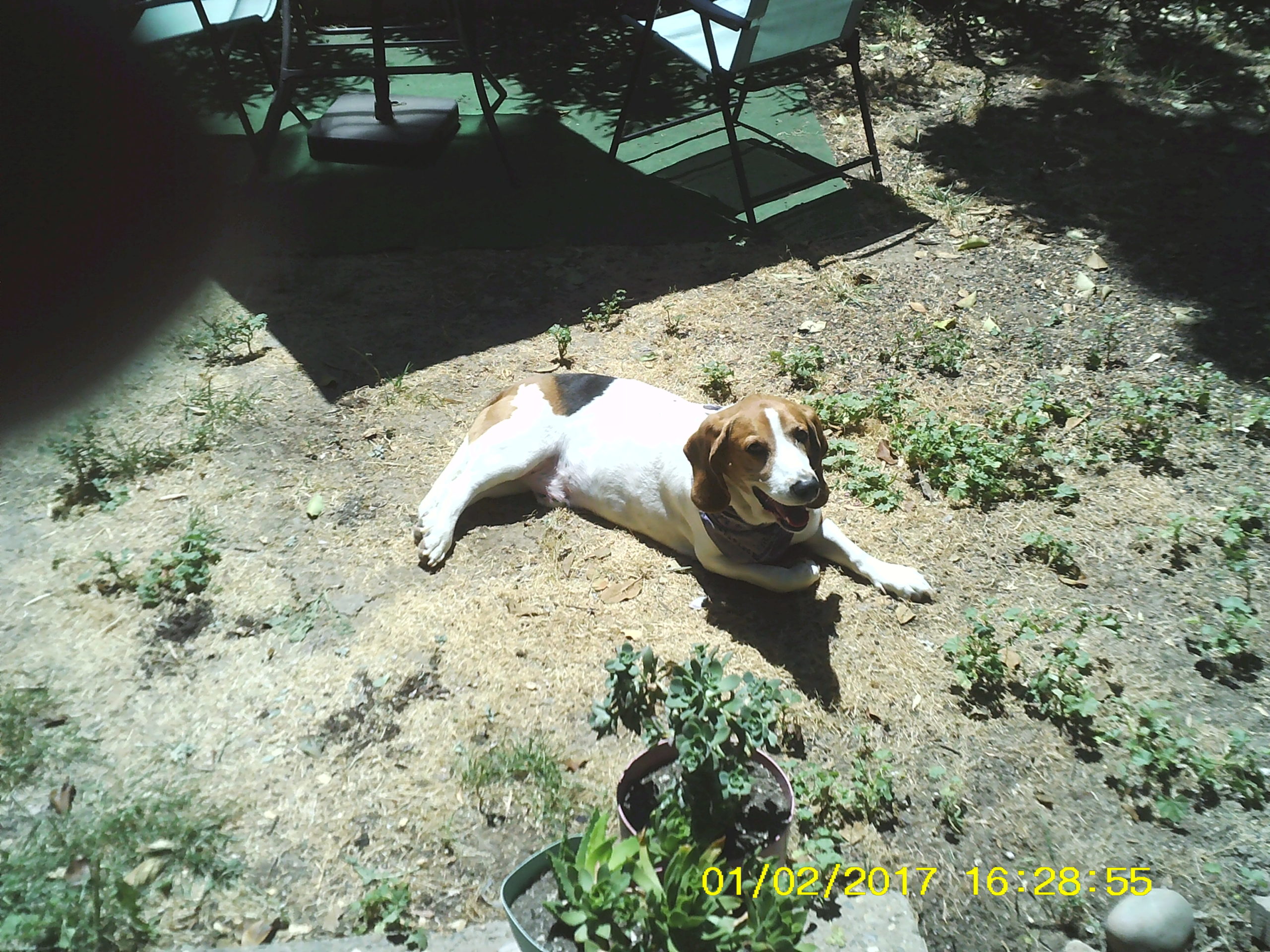 Soaking up rays yesterday afternoon in the backyard. A walk in the morning, then lay-out.
Always a dog's walk-way home…