Overcast and breezy, a cool-feeling supposedly 80-degrees this Sunday afternoon in California's Central Valley. Sitting in my daughter's small, cozy backyard, I catch occasional glimmers of sunshine, but the scene mostly emoting an ambiance of an old black-and-white movie with brief flashes of color.
Another heat burst upcoming, maybe temps in triple digits by mid-week.
Once again quiet strolls with Leroy along the Rascal Bike Path in Merced. Due to the heat last week, we had to leave early to beat the heavy ring of fire that's inevitable before mid-morning. However, a couple of times, the walk homeward did seemed right on an edge of advancing heat, barely making it back to quarters before deep-torridity inundated the air.
Leroy…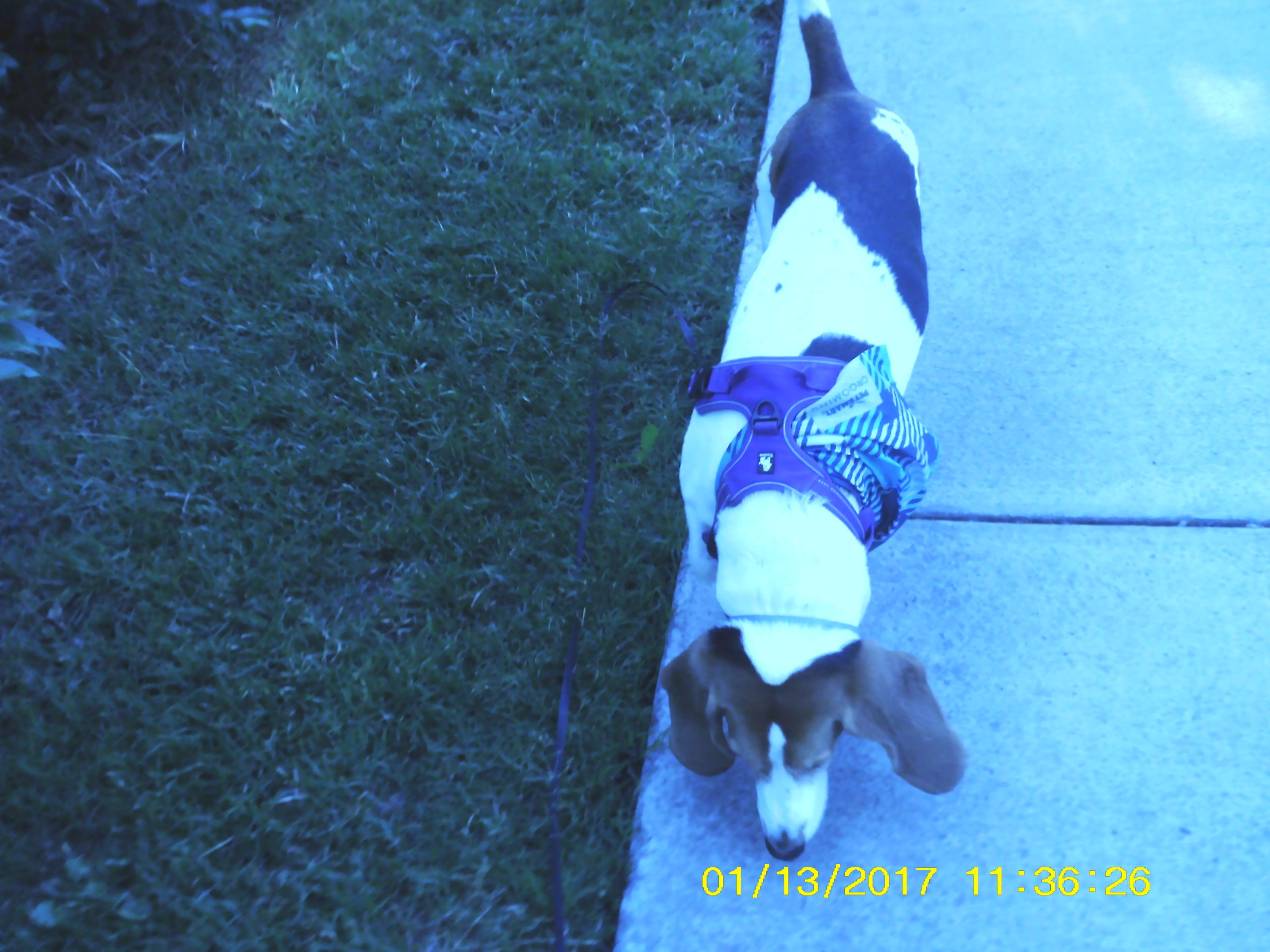 He's on the prowl, and from all aspects in the scene we're outward bound, probably getting close to Rahilly Park at Parsons Avenue, where we usually turn around for the return trip. We perform the feat just about every day, same course, too — habitual in this sense is soothing for some reason, most-likely under the heading of 'that which pacifies' in the nowadays.
And Leroy enjoys it, trails every scent everywhere, and I mean, 'every scent.'
A number of people on the Rascal this morning, including a bunch of folks also walking their dogs, seemingly more than usual, but it's Sunday, I guess, a weekend even in a pandemic. Only a few wore masks, most didn't (I don't on the path, but shopping — shit yeah!), but nearly everyone seemed to stay well separated. Except when they didn't, and I always gave them (and everybody) lots of room; there's plenty of grass along side the sidewalk-trail to maintain distance.
Leroy is easy to maneuver and create interest in shit — the nose. A basset hound/greyhound mix, he can be on the chase after a traveling odor/smell in a hurry. But he will eat anything, so I've got to keep a sharp eye and discern a sniff from a crunch.
In the pix above, the tint glistening gray probably was generated off the overcast sky early Thursday, I think — really neat environment that morning, though, odd shade to everything. Maybe, too, shitty camera, shitty operator, thus, easy-presto a weird pix of Leroy.
Anyway, seemed appropriate in mood for this past week.
Following pix from walks the last few days — we go every day, but I've gotten to the point only posting a couple/three times a week. (See our last walk here).
Even with a pastoral Rascal, there's too much shit to not think about…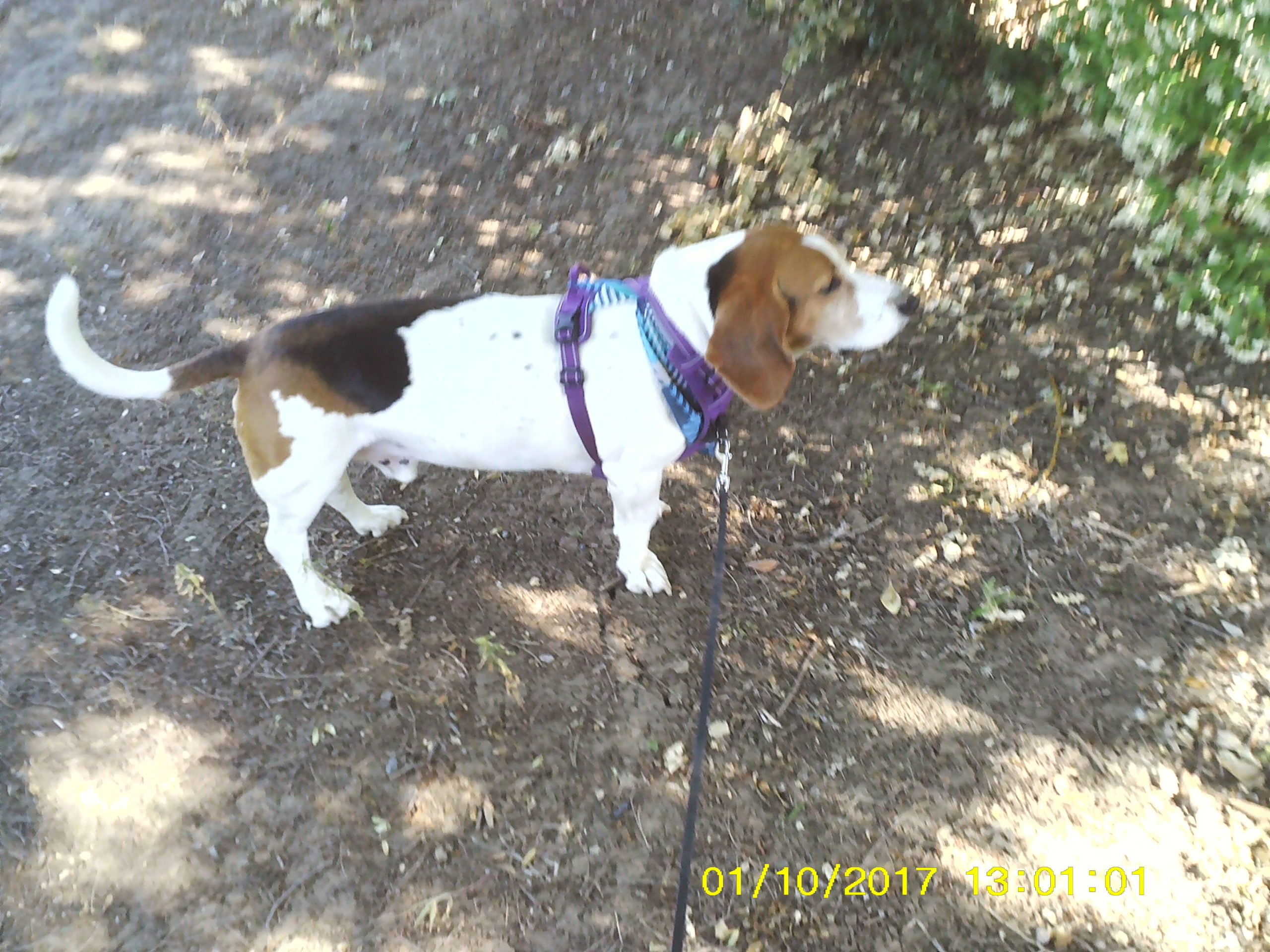 Leroy in pose, apparently attuned of sound this time, not smell — big ears all the better to hear. Locale off the entrance/exit to G Street, and just short of Monte Visa Court.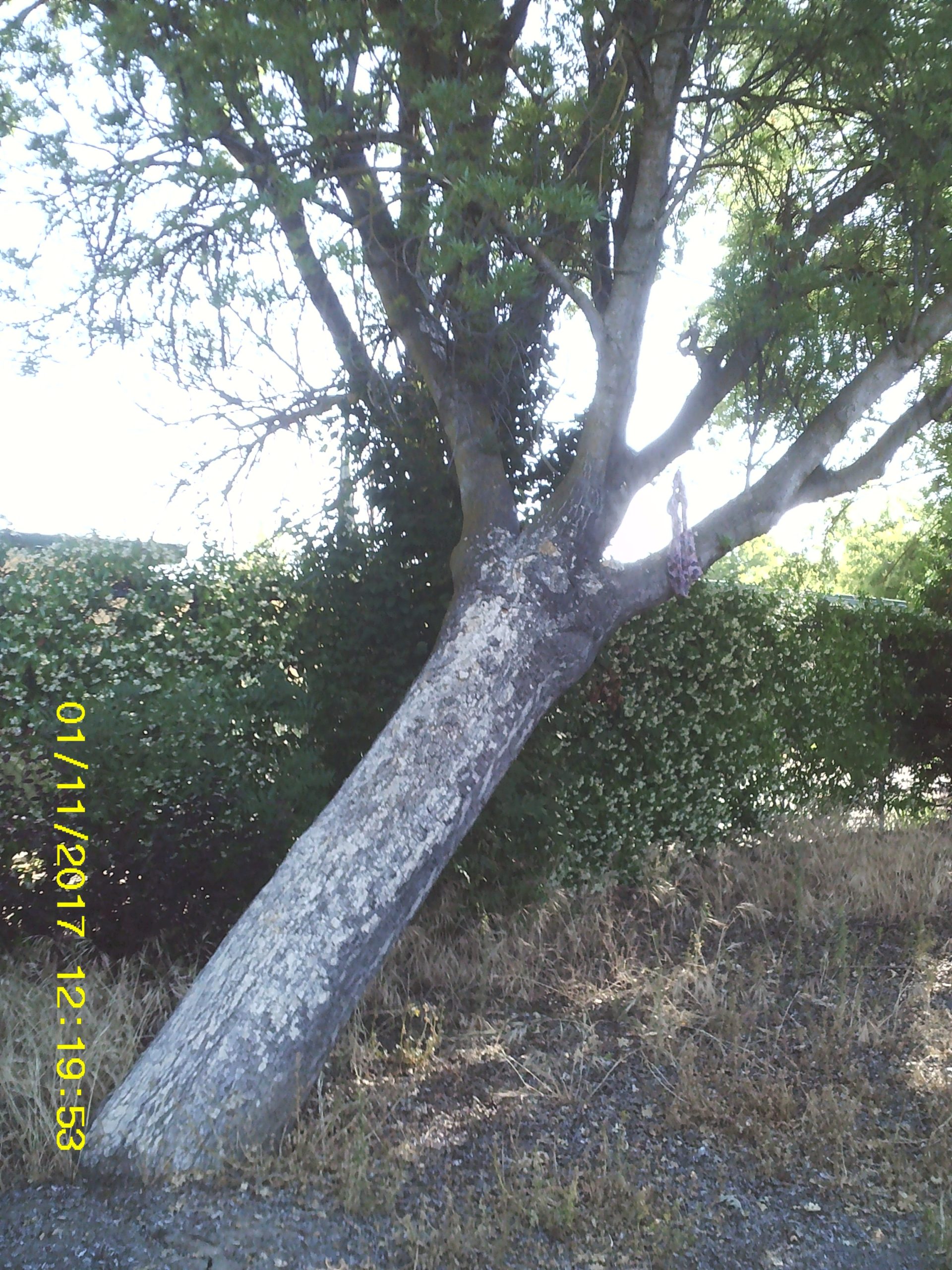 An unusual sight of a tree, found just at the entrance/exit to G. Street. One wonders a tree's history on what caused it to grow in such a fashion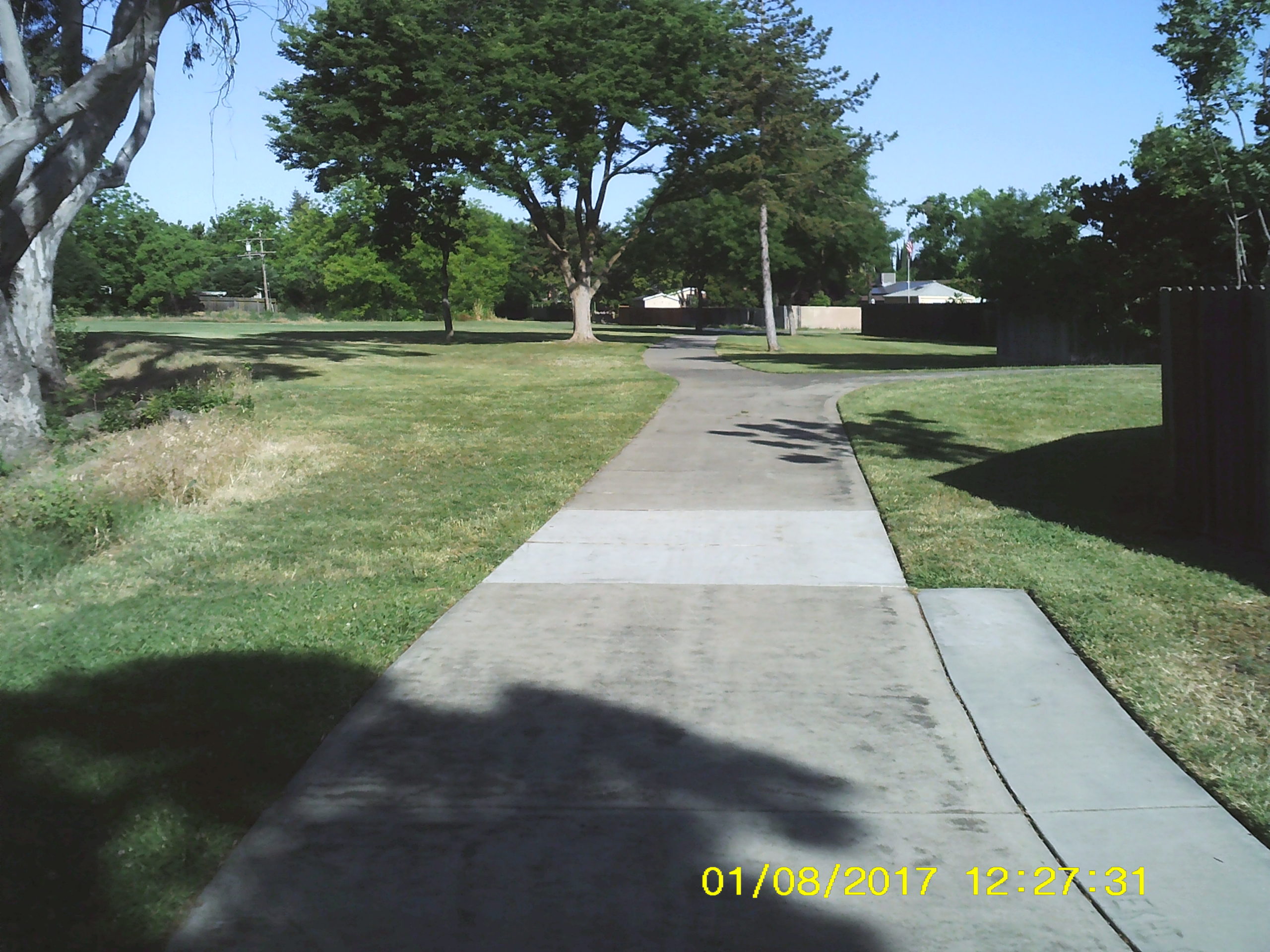 A CinemaScope take on the big opening at the entrance/exit to Columbia Avenue.
And to the left of the picture, winding around the corner of the space along the creek, leads to a small patch of trees also along the creek, and is shady and quiet…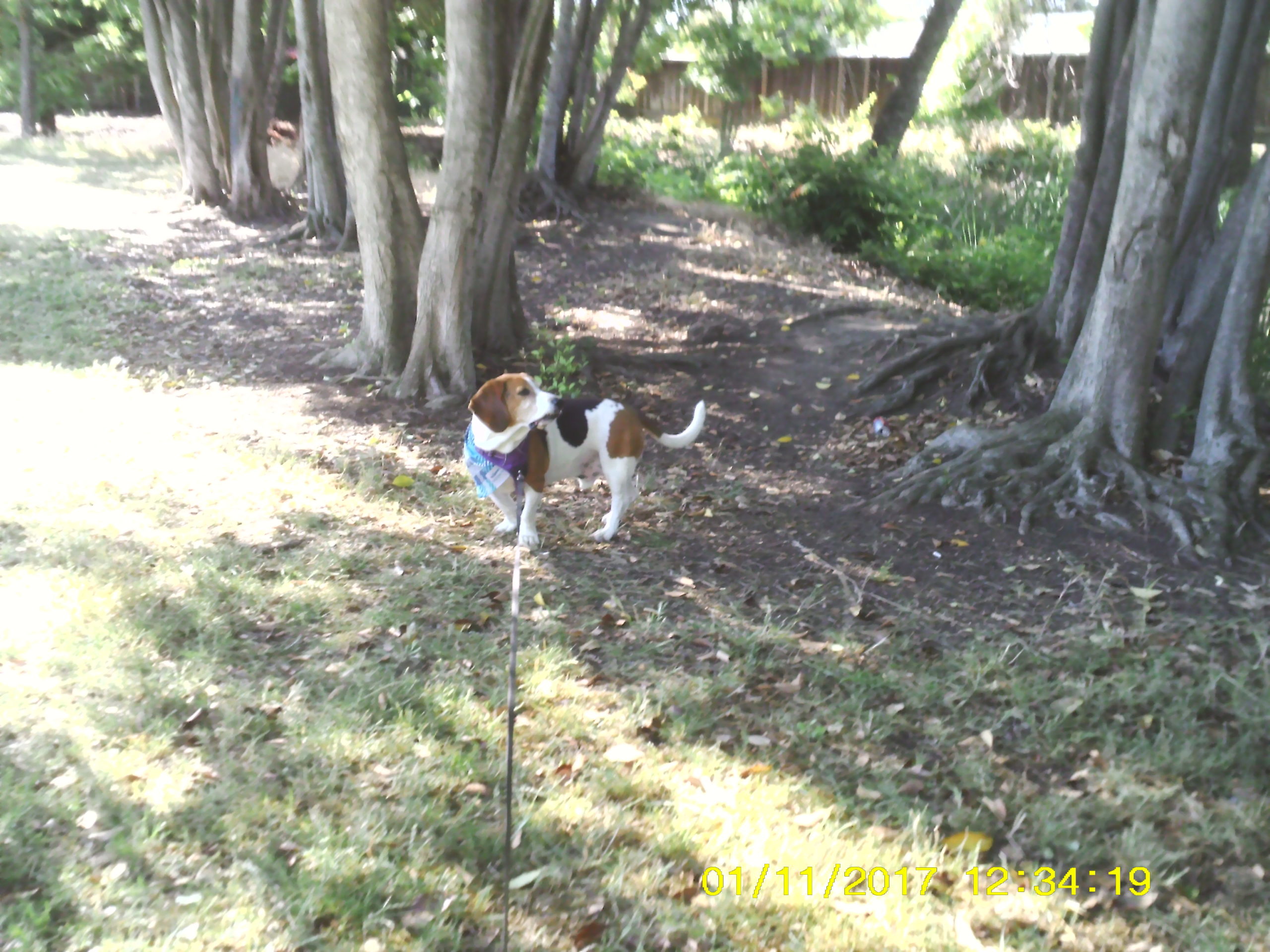 As where be Leroy…
And in more-clever times…
Onward…