Ending of the Thanksgiving four-day spread this early-evening Sunday here in California's Central Valley, first of two precarious holiday functions to finish out one shitty year, Christmas/New Year now approaching in sight.
Outside just now doing a BM (Black&Mild, Wine), the small backyard of my daughter's apartment was quiet and near-serene, though, Merced city traffic could be heard prowling in the distance, chirping birds were sharply distinct — a peaceful noise.
Inside at the laptop now, shitty the sight. The most-awful side-effect and a terrible consequence of the T-Rump is how many Americans are really, really fucked up. Nearly half the voters in this counrtry pulled the lever for the T-Rump, and way-support the piece of shit, which is way-frightening. The T-Rump is obviously going nuts in real time, lying and just fabricating far-fetched shit that's not true on its many faces.
In the context of 2020, however, this situation claws above normal-ass political bullshit, and is the realm of a war-like national emergency of deadly proportions — so far today, the US has reported 109,671 new COVID-19 cases and 731 deaths, according to Johns Hopkins University, the 27th day new cases have topped a hundred grand. Added to that, hospitalizations hit a record today, too. Our medical system nationwide is about to colllaspe.
CNN this evening:
"There's no way that the hospitals can be fully prepared for what we're currently facing," emergency medicine physician Dr. Megan Ranney said.
"This is like a natural disaster occurring in all 50 states at the same time. There are not adequate beds. There are not adequate staff. And because of the lack of national preparation, there are still not adequate supplies," said Ranney, a CNN medical analyst and director of the Brown-Lifespan Center for Digital Health at Brown University.
Not only is the T-Rump a crap of a person, a cruel, self-centered asshole, the people who follow in behind him are the same — another frightful concept. Peas in a real-shitty psyho pod:
South Dakota set a new record for COVID-19 deaths on Saturday — and the state's anti-lockdown governor tweeted a plea for people to go shopping.
The Health Department reported 54 deaths, one more than the previous record set two weeks ago.
And the state also tallied 819 new infections out of 1,892 people tested—a terrifying 43-percent positivity rate.
Gov. Kristi Noem has repeatedly rejected calls for a statewide mask mandate and refused to warn people against gathering for the holidays.
On Saturday, she tweeted a reminder of #SmallBusinessSaturday: "These businesses are the lifeblood of so many South Dakota communities. Please support them today and every day!"
And hence we stand. Ane hence we be warned, seemingly time and time again.
Dr. Anthony Fauci this morning:
NEW: "We may see a surge upon a surge. We don't want to frighten people but that's just the reality," Dr. Anthony Fauci tells @MarthaRaddatz, adding that he doesn't expect a relaxation of restrictions or travel advisories for the Christmas season. https://t.co/txCs2tyc80 pic.twitter.com/ajTlQoMzpK

— This Week (@ThisWeekABC) November 29, 2020
The good doctor on the recent inhumane SCOTUS decision:
Raddatz also asked the doctor for his reaction to the Supreme Court's decision last week to strike down New York's pandemic-induced restriction on large religious gatherings — a controversial ruling at the intersection between personal and religious freedoms and public safety.

"(Legal challenges) happen… there's nothing I can do about it," Fauci said.
"I can just say, it doesn't matter who you are, where you are — when you have congregate settings, particularly indoors, when people are not wearing masks, that is a considerable risk for acquisition and spread of infection. No matter what the circumstance is, that is a risk."
No matter the circumstance — an example report from earlier this month: 'A wedding reception with 55 persons in a rural Maine town led to COVID-19 outbreaks in the local community, as well as at a long-term care facility and a correctional facility in other counties. Overall, 177 COVID-19 cases were linked to the event, including seven hospitalizations and seven deaths (four in hospitalized persons). Investigation revealed noncompliance with CDC's recommended mitigation measures.'
Maskless-Monster T-Rump the culprit…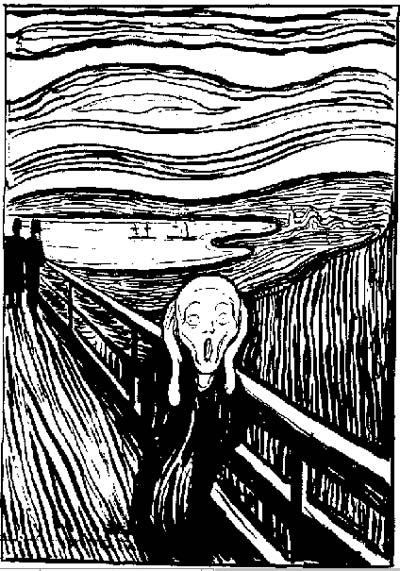 (Illustration: Edvard Munch's 'The Scream,' lithograph version, found here)