Most-likely you've already heard/read this afternoon about the T-Rump/Brad Raffensperger taped telephone call from yesterday, the major story across the news cycle right now, as it should. Of course, even with T-Rump's history, the ring-dingy still stands out as a monstrously-idiotic move, trying to get a state official to overturn an already certified election.
Stands out maybe as T-Rump's stinkiest piece of shit yet, and on tape.
This morning, kickback:
Respectfully, President Trump: What you're saying is not true. The truth will come out https://t.co/ViYjTSeRcC

— GA Secretary of State Brad Raffensperger (@GaSecofState) January 3, 2021
And this afternoon, evidence to lying.
Original scoop from The Washington Post:
President Trump urged fellow Republican Brad Raffensperger, the Georgia secretary of state, to "find" enough votes to overturn his defeat in an extraordinary one-hour phone call Saturday that election experts said raised legal questions.

The Washington Post obtained a recording of the conversation in which Trump alternately berated Raffensperger, tried to flatter him, begged him to act and threatened him with vague criminal consequences if the secretary of state refused to pursue his false claims, at one point warning that Raffensperger was taking "a big risk."
…
The rambling and at times incoherent conversation offered a remarkable glimpse of how consumed and desperate the president remains about his loss, unwilling or unable to let the matter go and still believing he can reverse the results in enough battleground states to remain in office.

"There's no way I lost Georgia," Trump said, a phrase he repeated again and again on the call.
"There's no way. We won by hundreds of thousands of votes."

Several of his allies were on the line as he spoke, including White House Chief of Staff Mark Meadows and conservative lawyer Cleta Mitchell, a prominent GOP attorney whose involvement with Trump's efforts had not been previously known.

In a statement, Mitchell said Raffensperger's office "has made many statements over the past two months that are simply not correct and everyone involved with the efforts on behalf of the President's election challenge has said the same thing: show us your records on which you rely to make these statements that our numbers are wrong."
And like a petty crime boss he sounded — though, an incompetent, ignorant freakazoid version:
During their conversation, Trump issued a vague threat to both Raffensperger and Ryan Germany, the secretary of state's general counsel, suggesting that if they don't find that thousands of ballots in Fulton County have been illegally destroyed to block investigators — an allegation for which there is no evidence — they would be subject to criminal liability.
"That's a criminal offense," he said.
"And you can't let that happen. That's a big risk to you and to Ryan, your lawyer."
And mentally disturbed:
Trump did most of the talking on the call.
He was angry and impatient, calling Raffensperger a "child" and "either dishonest or incompetent" for not believing there was widespread ballot fraud in Atlanta — and twice calling himself a "schmuck" for endorsing Kemp, whom Trump holds in particular contempt for not embracing his claims of fraud.

"I can't imagine he's ever getting elected again, I'll tell you that much right now," he said.
…
Trump sounded at turns confused and meandering.
At one point, he referred to Kemp as "George."
He tossed out several different figures for Biden's margin of victory in Georgia and referred to the Senate runoff, which is Tuesday, as happening "tomorrow" and "Monday."
And ended shitty, too:
Yet Trump also recognized that he was failing to persuade Raffensperger or Germany of anything, saying toward the end, "I know this phone call is going nowhere."

But he continued to make his case in repetitive fashion, until finally, after roughly an hour, Raffensperger put an end to the conversation: "Thank you, President Trump, for your time."
Transcript and audio of the call here.
However, paragraphs in the transcript are thick as shit with T-Rump's blubberings continuing on and on, I skipped through the text, but it's all the same, gets a bit too much to actually handle, and heavy in fart weight. For instance, earlier in the conversation:
"But that's the difference in the votes. But we've had hundreds of thousands of ballots that we're able to actually — we'll get you a pretty accurate number. You don't need much of a number because the number that in theory I lost by, the margin would be 11,779. But you also have a substantial numbers of people, thousands and thousands, who went to the voting place on November 3, were told they couldn't vote, were told they couldn't vote because a ballot had been put on their name. And you know that's very, very, very, very sad."
Fart weight in a way-small room. Enough is enough of that shit — hard to believe it went almost an hour.
Scott Lemieux at LG&M this afternoon makes note of the lawyer on Trump's end, Cleta Mitchell, who supposedly is a top-notch DC attorney, now involved in some nefarious shit:
A nugget buried in the Post piece: Trump is being advised by Cleta Mitchell, a partner at Foley, about how to steal the election pic.twitter.com/lUCnzEIvwL

— Hannah Mullen (@hannnahmmarie) January 3, 2021
Remember, what the T-Rump touches, dies usually under a bus.
And the legalities seemed to be enormous — former Justice Department inspector general Michael Bromwich:
Unless there are portions of the tape that somehow negate criminal intent, "I just want to find 11,780 votes" and his threats against Raffensperger and his counsel violate 52 U.S. Code § 20511. His best defense would be insanity.https://t.co/ZAtRgiRQmz

— Michael R. Bromwich (@mrbromwich) January 3, 2021
And then late this afternoon (via Raw Story):
The audio published by @TheWashingtonPost is heavily edited and omits the stipulation that all discussions were for the purpose of settling litigation and confidential under federal and state law.

— David Shafer (@DavidShafer) January 3, 2021
Georgia is what's called a "one-party consent" state, meaning that only one party on a phone call would have to be aware of the recording.
Obviously, Raffensperger and his lawyer knew of the recording, which satisfied the one-party rule.
So, Trump's lawsuits will be dismissed.
All unkown right now…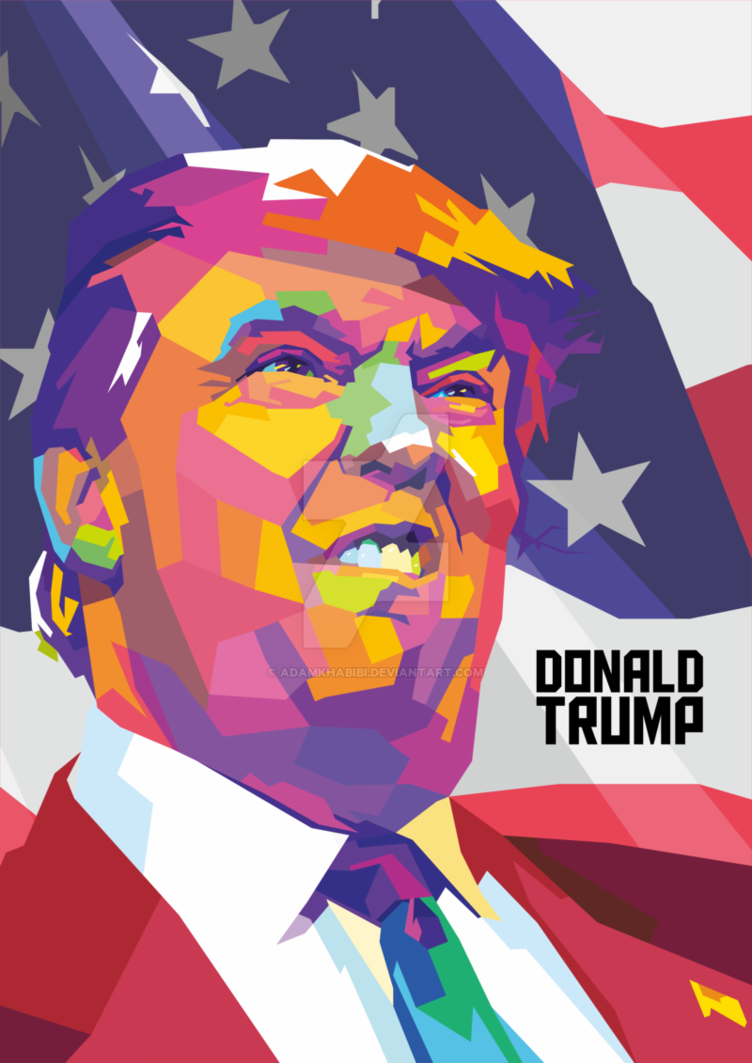 (Illustration: 'Donald Trump,' by Adam Khabibi, found here).