As the Senate trial of the T-Rump begins day three, another shitty story currently has floated-up created via horrid lies and bullshit of the right-wing delusional, nasty, hated-filled rhetoric intensifying the last couple of months — Gina Carano is a pilgarlic asshat.
I was unaware of Carano's shit until just yesterday when news broke of her being kicked-off "The Mandalorian" after a backlash from her racist, conspiracy-theory laded socia media posts, which apparently she'd been tossing-out for months. The news a gut-punch with someone I'd really come to appreciate.
How wrong appearances can be without context — I became enamored with Carano off her performance in Steven Soderbergh's "Haywire" (2011) and originally saw it on Netflix when the streaming service had first shown it. I didn't know her background then (learned later) as a decorated mixed martial fighter, the "the face of women's MMA," and "Haywire" her first movie gig.
And after seeing it several times, it was good, too — great cast with Soderbergh taking on an action fick with gusto (Scene at left from "Haywire," Carano kicking Channing Tatum's ass, and found here).
And I was way-overjoyed in spotting her in "The Mandalorian," where she fit like an action glove. Alas, she now joins Kevin Spacey on the asshole shitlist.
This morning, The Washington Post has details:
Lucasfilm, the production company in charge of the "Star Wars" series, confirmed the decision in a statement shared with The Washington Post late Wednesday after Gizmodo first reported the news.

"Gina Carano is not currently employed by Lucasfilm and there are no plans for her to be in the future," the company said in a statement.
"Nevertheless, her social media posts denigrating people based on their cultural and religious identities are abhorrent and unacceptable."

The announcement to sever ties with Carano, who played Cara Dune on the critically acclaimed series, comes after widespread backlash this week to an Instagram post that featured the graphic photo of a Jewish woman being beaten in Nazi Germany.
…
In addition to the Disney Plus show dropping her, Carano has also been released by United Talent Agency and ID PR, according to the Wrap.
Carano had been pulling this shit for months, passing on T-Rump's election lies, and COVID misinformation:
In November, she began echoing Trump's baseless claims of widespread voter fraud. In other posts, she mocked mask mandates to stop the spread of the coronavirus.
She had previously called for churches and businesses to reopen and criticized pandemic restrictions.
— Gina Carano ? (@ginacarano) November 15, 2020
And there's deep consequences with shitty behavior:
As fans called for Carano to be fired following her anti-mask sentiment, her social media posts reportedly cost her a larger role in Disney's plans.
As the Hollywood Reporter noted, Carano was slated to star in her own "Star Wars" spinoff, but Disney scrapped the idea after her November tweets on the election and coronavirus went viral.
Carano, who later announced she had joined the conservative app Parler, went on to mock the coronavirus vaccine and the legitimacy of mail-in voting in December.
Horrible, but good riddance to shittyness…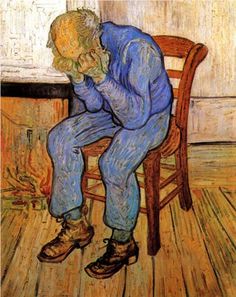 (Illustration: Vincent van Gogh's 'Old Man in Sorrow (On the Threshold of Eternity)' found here).