After bombshell information dropped last night about a phone call between T-Rump and Kevin McCarthy as crazed MAGA heads were swarming the US Capitol building last month, there was a short sequence this morning where witnesses on the affair would be called before a vote is made, but alas, Dems caved and we'll most-likely have an acquittal later today.
And talk about droping the ball.
After fighting for witness testimony, Democrats have caved and Trump's #ImpeachmentTrial will end without it. Baffling. pic.twitter.com/swgu1MCHyd

— Aaron Rupar (@atrupar) February 13, 2021
Background on that phone via CNN last night:
"Well, Kevin, I guess these people are more upset about the election than you are," Trump said, according to lawmakers who were briefed on the call afterward by McCarthy.

McCarthy insisted that the rioters were Trump's supporters and begged Trump to call them off.
Trump's comment set off what Republican lawmakers familiar with the call described as a shouting match between the two men.
A furious McCarthy told the then-President the rioters were breaking into his office through the windows, and asked Trump, "Who the f–k do you think you are talking to?" according to a Republican lawmaker familiar with the call.
…
"He is not a blameless observer. He was rooting for them," a Republican member of Congress said. "On January 13, Kevin McCarthy said on the floor of the House that the President bears responsibility and he does."

Speaking to the President from inside the besieged Capitol, McCarthy pressed Trump to call off his supporters and engaged in a heated disagreement about who comprised the crowd.
Trump's comment about the would-be insurrectionists caring more about the election results than McCarthy did was first mentioned by Rep. Jaime Herrera Beutler, a Republican from Washington state, in a town hall earlier this week, and was confirmed to CNN by Herrera Beutler and other Republicans briefed on the conversation.

"You have to look at what he did during the insurrection to confirm where his mind was at," Herrera Beutler, one of 10 House Republicans who voted last month to impeach Trump, told CNN.
"That line right there demonstrates to me that either he didn't care, which is impeachable, because you cannot allow an attack on your soil, or he wanted it to happen and was OK with it, which makes me so angry."

"We should never stand for that, for any reason, under any party flag," she added, voicing her extreme frustration.
"I'm trying really hard not to say the F-word."
I'll write it out for you instead — Fuck!
The entire proceedings is a farce, even despite such a good job House impeachment managers made earlier this week and the way-obvious incitement generated by the T-Rump to egg the rioters to attack the capitol. Moscow Mitch has confirmed he'll vote to acquit, which should tell you everything you need to know.
Given McCarthy's call is a slam-dunk to conviction, it won't be happening.
And what of spineless, shit-heel McCarthy? Jennifer Rubin at The Washington Post this morning:
He had this damning information but did not share it with the House.
He voted against impeachment.
He allowed a groundswell of opposition to form against Rep. Liz Cheney (R-Wyo.) for her principled vote to impeach.
He went to Mar-a-Lago to kiss the ring of the disgraced former president and has remained quiet during a trial in which defense counsel claimed the former president had no knowledge that his vice president was in peril.
In short, McCarthy withheld critical information from the House, the Senate and the country; knowing how despicably the former president had behaved, McCarthy kept him front and center as the party's leader.

This evidence is the Perry Mason sort of gasp-inducing moment when a trial going down an established track gets derailed.
This may make it much harder for Republicans determined to acquit Trump. (Senate Minority Leader Mitch McConnell already declared his intention to acquit, claiming lack of jurisdiction, which is rich considering his own delay made it impossible to hold this trial before Jan. 20.)
The damning evidence will once more leave Republicans looking like soulless zombies in the MAGA cult.
In this case, it also reminds us that the House has not had, in recent memory, as weak and craven a minority (or majority) leader as McCarthy.
What else..?
The nedia needs to get its shit together — from Eric Boehlert's Press Run yesterday and what's up:
Instead of accurately describing his post-election, authoritarian attempt to steal an election by invalidating millions of votes, for weeks and months we saw news updates about Trump's "tactics," his vague "moves" and "chicanery"; his legal "strategy" and "power play" while "sulking" and "brooding" inside the White House.
Early on, Politico dismissed Trump's ongoing rampage as nothing more than "performance art" and "bad sportsmanship."

The Republican Party under Trump has morphed into something sinister and dangerous.
The model that the press used for decades to cover the GOP is now clearly obsolete.
We're beyond performance art…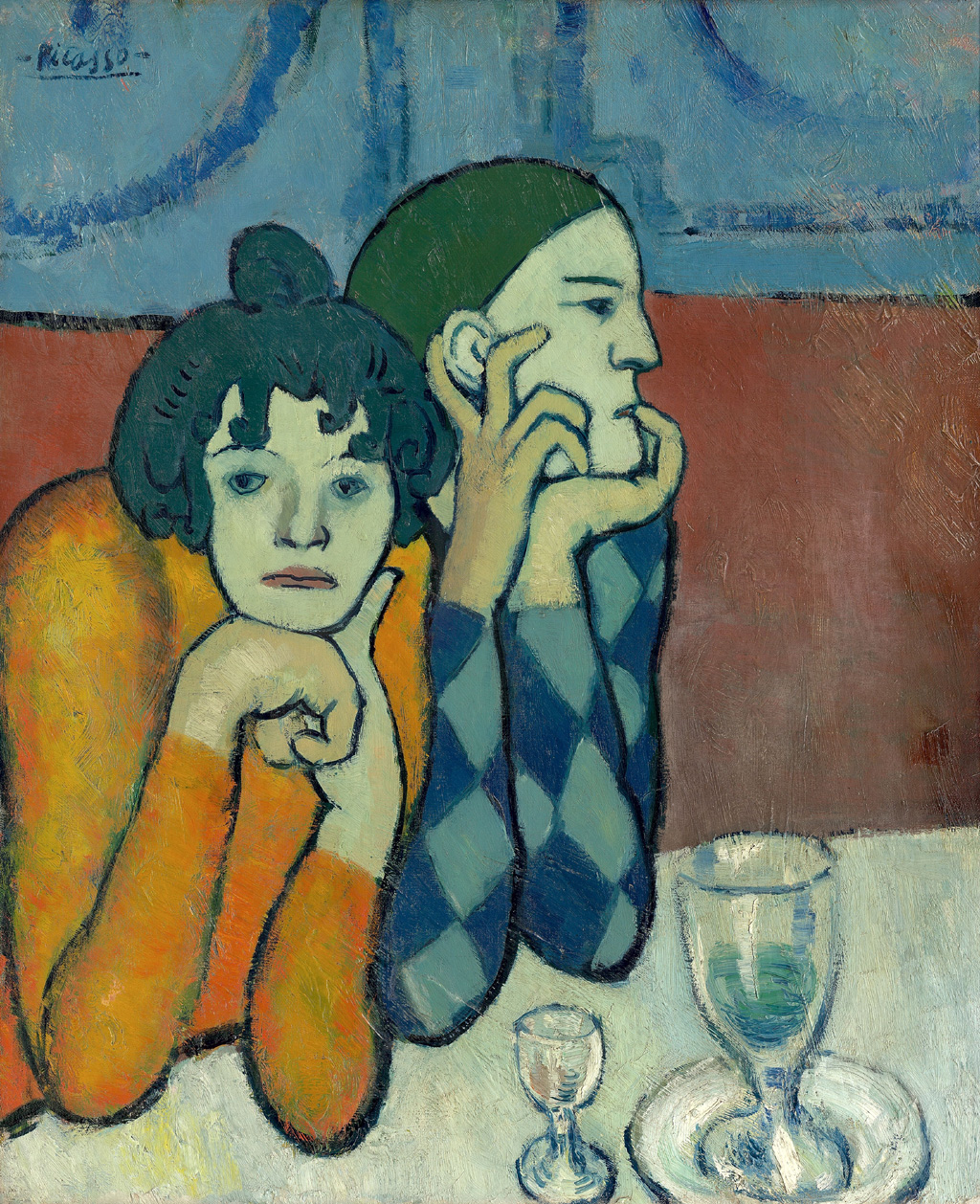 (Illustration: Pablo Picasso's 'Les Deux Saltimbanques: l'Arlequin et Sa Compagne,' found here).