Finally, this monrning after way-too-much bullshit:
Leahy announces the Covid relief bill has passed, and a round of applause ensues pic.twitter.com/3N4JO4WWdH

— Aaron Rupar (@atrupar) March 6, 2021
Details via The Washington Post just a bit ago:
The Senate approved a $1.9 trillion coronavirus relief plan on Saturday, as Democrats muscled through a marathon debate — and overcame dissent from moderates within their own ranks — to move one step closer to delivering President Biden his first legislative victory.

Democrats voted to adopt the bill without any Republican support after a roughly 24-hour, around-the-clock session, though it will now fall to the House to consider the sweeping package once again before it can become law and any of the aid can be dispersed.
…
The relief measure includes a new round of up-to $1,400 stimulus checks for millions of Americans, $350 billion for cash-strapped cities and states, $130 billion for schools, and other sizable sums for a wide array of programs including food assistance, rental relief and coronavirus vaccine distribution.
The bill also authorizes an additional $300-per-week in unemployment payments until early September, trimming the amount that House Democrats initially had approved earlier in the month.
…
The House is still expected to pass the Senate's bill quickly, teeing it up for Biden to sign in a matter of days.
At least we finally get a major win for Biden and company, and hopefully there's no further snags in getting the 'relief' to the people who need it — US.
"Five Year Plans and New Deals, wrapped in golden chains," and soon:
"Heard the singers playin', how we cheered for more
The crowd had rushed together, tryin' to keep warm
Still the rain kept pourin', fallin' on my ears
And I wonder, still I wonder, who'll stop the rain?"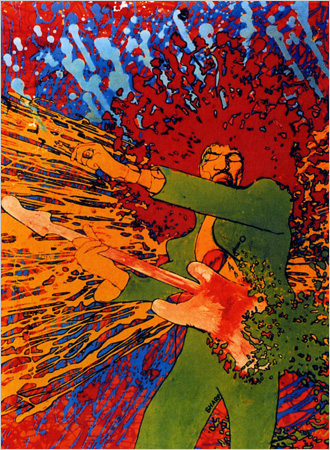 (Illustration found here).