Hot and still this late-afternoon Thursday here in California's Central Valley — even right now it's reported to be 91-degrees, even with a slow-fading sun.
Today was also my first T-shirt day this year — usually, I wear at least a sweatshirt in walking Leroy, my daughter's Basset Hound/Grayhound mix, and until just recently a combo of sweatshirt/jacket — and now just a simple T-shirt. A scenario accordingly announcing the unofficial sweltering, oven-like reality of quickly approaching summer.
Also another more-important first today, but this one way cool and I'm sure you've already heard — Ketanji Brown Jackson will be the first black woman ever to serve on SCOTUS! (h/t tweet tengrain);
Powerful Imagery.

President Biden and Justice Ketanji Brown Jackson watching her confirmation vote.

It's the holding of the hands for me!!! pic.twitter.com/eQQe8cMDlz

— ? Mr. Weeks ? (@WonderKing82) April 7, 2022
And the icing on the top, the first Black woman to serve as vice president, Kamala Harris, presided over the Senate vote, which fell into already-known place — the count 53-47, all Democrats and only three Republicans out of the whole, miserable, asshole bunch (Susan Collins, Mitt Romney, Lisa Murkowski) and there you have it.
She will actually take the SCOTUS bench in late June/early July when Stephen Breyer's term ends and he retires.
An interesting note for KBJ and her rude-ass Republican prick-interrogators — from Forbes this afternoon:
Polling shows Jackson is among the most popular judges in recent history to be confirmed to the court. A Morning Consult/Politico poll conducted after Jackson's Senate confirmation hearings found 49-percent of respondents thought the Senate should confirm Jackson and only 26-percent thought it shouldn't, which is higher than any of the three justices nominated by former President Donald Trump received upon being confirmed.
A Gallup poll conducted before the Senate hearings also found support for Jackson's confirmation (at 58-percent) was higher than that of any Supreme Court justice in recent history except for Chief Justice John Roberts, whose confirmation in 2005 was backed by 59-percent of respondents.
Yet Republicans, of course, don't care, and they have no shame. You can't beat that, especially if they're cruel assholes:
Some Republicans walk out during the applause. Mitt Romney stays and continues to clap pic.twitter.com/b9z8huQQIY

— Acyn (@Acyn) April 7, 2022
Assholes all the one — a report from The New York Times on the prissy-pants, shitheel Republicans:
The vote put her in line to replace Justice Stephen G. Breyer when he retires at the end of the court's session this summer.

"Even in the darkest times, there are bright lights," Senator Chuck Schumer of New York, the majority leader, said on the Senate floor.
"Today is one of the brightest lights. Let us hope it's a metaphor, an indication of many bright lights to come."

He added, "How many millions of kids in generations past could have benefited from such a role model?" At the Capitol, the galleries to witness the historic vote, closed for much of the pandemic, were full of supporters.
The chamber erupted in cheers, with senators, staff and visitors all jumping up for a lengthy standing ovation, after the vote was announced.

Not everyone shared in the joy of the day. As applause echoed from the marbled walls, Senator Mitch McConnell, Republican of Kentucky and the minority leader, turned his back and slowly walked out, as did most of the few Republicans remaining on the floor, leaving half of the chamber empty as the other half celebrated in a stark reflection of the partisan divide.
And just the emotion of it all, considering the heartfelt shit going on all over the place:
despite the circus, this is the moment that sticks with me from Ketanji Brown Jackson's confirmation hearing https://t.co/SOnYXdV5Pa

— Aaron Rupar (@atrupar) April 7, 2022
Another day, another step further down the road.
And beyond — once again here we are…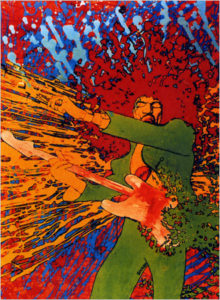 (Illustration out front found here).