Another end to another workweek this Friday evening here in California's Central Valley, and a full week into a new month with a once new year spiraling along at such a quickened pace you just have to know you're having an enormous shitload of fun — the only scientific measure of such high-speed time travel.
Maybe to offset the horror stories coming out of Ukraine, Ketanji Brown Jackson was honored today in a White House ceremony and Joe Biden acted like it was a BFD — and it is:
Joe Biden pumps his fists as Kamala Harris introduces Judge Ketanji Brown Jackson as the next SCOTUS justice pic.twitter.com/54BeA0ZQZx

— Aaron Rupar (@atrupar) April 8, 2022
KBJ spoke, too, to the emotional history of the moment (MotherJones):
In a tearful speech, Jackson paid tribute to her heritage as a Black woman descended from slaves, quoting Dr. Maya Angelou's Still I Rise and noting that she rises to the nation's highest court with the help of those who came before her.
"The path was cleared for me so that I might rise to this occasion," she said. "I do so now while bringing the gifts my ancestors gave. I am the dream and the hope of the slave."

After a painful confirmation process in which Republicans sought to tarnish her image with unfounded accusations of being soft on pedophiles, the ceremony on Friday was a celebration of Jackson and the historic nature of her nomination and confirmation.
Despite the ugliness of the past few weeks, Jackson spoke with optimism about the progress that her nomination represents.

"I strongly believe that this is a moment in which all Americans can take great pride," she said.
"We have come a long way toward perfecting our union. In my family it took just one generation to go from segregation to the Supreme Court of the United States."
Despite KBJ being way popular with the vast majority of Americans, no Republicans attended this ceremony, even those three who voted for her — Susan Collins, Lisa Murkowski and Mitt Romney — didn't show, but Biden did give the trio a shout out. A happy moment in a time of incredibly sad shit.
Meanwhile, in the annuals of the Ukrainian clusterfuck, war-crime shitshow, I came across this interesting analysis of how Vlad Putin and his army shit in their own mess kit:
Nine ways Russia botched its invasion of Ukraine https://t.co/9oEKYzHe9D

— The Washington Post (@washingtonpost) April 8, 2022
Liz Sly at The Washington Post this afternoon lists nine different fuck-ups Putin and his boys made even prior to invading Ukraine on Feb. 24 — and the resulting terrible, most-horribly-heinous disaster that followed.
Sly, the Post's Beirut bureau chief and a 17-year veteran of covering the Middle East, notes such dumb-ass points as misjudging the Ukrainians to massively-bad logistics to not preparing the troops, but the last one, number nine, probably really created failure going in:
The Russians clearly weren't prepared for a scenario in which they encountered resistance. When they did, they had apparently made no backup plan. Instead, troops pressed ahead as originally ordered, driving into ambushes and steadily getting killed by the Ukrainians. Armored convoys were dispatched without infantry support, making them easy targets for Ukrainians armed with portable antitank weapons such as the U.S.-supplied Javelins.
Lt. Gen. Mark Hertling, a former commander of the U.S. Army in Europe was upfront precise: '"The incompetence in planning command, control & communication (C3) is staggering."'
And we're in for a deadly, cruel mess for a long time. The big question is how long will Putin continue to kill not only Ukrainians but his own people — via the Guardian's live blog late this afternoon:
A senior US defense official said some Russian units in Ukraine are depleted and that Russia's combat power is somewhere between 80-percent and 85-percent of pre-invasion levels.
The Pentagon determined some Russian units that recently retreated from around Kyiv were heavily damaged and depleted, putting into question their combat utility.

"We've seen indications of some units that are literally, for all intents and purposes, eradicated," the official said.
There are indications that Moscow has begun mobilizing some reservists and could be looking to recruit more than 60,000 personnel, the official said.
Yeah, how long?
Yet here we are once again…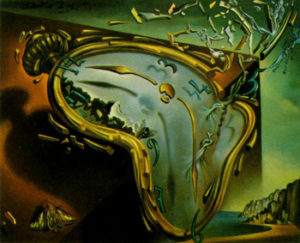 (Illustration out front: Salvador Dali's 'Soft Watch at the Moment of First Explosion,' found here).