Windy and extra-nice this late-afternoon Saturday here in California's Central Valley — we set a temperature record yesterday (hottest on record for the day), but we way cooled today with some strong, refreshing gusts to keep the air from going hot on us.
Rain is forecast for Monday and maybe later in the coming week, but we don't expect much, but at least it will keep the temps down. Summer is inbound.
Meanwhile, the InterWebs are still full of Ukrainian horror, and in my doomscrolling earlier this afternoon I did come across a decent cover story with the in-person visit of Boris Johnson with Volodymyr Zelenskiy in Kyiv. The look was kind of heroic in the deep shadow of Vlad Putin's crazy-ass, cruel, and failed invasion — couple of dudes in a talk-n-walk:
Nutshell via the BBC this afternoon:
Mr Johnson's visit to Kyiv was not announced in advance and the first indication he was in the city came when a photograph of his meeting with President Zelensky was put on Twitter by the Ukrainian embassy in London.

A Downing Street spokesman said: "The prime minister has travelled to Ukraine to meet President Zelensky in person, in a show of solidarity with the Ukrainian people."

In a statement after the meeting, Mr Johnson paid tribute to "President Zelensky's resolute leadership and the invincible heroism and courage of the Ukrainian people," saying: "Ukraine has defied the odds and pushed back Russian forces from the gates of Kyiv".

He said: "I made clear today that the United Kingdom stands unwaveringly with them in this ongoing fight, and we are in it for the long run.
"We are stepping up our own military and economic support and convening a global alliance to bring this tragedy to an end, and ensure Ukraine survives and thrives as a free and sovereign nation."

Mr Johnson also confirmed further economic support, taking total UK loan guarantees to £770m.
Speaking in a video address alongside President Zelensky a short while later, Mr Johnson said Ukrainians "have shown the courage of a lion but you, Volodymyr, have given the roar of that lion."
We'll see where it goes from there.
And that's the extent of me seeing any interesting, sticking-out-in-a-crowd stories this afternoon. There's a way-shitload of really, really terrible, inhumane items all over the whole InterWebs and beyond — if there's such a thing.
Yet once again here we are…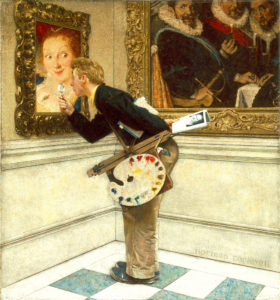 (Illustration out front: 'Art Critic' by Norman Rockwell, found here)