(Illustration: 'Man writing Painting,' by Rebecca Beris, and found here).
Sunny and breezy this early-evening Sunday here in California's Central Valley — May Day, May Day!
This year is whiplash-throttling down the tracks, huh?
I haven't posted for more than a week, been tied up with some other personal life-sized items, all good, but strange. And in my age approaching near-mid-70s a lot of shit can get tangled quickly and deeply within the fabric of living. This is maybe one of the most terrifying and most unique moments in world history with dangerous, ugly shit choking us on so many different levels, and on a shitload of subject fronts.
I'll now be more productive I think — just didn't have a desire to write. Binged 'Community' again (and again).
A circumstance today snapped a recollection of mine, tied to a couple of songs from my way-distant past; sounds from in another times zone and another century which paint a flashing back portrait of the right now nearly 50 years ago.
First, from the late-great Dan Fogelberg's 'Souvenirs' album and "Changing Horses," a display of current emotions:
Words mirror scenarios from today long ago:
Changing horses in the middle of
A stream
Gets you wet and sometimes cold
Changing faces in the middle of a dream
Gets you old
Oh, gets you old.
Looking farther than you'll ever hope
To see
Takes you places you don't know
Search for someone you can't ever hope
To be
And still you go
Oh, still you go.
Don't you think it's kind of sad to say,
Don't you think it's gonna change?
Makes you think you'll have to stay inside
For a while.
Changing horses in the middle of a
Stream
Gets you wet and sometimes cold
Changing faces in the middle of a
Dream
Gets you old.
Suddenly, too. Such as is the state of affairs brings another long-ago, heartfelt tune reflecting life buzzing around history and memory — my favorite song for a while in them days off Billy Joel's 1973 'Piano Man' album, 'Captain Jack,' which nowadays still strikes off-kilter chimes:
Humanity on the bend:
So you stand on the corner in your New English clothes
And you look so polished from your hair down to your toes
Ah but still your fingers gonna pick your nose
After all
Captain Jack will get you high tonight
And take you to your special island
Captain Jack will get you by tonight
Just a little push, and you'll be smilin'
Such as, the end comes quickly.
Even after a short break of mystery, once again here we are…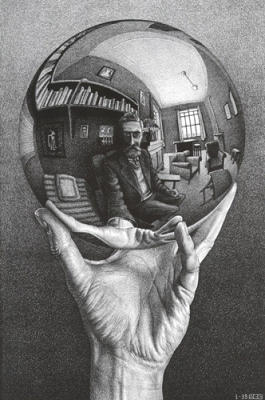 (Illustration out front: M.C Escher's 'Three Spheres II,' found here).