Near midday Tuesday here in California's Central Valley — still nice outside with a cool, refreshing wind, which without would be heat-filled catastrophic.
Also on the humane 'catastrophic' scale is the major news of the-now well known  leaked SCOTUS  opinion outlawing Roe v Wade, and the shit has totally hit the fan, especially from anyone involved with freedom and living — civil rights activist Jim Obergefell (CNN):
"It scares the daylights out of me … Many of the rights we enjoy, especially the LGBTQ+ community, are based on unenumerated rights under the 14th Amendment — the right to privacy … If the Constitution doesn't specifically, in writing, outline that right to privacy, then all of those rights that have been affirmed for us that are based on the right to privacy under the 14th Amendment are at risk."
Obergefell also noted, '"this is a dark day for women in our nation."'
Truly a bad-looking future. This has been coming since the Reagan days — Jimmy Carter might have been our last 'America' president as the GOP has been after a cruel cut of freedom since, and it just gets worse.
However, today GOPers were more interested in the actual leak instead of the actual real-life decision:
overturning Roe is deeply unpopular, so Republicans are pearl clutching about leaks and norms instead of talking about it https://t.co/meyX7Owdgh

— Aaron Rupar (@atrupar) May 3, 2022
The 'leak' scream is just Republican assholes crying at a shiny object to cover the bad, way-unpopular shit with the SCOTUS' decision — from Aaron Rupar's Public Notice newsletter this morning:
You'd think Republicans would be taking a big victory lap, considering ending abortion rights is something most of them have campaigned on since the Nixon administration.
Instead, however, they're focusing on railing against whoever leaked the decision, and bemoaning the death of norms.

"To violate an understanding that has held for the entire modern history of the Court — seeking to place outside political pressure on the Court and justices themselves — is dangerous, despicable, and damaging," lamented Sen. Mike Lee in a statement.

"This is a blatant attempt to intimidate the Court through public pressure rather than reasoned argument," tweeted Sen. Ted Cruz.
"I hope my fellow former clerks and the entire legal community will join me in denouncing this egregious breach of trust."

"The Court should not abide this coordinated assault by the left," added Sen. Josh Hawley in a tweet of his own.
"Issue the decision now.

Senate Majority Leader Mitch McConnell went as far as to suggest the leaker should be charged with a crime, even though legal experts say leaking a SCOTUS draft decision is not unlawful.

In fact, if you watched Fox News on Tuesday morning, you might've come away with the impression the leak was a bigger deal that the draft decision itself.

Polls consistently show overturning Roe is opposed by a majority of between 58 and 70 percent of Americans.

In short, while railing against abortion rights is a good way to rile up the Republican base, it doesn't resonate with the general public. And that's why Democrats are already expressing hope the SCOTUS draft decision could help them in the upcoming midterm elections.

"If the Court does overturn Roe, it will fall on our nation's elected officials at all levels of government to protect a women's right to choose," President Biden said in a statement released Tuesday morning.
"And it will fall on voters to elect pro-choice officials this November. At the federal level, we will need more pro-choice Senators and a pro-choice majority in the House to adopt legislation that codifies Roe, which I will work to pass and sign into law."
And the bottom-line conclusion: 'They know they're out of step with the majority of Americans, and so they're retreating to safer territory — whining about their perceived victimhood.'
True to the moment and the effect/affect of the cruel leaked document was Elizabeth Warren this morning somewhere near the SCOTUS building:
A visibly shaken and angry Senator Elizabeth Warren just spoke in-front of #SCOTUS. @TheNationalNews pic.twitter.com/KzQ2Z0Lg3b

— Willy Lowry (@willy_lowry) May 3, 2022
Via the Guardian's live blog on the subject:
She said: "The United States Congress can keep Roe vs Wade the law of the land, they just need to do it."

She's referring to the Women's Health Protection Act, which fell down in the Senate in March because of zero Republican support and, even, one Democrat (guess which one), opposing.

A reporter intercepts Warren and says they have never seen her so angry.

Warren, clearly struggling to contain her fury, goes on: "The Republicans have been working towards this day for decades. They have been out there plotting, carefully cultivating these supreme court justices so that they could have a majority on the bench who would accomplish something that a majority of Americans do not want.

"Sixty-nine percent of people across this country, across this country, Red states and blue states, old and young, want Roe vs Wade to remain the law of the land. We need to do that and we have a right."

At this point some guy can be heard trying to shout over her, it's not clear if he's media or a protester or what. Nevertheless, she persisted.

"Extremists? We've heard enough from the extremists. And we're tired of it," she said.
Straight-on the mark.
Yet if nothing develops the affair will leave a mark and the only real plus in the matter is maybe it will help the midterms in November — if only people could see what the Republicans are really up to in this continuing, ongoing horror story.
Meanwhile, part of the title of this post comes from Adam Serwer's October 2018 piece at The Atlantic on the Republicans' bottom line of governance when it comes to women (and women's rights), non-whites, the gay community, the handicapped, and anyone not rich and powerful, is that cruelty is the point.
This plug: 'It is not just that the perpetrators of this cruelty enjoy it; it is that they enjoy it with one another. Their shared laughter at the suffering of others is an adhesive that binds them to one another, and to Trump.'
Despite the ugly darkness, here we are once again…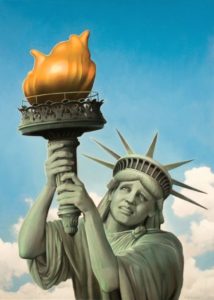 (Image out front by illustrator and portrait painter, Tim O'Brien, and can be found here).