A gleeful note in the news cycle this Friday morning — maybe the start of something good:
BREAKING: Peter NAVARRO indicted for contempt of Congress.https://t.co/mIfWKGvP0s pic.twitter.com/SotYyJeGgZ

— Kyle Cheney (@kyledcheney) June 3, 2022
Details/background via The Washington Post a short while ago:
Navarro, who was a trade adviser to President Donald Trump, also revealed he received a grand jury subpoena as part of a related Justice Department probe in a lawsuit he filed Tuesday against House Speaker Nancy Pelosi (D-Calif.) and the bipartisan House committee.
Navarro, who filed the lawsuit on his own without a lawyer, did not immediately respond to a request for comment.

Navarro, 72, is charged with one contempt count involving his refusal to appear for a deposition and another involving his refusal to produce documents to the committee, according to the U.S. attorney's office for Washington.
The charges against Navarro, the second former Trump adviser to face criminal charges in connection with rebuffing the committee, mirror those sought by the House and filed by U.S. prosecutors in November against former White House adviser Stephen K. Bannon, after he too refused to appear or produce documents to the committee.
Last night, the asshole went on Ari Melber's show on MSNBC and acted the shithead:
Bit of a toss-out, too (The Daily Beast):
"You're waging this legal battle not to talk to the committee, not to talk potentially to DOJ, although as you said, TBD," Melber said.
"So you're risking going potentially to jail not to talk to them, but you're out here talking in public. You do realize these investigators can hear you when you talk on TV?"

"What we're talking about now, Ari, is the case law itself and the constitutionality of executive privilege, testimony, immunity. A second key issue in the case is the separation of powers," Navarro replied.
"This kangaroo committee has clearly violated the separation of powers. They're not supposed to act as judge, jury, and executioner. They're only supposed to pursue a legislative function."

Melber said he'd take Navarro's premise seriously, and Navarro replied: "You should. This is why I'm fighting. This is why I'm willing to go to jail for this."
…
"You bet your ass that I will lead the charge," Navarro replied.
"I will take Adam Schiff and Jamie Raskin and Nancy Pelosi and Rosa DeLauro — all of those clowns and kangaroos — I'll take Biden and every single senior staff member in there–"

"And do what?" Melber interjected.

"Hit them with subpoenas," Navarro declared.
"We'll start with the impeachment of Biden for Ukraine, the southern border, all manner of things he is guilty of and we'll subpoena his senior staff."
What a noodle.
Even so, as they say, once again here we are…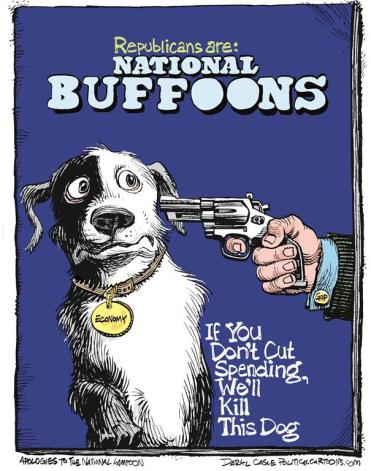 (Illustration out front by Daryl Cagle and found here).