Crazy, deadly times this Sunday evening in the American war zone of the nowadays:
We are paying dearly for the second amendment. https://t.co/lN1gACUaxt

— Molly Jong-Fast (@MollyJongFast) June 5, 2022
A round-up of sorts via Axios this afternoon:
An outdoor high school graduation party in Summerton, South Carolina, ended in bloodshed after two cars pulled up to a house and before shots were fired. Eight people were hit, according to a statement from the Clarendon County Sheriff's Office.
A shooting near a bar in Chattanooga, Tennessee, left 14 people struck (three died) while three others were hit by cars, Chattanooga Police Chief Celeste Murphy said during a press conference Sunday.
A bustling street in Philadelphia saw multiple shooters open fire on Saturday night, killing three people and injuring at least 11 others.
A shooting at a strip mall in Phoenix left one person dead and eight others injured, AP reported.
Five teenagers were shot and hospitalized after gunfire broke out at a West Texas high school graduation party at 1am Saturday, AP reported.
A shooting in Macon, Georgia, shortly before 7pm on Saturday left one dead and three others injured, according to a press release from the Bibb County Sheriff's Office.
A shooting outside a bar in Mesa, Arizona, early Sunday killed two people and left two others injured, an Arizona ABC affiliate reported.
Here we stand, and why:
As been reported, this is on the Republicans 100-percent.
Once again here we are…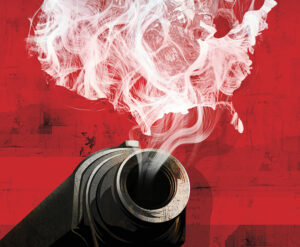 (Illustration out front by Taylor Callery, and found here).