Sunshine and breezy this near-midday Monday here in California's Central Valley — if the wind dies down, however, it will turn hotter-than-shit. The wind is a major cooling-effect factor.
Also hotter than shit is this week's live, public hearings of the House Select Committee on the Jan 6 insurrection/riot at the US Capitol last year — the first session is scheduled for Thursday evening, TV prime time. The setting is also allowing for the comparison with the Watergate scandal (the break-in at the DNC offices at the Watergate has its 50th anniversary next week) and how the T-Rump is so-way-more freaking worse, the earlier Tricky-Dick escapade seems like child's play, and maybe even pales in contrast.
Over the weekend, Rep. David Cicilline, D, RI, told CNN: '"There will be, I think, substantial evidence that really demonstrates the coordination and the planning and the effort, despite the fact that they understood that Donald Trump lost the election and even once the insurrection began and the violence began, there were ongoing efforts to persuade the former President to stop the violence and call on folks to go home, and he refused to do it … I think the American people are going to learn facts about the planning and execution of this that will be very disturbing."'
Hard known facts about the T-Rump's role in the coup mischief has become obvious, but a new report out today from the Brookings Institute describes the factual series of nonsensical events in stark terms:
There's substantial evidence that Trump committed crimes in connection with his efforts to overturn the election. This new report, coauthored by @NoahBookbinder, lays it all out: https://t.co/6S8S6CQFXN

— Citizens for Ethics (@CREWcrew) June 6, 2022
Details from Brookings this morning:
With Congress undertaking landmark hearings on all of that, our new Brookings report "Trump on Trial: A Guide to the January 6 Committee Hearings and the Question of Criminality" is a comprehensive guide to the proceedings. The report covers the Committee's work to date, the key players in the attempt to overturn the election, the known facts regarding their conduct that are expected to be covered at the hearings, and the criminal law applicable to their actions.
And some noted snips from that above-mentioned report/guide (pdf):
Our review of well-established law and public record evidence as it exists today leads us to believe that there is substantial evidence of all the essential elements of those federal and state offenses and suggests there is a substantial basis for prosecutors to go forward. This assessment of the currently available evidence does not of course amount to a final determination that Trump or others should ultimately be charged and prosecuted, or that there is proof beyond a reasonable doubt under the standards applied by prosecutors and courts.
The report does not itself make factual findings — for example, around an individual's intent, or consciousness of wrongdoing — but rather, evaluates how the law will interpret and characterize such elements in light of publicly reported facts.
…
Trump attempted to retain power by any means necessary. Trump was personally involved in entertaining, exploring, and even attempting to enact an astonishing array of legally unjustifiable schemes to retain power. His pursuit of power by any means necessary — including endorsing and acceding to violence — is probative of criminal intent. It shows that power was the real goal, and that claims of election fraud were just a means to that end.

Trump prepared an unsupported narrative of a stolen election long before November 3. Any assertion that Trump sincerely believed he won is undercut by his repeated announcements, in advance, that he would never accept losing. It is also undercut by his pattern of crying fraud — as he did in both the 2016 primaries and the 2016 general election—when he does not like an election's results. Past conduct undermines any argument that his post-Election Day claims of fraud were a good-faith response to actual evidence.

Trump told multiple, shifting, mutually inconsistent stories about fraud. In the months after the election, Trump repeatedly changed his story about voter fraud. These fabrications and his inability to present a coherent and consistent narrative support the conclusion that he intended to mislead.

Trump is on the record invoking fraud as an excuse for retaining power. Among other admissions: Trump attempted to coerce both Georgia state officials and DOJ lawyers to "find" votes and to publicize unsubstantiated claims of election fraud as cover for his attempts to retain power. Even if one believes he was a victim of fraud, he cannot intentionally respond with more fraud of his own as a form of self-help.

Trump was repeatedly told by trusted advisors, experts, and courts that there was no fraud. In the months after Election Day, many people close to Trump told him—repeatedly and emphatically — that he lost and that his assertions about election fraud were unfounded.
Experts and advisors who publicly and privately assured Trump of the election's legitimacy included his campaign advisors; DOJ lawyers, including Attorney General William Barr; high-level officials at the Department of Homeland Security (DHS); and Republican state-elected officials.

Trump and his supporters repeatedly failed to adduce evidence of fraud. Over many months and more than 60 lawsuits, neither Trump nor any of his supporters ever produced material evidence of fraud that any court was willing to accept.
Other than that, what the shit — T-Rump ought to be in a jail cell. However, reality and the end result can be way-different. Hopefully, the hearings will blast open the eyes of a shitload of voters that will make a hard-ass mark this November. We need a straight, real alert/heads-up to T-Rump's criminal 'seditious' bullshit.
Maybe even a catchphrase:
Prime time or not, here we are once again…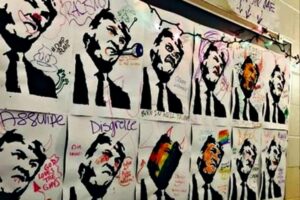 (Illustration out front is of a New York state high-school student exhibit: 'The piece was displayed during student-driven art show at Shenendehowa High School. It consisted of at least 12 identical black-and-white pictures of Donald Trump. There was also a sign above the pictures that read, "Draw on Me." Using markers from the art classroom, some students opted to scribble critical messages and profanities on the pictures' — and found here).