Hot even in the shade this late-afternoon Thursday here in California's Central Valley — the new normal is just an expanded version of the old-new normal. Say what?
A dumb lead-in to Constitutional crime. Today, too, was the third installment of the House committee investigating the Jan. 6 insurrection/riot/coup (I watched most of it on C-Span) and although a bit of a drag than the first couple of hearings, it did display the terrible wedge-spot Mike Pence was in during that day — the T-Rump called him like a "wimp," and a "pussy," for not doing some sedition.
Pence was painted as the hero of the encounter at the US Capitol.
As testified, the rioters/coup-makers were at one point 40 feet away from Pence — they wanted to hang him:
Jan 6 select committee releases photo of Pence in Capitol basement, after he refused to get in limousine because he feared Secret Service would evacuate him against his will, watching Trump's tweeted video praising the rioters who had stormed the Capitol https://t.co/zFtaVwoJEx

— Robert Mackey (@RobertMackey) June 16, 2022
Some of the most pressing words of the day came from J. Michael Luttig, a former federal appeals court judge: '"Donald Trump and his allies and supporters are a clear and present danger to American democracy."'
In the course of these three hearings, it's most obvious the T-Rump, his nutwhacked-criminal minions like John Eastman and Jeffrey Clark are guilty as shit of fomenting an insurrection against the Constitutional election standards we've lived by the last 250-plus years.
These hearings aren't really exposing new information, but are creating concrete foundations for all the shit we've known about for the last 18 months, and displaying how intricate the legally-idiotic lies — and should make it at least more clear to unaware Americans who don't really understand how close we are right now to falling off the side of the democratic cliff. However, one way to change that tide is both in a voting booth and in a criminal court. T-Rump and a small stockade of bootlickers should be in jail cells already.
A good recap of today's shit by someone more attuned than I:
Jan 4
-Eastman admits in front of Trump that Pence rejecting election is illegal
-Trump publicly pressures VP to do it anyway
-VP indicates he won't

J5
-Trump dictates false statement about VP's position

After J6
-Eastman tells Giuliani he wants a pardon https://t.co/DsZbMnrmWk

— Aaron Rupar (@atrupar) June 16, 2022
How could Mike Pence not call T-Rump a criminal asshole? Aaron Rupar at his Public Notice newsletter this afternoon:
Using clips of depositions of a range of former Trump administration and campaign officials, this timeline of events was established by the January 6 committee during its third hearing on Thursday — one that focused on how Trump, with significant help from Eastman, forged ahead with a pressure campaign that pretty much everyone around them advised was illegal, unethical, and an overall terrible idea. (You can read my coverage of the first hearing here and the second here.)

One of the stars of Thursday's hearing was Greg Jacob, former counsel to Vice President Pence, who in the days leading up to January 6 told Eastman over and over and over again that his ideas about Pence sending the election results in states Trump lost back to GOP-controlled legislatures were unlawful and didn't have the vice president's support.

Stunningly, the hearing revealed that Eastman's pressure campaign continued even after the Capitol had been ransacked on January 6. While Pence was sheltering in the Capitol that day, Jacob sent Eastman an email telling him that "thanks to your bullshit, we are now under siege."
Eastman, echoing Trump, replied defiantly by saying, "the siege is because you and your boss did not do what was necessary."

But even after that heated exchange, later that same night Eastman sent Jacob another email imploring him to consider "one more relatively minor violation" of the Electoral Count Act — a request Pence himself eventually rejected as "rubber room stuff."

As the smoke literally and figuratively cleared the next day, Eastman was still communicating with White House lawyers about last-ditch schemes to overturn Trump's loss.
That finally prompted then-White House lawyer Eric Herschmann to tell Eastman, "get a great f'n criminal lawyer. You're going to need it," before he hung up on him.

A few days later, Eastman emailed Rudy Giuliani and said, "I've decided that I should be on the pardon list if that is still in the works." Eastman never got his pardon, and on Thursday the committee played a clip of one of the 100 times he asserted his Fifth Amendment right against self incrimination during his deposition.
…
Trump may have been more wily than Eastman in that he didn't put his coup scheming in writing (with the significant exception of his tweets), but Thursday's hearing indicated he should've been under no illusions that his pressure campaign against Pence — including a tweet Trump posted attacking Pence for lacking courage even as his supporters rampaged through the Capitol — was illegal.
…
You don't have to take Liz Cheney or Bennie Thompson's word for it — everything I've written above is supported by the sworn testimony of former Trump aides. And while we're sure to learn much more about the insurrection and Trump's role organizing it in the hearings to come, the question already hanging over all of this is whether Trump will ever be held accountable.

As I've written before, Trump's entire life serves as a demonstration that laws don't mean much if nobody holds you accountable for breaking them. Yet the committee's presentation of its findings is clearly meant to establish that Trump understood his efforts to install himself in power were illegal — but kept it up anyway.
Next hearing in the month-long series is next Tuesday.
The big point is the T-Rump knew about the illegality of Pence's possible action and even the march to the Capitol:
Despite all that, once again here we are…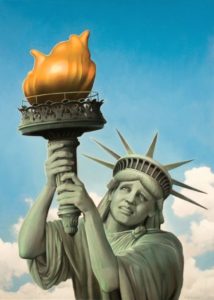 (Image out front by illustrator and portrait painter, Tim O'Brien, and can be found here).