Beyond the miserable heat, a depressing aspect of the nowadays is the most-likelihood of T-Rump and the large cesspool of his cronies could skate on crimes of insurrection/riot/coup after losing the 2020 election. The vacumn of Merrick Garland's energy sucks up into an empty paper bag.
One note of a decent vibe comes from Georgia and Fulton County DA Fani Willis and lying Republican assholes:
The Fulton County District Attorney @FaniWillisForDA is not playing around https://t.co/chTrntp8ma

— Adam Parkhomenko (@AdamParkhomenko) July 19, 2022
Insurrectionist witnesses now on line for charges/indictments. Details via Law & Crime late this afternoon:
All 16 of the people claiming to have been Georgia's electors for Donald Trump — even though the former president lost in that state — have been designated as targets of investigation, Fulton County District Attorney Fani Willis (D) revealed on Tuesday afternoon.

The DA made the disclosure in response to a disqualification motion by one of the electors: GOP state Sen. Burt Jones.

Willis's office described Jones as "similarly situated" to his 15 other "unofficial electors" whom she says were informed of their "target" status.

Earlier in the day, counsel for 11 of the would-be electors moved to quash the subpoenas and disqualify the DA, arguing that her office assured them that they were mere witnesses to her investigation.

"At no time in our communications with the DA's Office before June 28 did anyone ever suggest that the nominee electors' status had changed or that they were no longer considered witnesses, including when they were subpoenaed," an italicized passage of the motion reads.

Once the date arrived, the 11 electors' attorneys say their clients received a rude surprise.

"Immediately upon learning that the nominee electors were, in fact, planning to testify substantively to the Grand Jury, Special Prosecutor Nathan Wade informed us for the first time that all of these eleven nominee electors were suddenly targets, stating that 'as our investigation has matured and new evidence has come to light, in a spirit of integrity we feel it only fitting to inform you that your clients' status has changed to 'Target,'" the motion reveals.
Hardball lawyers playing hardball against a crime-infested T-Rump bunch.
DA Willis is after the seditionists — from Slate, also this afternoon:
Last week news broke that Fulton County District Attorney Fani Willis had sent "target letters" to state senator Burt Jones, Republican Gov. Brian Kemp's running mate for lieutenant governor, as well as to the chairman of the Georgia Republican Party, David Shafer. It has since emerged that such letters have gone to all 16 of the pro-Trump fake electors who met secretly on December 14, 2020 to falsely name themselves Georgia's "official electors." Their actions were part of the Trump campaign's unlawful scheme to keep Trump in power. (The campaign also organized false electors in the battleground states of Wisconsin, Arizona, Nevada, Pennsylvania, New Mexico, and Michigan.)

The target letters show that Willis appears to be ahead of the U.S. Department of Justice on this front. While Merrick Garland's DOJ has subpoenaed Shafer, as well as Brad Carver, another one of the fake electors in Georgia, as part of its general Jan. 6 investigation and has also asked the House January 6 Select Committee for its witness interviews regarding the fake elector scheme, target letters signal a more advanced step. Such letters generally go to individuals to notify them that there is substantial evidence that they have committed a crime, and there is potential for indictment.

Willis is showing just how to do exactly what good prosecutors do: follow the facts wherever they lead, without fear or favor. Attorney General Garland has promised the same on the federal level and we hope that his department catches up to Willis.

Not only do the target letters map onto Willis' no-nonsense and transparent style in this investigation, they also show she is moving forward diligently against any Trump-related alleged crimes to which the facts may lead, regardless of which high officials in her state may be charged.
With opposite party politicians in her crosshairs, she would know the pushback to come: "This is all political."

And it didn't take long.

Quickly after the news broke, Randy Evans, a Georgia Republican who was Trump's ambassador to Luxembourg, described Willis' action this way: "It drops it right into a characterization of this as a political, partisan witch hunt."

Willis' response? "I don't make decisions based on what people say about me."
…
Her investigation appears to have multiple prongs. They include the bogus elector scheme; Trump's infamous recorded phone call on January 2, 2021, soliciting Georgia Secretary of State Brad Raffensperger to "find 11,780 votes"; Trump's call to election investigators in the Georgia secretary of state's office; Trump having phoned Georgia's attorney general; the targeting of local Georgia election workers for harassment and disinformation; and Giuliani's and Eastman's December 2020 testimony before Georgia state legislators trying to cause them to replace the Democratic slate of electors that had already been certified as part of Joe Biden's win in the state with the phony set of "winning" Trump electors.
Maybe, just maybe T-Rump might have his own skin/hide in the game, aided and abetted by Georgia's finest.
Even Lindsey, who has his own finger caught in the Georgia pie (TPM):
Sen. Lindsey Graham (R-SC) on Tuesday reached an agreement with Fulton County district attorney Fani Willis to move any challenges about the legality of the subpoena she issued in her special grand jury's investigation to state or federal court in Georgia.

The news comes a day after Willis asked a federal judge to reject Graham's request to quash the Fulton County subpoena.

According to a stipulation filed Tuesday, attorneys for Graham and Willis said both parties "have reached an agreement to withdraw all process and proceedings pending" before the South Carolina district court.

"Senator Graham has agreed to accept service of a subpoena for testimony from the Fulton County Special Purpose Grand Jury in Atlanta, Georgia, without waiving any challenges or any applicable privilege and/or immunity," the lawyers wrote.
If only for the hope, that's my take:
Thusly, here we are once again…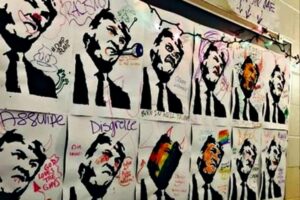 (Illustration out front is of a New York state high-school student exhibit: 'The piece was displayed during student-driven art show at Shenendehowa High School. It consisted of at least 12 identical black-and-white pictures of Donald Trump. There was also a sign above the pictures that read, "Draw on Me." Using markers from the art classroom, some students opted to scribble critical messages and profanities on the pictures' — and found here.)