Another melting-away heat episode this near mid-day Wednesday here in California's Central Valley, with sunshine full-on hot and temperatures slated for triple-digits.
Although it's already hot as shit, we're not alone as waves of unprecedented high temps are spiking across the globe in a fierce display on the cutting edge of a way-sweaty-steamy future for all of us.
Our quandary/predicament per Fortune magazine this morning: 'Suffice to say, some people don't seem to grasp that heat waves are not simply temperatures rising as we enter summer: they are temperatures soaring beyond what a region would normally anticipate at that time of year. That means the destructive nature of a heat wave isn't just about how hot it is; it's about how unprepared an area is to endure it, too. And climate change is causing heat waves to grow more intense and more frequent — at a rate far faster than humans are adapting to them.'
Across the world, and starting outside my apartment in the Central Valley — Sacramento Valley in the north, San Joaquin Valley here in the south — and the future today:
An Excessive Heat Warning remains in effect for the San Joaquin Valley, lower Sierra Nevada foothills, and Kern River Valley until 10 PM PDT this evening. Heat related illnesses, such as heat exhaustion and heat stroke are possible if simple precautions are not taken. #CAwx pic.twitter.com/zT1iZ7UCVI

— NWS Hanford (@NWSHanford) July 20, 2022
We're kind of used to this hot shit as the summers here have always been blistering, and in display of the 'new normal,' California is now part of the big, national heat-wave picture — from CNN this afternoon:
A dangerous heat wave that has wilted the south-central US is spreading Wednesday, with about 110 million people under heat alerts in more than two dozen states from California to New England — and many areas expecting high temperatures in the 90s or triple digits.

That has leaders around the country warning: Get to a cool place and check on each other.
The most intense heat is expected to be over the Southwest and south-central US, with highs again expected to top 100 degrees in much of Texas, where sweltering conditions have spurred record levels of power consumption.
But parts of the Ohio Valley and the Northeast — including New York City, Philadelphia and Boston — also are under heat alerts Wednesday and are expected to stay hot at least through the weekend.
And in much of the Northeast, although Wednesday's high temperatures will range from the 80s to the mid-90s, humidity will push the heat index — what the air will feel like — into the upper 90s and low 100s, that Weather Prediction Center said.
And in part of the world without A/C:
So. It's hot in Europe. How hot? Well, uh, roads are bending out of shape. In Amsterdam, workers had to spray water on bridges so they wouldn't expand and jam shut. @BenjiSJones and I wrote about the ways our built world isn't ready for the heat.https://t.co/hoTvEPZs9S

— Neel Dhanesha (@neel_dhan) July 20, 2022
Disaster-movie template — via Vox this morning:
The heat wave, which brought record-breaking temperatures to the UK, France, and elsewhere in the past two weeks, is exposing a frightening reality: Much of Europe isn't built for extreme heat, or for a climate that's swiftly changing.

While severe heat waves, fueled by climate change, have become the new reality of summer, the extreme temperatures now rolling through Europe seem especially catastrophic. On Tuesday, temperatures in the UK broke the national record, reaching 40.3 degrees Celsius (104.5 degrees Fahrenheit), and the weather agency declared its first-ever "red warning" for exceptional heat — the highest level of weather warning possible. France, meanwhile, saw more than 100 record-breaking temperatures across the country in the last week.

"Even as a climate scientist who studies this stuff, this is scary," said Hannah Cloke, a professor at the University of Reading who studies natural hazards. "We have had heat waves in the UK before," she added, but the severity of the forecasted heat "is enough to kill people and animals, damage property, and hobble the economy."

Part of the problem is that many buildings, highways, and other infrastructure in Europe are old and built with outdated temperature extremes in mind, said Mikhail Chester, an associate professor of engineering at Arizona State University. They simply can't tolerate the new normal, he said. Hence things like railway fires in London.
And the major horror: 'Air conditioning is relatively rare in most of northern Europe, especially compared to the United States. The same is true of the London Tube — only 40 percent of the train network has air conditioning, and authorities warned commuters in the British capital to carry water with them if they traveled.'
Despite the hot ambiance here in California, we've been through this shit before. Our biggest problem in the near immediate future is water. Where I'm at right now may be uninhabitable in well-less than a decade, or maybe sooner. The horrible, disastrous effects of climate-change approach quicker than twenty years ago, and seemingly accelerate with each year.
I don't really know what it will take for mankind to get a move on, but we all know the problem — mankind itself.
A primer via PBS yesterday:
Poolside desire as once again, here we are…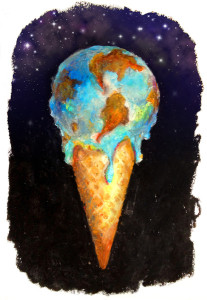 (Illustration out front found here.)