Aside from the hot-weather crisis this Wednesday afternoon we take a look at another calamity approaching that's topical on the T-Rump skating scot-free from the massive criminal shit he's pulled the last five years, not to say his whole, shitty, rotten life, but doing it on the public's dime.
Merrick Garland is the federal loop which the criminal activities are tied and it doesn't look good. Although he talked a good fight this morning:
Merrick Garland just affirmed that Trump can be prosecuted: "No person is above the law in this country. There is nothing in the principles of prosecution… which prevent us from investigating anyone who is criminally responsible for an attempt to undo a democratic election." pic.twitter.com/4NkpXO9pBt

— MeidasTouch.com (@MeidasTouch) July 20, 2022
Garland did sound okay: 'During a press conference, a visibly animated Garland twice said that "no person" was above the law when pressed specifically about Trump, whom Democrats say incited the Jan. 6, 2021, insurrection over his unfounded claims of widespread voter fraud in 2020. Democrats also cite Trump's larger, months-long campaign to try and reverse his election loss. (Trump insists he did nothing wrong.)'
Yet he might be totally full of shit. Garland's a scaredy-cat. Elie Mystal, journalist and author of "Allow Me to Retort: A Black Guy's Guide to the Constitution," notes the situation at The Nation this afternoon — some snips:
On Monday night, The Rachel Maddow Show got hold of a memo written by Attorney General Merrick Garland that appears to throw cold water on the idea that Trump or his closest cronies will face any accountability before the midterm elections.

The memo, dated May 25, reads like the same institutionalist claptrap we've consistently seen from this Department of Justice. Titled "Election Year Sensitivities," the memo warns staff against making statements, taking actions, or charging anybody in a way that might "advantage or disadvantage any candidate or political party." It also warns against the mere appearance of such bias. The memo extends this prosecutorial grace not only to sitting elected officials but also to anybody who is a candidate for office.
…
Moreover, Garland's memo isn't just boilerplate banality. It also cites another memo, from February 2020, by former Attorney General William Barr. That memo said that any criminal or counterintelligence investigations opened against "politically sensitive" people need to be approved by the AG personally—meaning, essentially, that the nonpartisan prosecutors and investigators at the DOJ have to clear their work and even their questions with the political appointee at the top of the department. The whole point of that Barr memo was to discourage the non-Trumpy civil servants at the DOJ from doing anything that could have negatively affected Trump or his merry band in the run-up to the 2020 election.
…
This has been the problem with Garland from the very start. He is so worried about appearing politically motivated that he is doing things (or not doing things) based purely on political motivations. There is no legal reason to announce to suspected criminals that your office will take into consideration the "advantages and disadvantages" of charging decisions on political parties; there is only a political reason to show your hand in that way. There is no legal reason to not charge a person after they've announced their candidacy for an office two years before the election for that office; there's only a political reason to manage public expectations.

Garland is like a referee who is so concerned about the appearance of bias toward one team or the other that he swallows his whistle and refuses to call a foul or a penalty. He thinks he's being impartial, but he's actually just helping the team that doesn't play by the rules
And another view of Garland's little press conference this morning:
Merrick Garland said the exact same words last January that he said today and yet it is being reported today as new NEWS and per Twitter some kind of supposed new confirmation about Trump's impending doom.

It's not.

It's just a pro forma "no person is above the law" statement. pic.twitter.com/DVBM6enrUa

— Don Winslow (@donwinslow) July 20, 2022
We may not have a chance.
Anyway, going in another direction off the subject but still on calamity — an offshoot/side effect of climate change and current heat-wave attack, this in Europe — via Consequence this afternoon:
Climate change is here, and as France goes up in flames, Eddie Vedder, who just finished a concert near Paris, has been left unable to sing after "dust and smoke" from the wildfires damaged his voice. Because of that, Pearl Jam have been forced to cancel a July 20th concert in Vienna, Austria.

"To all those who were anticipating a great Pearl Jam show tonight in Vienna, we were too," the band wrote in a social media statement. "However, due to the extreme circumstances at the last outdoor site outside of Paris (heat, dust, and smoke from the fires) our singer Ed Vedder's throat was left damaged. He has seen doctors and had treatment but as of yet, his vocal cords have not recovered."
And what's better playing us out this evening, a batty, crazy old woman behind the counter in the china shop:
Jail for naught, here we are once again…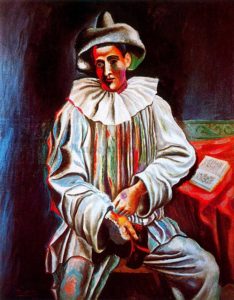 (Illustration out front: Pablo Picasso's 'Seated Pierrot,' found here.)