Despite all the vaccinations and safety protocols, the COVID virus has turned into a bitch, apparently mutating into various variants that make it hard for everybody/anyone to escape its touch.
Here in California (as in many parts of the country), we've got a current surge that might top last winter's Omicron outbreak.
What's happening? Kent Sepkowitz, physician and infectious disease expert at New York's Memorial Sloan Kettering Cancer Center, noted this at CNN this morning: 'The million-dollar question now is not whether BA.5 (and its companion, the slightly less transmissible BA.4) will cause a major uptick in infection across the country — it has, and it will — but rather whether anyone, including those who have been vaccinated or have developed infection or both, is safe from its voracious reach.'
Even with precautions and topnotch medical care:
The WH provides this letter from the Physician to the President on Biden testing positive for COVID-19: pic.twitter.com/QjabbvXmfP

— Geoff Bennett (@GeoffRBennett) July 21, 2022
Details via The New York Times a few minutes ago:
President Biden tested positive on Thursday for the coronavirus, raising health concerns for the 79-year-old president and underscoring that the virus remains a persistent threat in a country trying to put the pandemic in the past.

Karine Jean-Pierre, the White House press secretary, said in a statement that Mr. Biden was "fully vaccinated and twice boosted and experiencing very mild symptoms."

Dr. Kevin O'Connor, the president's physician, said in a letter released by the White House that Mr. Biden was experiencing fatigue, a runny nose and an occasional dry cough.

"I anticipate that he will respond favorably, as most maximally protected patients do," Dr. O'Connor wrote.

The president is receiving Paxlovid, an antiviral drug used to minimize the severity of Covid-19, Ms. Jean-Pierre said. He will isolate at the White House but "continue to carry out all of his duties fully during that time," she said.
…
He had been scheduled to fly to Pennsylvania on Thursday for a speech about gun violence and then to travel to his home in Wilmington, Del., for the weekend. White House officials said both trips had been canceled.

Vice President Kamala Harris, who was last with the president on Tuesday, tested negative, according to the White House. Jill Biden, the first lady, who has also received two boosters, tested negative as well on Thursday morning, according to Michael LaRosa, her spokesman.

The first lady, who was determined to be a close contact of the president, is keeping her travel schedule, which includes stops in Michigan and Georgia on Thursday, Mr. LaRosa said. But she will follow Centers for Disease Control and Prevention guidance with masking and social distancing; the C.D.C. defines a close contact as being within six feet of someone for at least 15 minutes over a 24-hour period.
…
Mr. Biden is regularly tested. His last test was on Tuesday, when he had a negative result, officials said on Thursday.

It was unclear exactly how he got infected, and White House officials declined to offer detailed information about who he was in contact with in recent days. It is difficult to determine exactly how or when someone contracted the virus.
Update on COVID nationally (USAToday):
The BA.5 subvariant of omicron dominates the summer wave of COVID-19 in the USA, making up nearly 80 percent of new cases, according to the Centers for Disease Control and Prevention Nowcast model.

In the most recent week, ending Wednesday, 29 states reported more cases than the week before, a USA TODAY analysis of Johns Hopkins University data shows.
Twenty states had more deaths than a week earlier.

Hospitals in 35 states reported more COVID-19 patients, and hospitals in 25 states had more patients in intensive care beds, according to Health and Human Services data.
Jill Biden, however, continues keeping cool:
Despite vaxxed and boosted, once again here we are…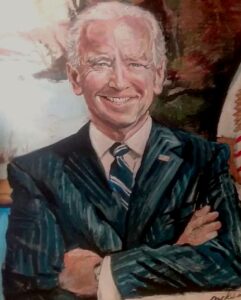 (Illustration out front: 'Joe Biden,' acrylic by Billy Jackson, and found here.)