Still hot without much air movement close to noon Sunday here in California's Central Valley — legal summertime, so there's no crime.
Just sweat and a longing for soft rain in a patching drought.
Also at the same time there's a yearning for justice in that continuing seemingly disregard in accountability for the mass of crimes conducted by the T-Rump, his lackeys, minions, bootlickers, and assorted cretins who busted so many laws and legal standards is beyond shitty to contemplate.
Although AG Merrick Garland appears to have his head up his DOJ ass, legal minds are on Georgia:
Fani Willis' criminal investigation appears headed toward a broad case that could target multiple defendants with charges of conspiracy to commit election fraud—or racketeering-related charges for engaging in a coordinated scheme to undermine the election. https://t.co/V5fs1Tkn2V

— Kyle Griffin (@kylegriffin1) July 24, 2022
Highlights from The New Times piece, published yesterday:
The criminal investigation into efforts by former President Donald J. Trump and his allies to overturn his election loss in Georgia has begun to entangle, in one way or another, an expanding assemblage of characters:

A United States senator. A congressman. A local Cadillac dealer. A high school economics teacher. The chairman of the state Republican Party. The Republican candidate for lieutenant governor. Six lawyers aiding Mr. Trump, including a former New York City mayor. The former president himself. And a woman who has identified herself as a publicist for the rapper Kanye West.

Fani T. Willis, the Atlanta area district attorney, has been leading the investigation since early last year. But it is only this month, with a flurry of subpoenas and target letters, as well as court documents that illuminate some of the closed proceedings of a special grand jury, that the inquiry's sprawling contours have emerged.

…

"All of these people are from very disparate places in life," Anthony Michael Kreis, a constitutional law professor at Georgia State University, said of the known witnesses and targets.
"The fact that they're all being brought together really suggests she's building this broader case for conspiracy."

What happened in Georgia was not altogether singular. The House committee investigating the Jan. 6, 2021, attack on the Capitol has put on display how Mr. Trump and his allies sought to subvert the election results in several crucial states, including by creating slates of fake pro-Trump electors. Yet even as many Democrats lament that the Justice Department is moving too slowly in its inquiry, the local Georgia prosecutor has been pursuing a quickening case that could pose the most immediate legal peril for the former president and his associates.

Whether Mr. Trump will ultimately be targeted for indictment remains unclear. But the David-before-Goliath dynamic may in part reflect that Ms. Willis's legal decision-making is less encumbered than that of federal officials in Washington by the vast political and societal weight of prosecuting a former president, especially in a bitterly fissured country.

But some key differences in Georgia law may also make the path to prosecution easier than in federal courts. And there was the signal event that drew attention to Mr. Trump's conduct in Georgia: his call to the secretary of state, Brad Raffensperger, whose office, in Ms. Willis's Fulton County, recorded the president imploring him to "find" the 11,780 votes needed to reverse his defeat.
And regarding the T-Rump, his fat-ass-self:
Ms. Willis is weighing whether to subpoena Mr. Trump, a person familiar with the case said, but the biggest looming questions are whether the former president will be designated as a target and eventually indicted. Mr. Eisen and Ms. Fleming co-authored a 114-page Brookings Institution analysis of the Georgia case that found Mr. Trump "at substantial risk of possible state charges predicated on multiple crimes."

Of course, there will be obstacles. Should the case progress in his direction, Mr. Trump is expected to go to federal court to try to assert executive privilege.

Legal experts see fewer impediments for Ms. Willis to act than the institutional constraints faced by Merrick Garland, the United States attorney general.

"It's a higher bar to say a former president should be indicted at the federal level than you have at the state level," said Jonathan Shaub, an assistant law professor at the University of Kentucky's Rosenberg College of Law who once worked in the Justice Department's Office of Legal Counsel. "Whatever Garland does here, he's setting a precedent."
As in a lot of shit nowadays, we'll just have to wait and see.
T-Rump lying-blubbering now nearly seven years ago: '"I'm going to surround myself only with the best and most serious people. We want top of the line professionals."'
Despite the idiocy and since that time, at minimum 18 assholes involved in some way or another with the T-Rump's bullshit have been indicted, arrested or jailed on charges from fraud to battery to child pornography.  If you run a criminal enterprise and don't give a shit about anything or anyone besides yourself, then welcome aboard.
Really, 'thanks Obama,' it was truly Before Times:
And we can really appreciate Obama's journey via Fani Willis and Georgia:
Yet here we are once again…: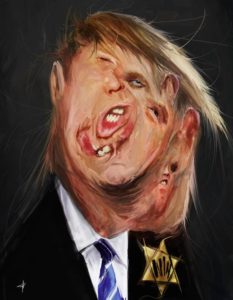 (Illustration out front: 'President Trump,' by Jonathan Bass, found here.)