Nestled amongst the news cycle items today were a couple of Josh Hawley recaps that maybe felt relevant to the issue of the asshole being a chickenshit.
Despite Hawley acting the pure douchebag this past weekend at the fully-unhinged Turning Point USA Student Action Summit, crying, '"I'm not going to apologize, I'm not going to cower, I'm not going to run from you,"' he's several bricks shy anywhere near a full load and a scaredy cat:
Another @BorowitzReport Special: "Josh Hawley Concerned That Being a Coward Is Overshadowing His Work as a Fascist" https://t.co/mpIV4ETtWF via @NewYorker

— Laurence Tribe (@tribelaw) July 25, 2022
I've always loved Andy Borowitz, and his short, sweetly-tart, spiked-hard satire always seems to hit the nail on the dumb-ass head — this morning's edition at The New Yorker:
WASHINGTON (The Borowitz Report)—Senator Josh Hawley is "deeply concerned" that his newfound national reputation for cowardice is overshadowing his commitment to end democracy.

"People see one video of me fleeing like a terrified bunny, and they think that's all there is to me," Hawley told reporters at a press conference. "They're totally forgetting that I'm also a guy who tried to overturn a free and fair election."

Hawley admitted that, although it is tempting to stereotype him as "a guy who was scared shitless of a mob he had egged on earlier in the day, that's just one side of me. What about the side of me that wantonly subverts democracy? That should count for something."

"People are focussing on the totally chickenshit Josh Hawley and ignoring the lusting-for-autocracy Josh Hawley," he complained.

Hawley's press conference was cut short after a reporter asked a question and the senator ran away.
Funny, and in spite of cartoons in satire, a true view — real life sucks:
St. Louis Post-Dispatch editorial on home-state GOP senator: "bombastic, demagogic, self-interested… devoid of courage."https://t.co/yFJtIdRH8P

— Rachel Maddow MSNBC (@maddow) July 25, 2022
Go read the whole editorial at the St. Louis Post-Dispatch from last Friday — straight-up call for Hawley to resign.
And the bottom line: 'The entire scenario might also have value in convincing Republicans of conscience why this man doesn't deserve their continued support. Not because of a momentary image that makes him look foolish but because it provides a vivid metaphor of the kind of politics he represents: bombastic, demagogic, self-interested — but ultimately devoid of courage.'
A point tasking the entire, gosh-awful Republican party.
Laugh or smile, or maybe cry, once again here we are…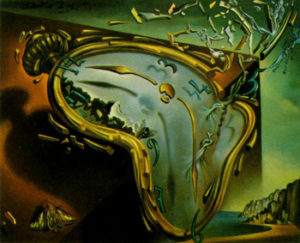 (Illustration out front: Salvador Dali's 'Soft Watch at the Moment of First Explosion,' found here.)