A major aspect of Republicans is they're slimy, lying assholes.
Even worse for such as Ron Johnson:
Ron Johnson won't testify to the Jan. 6 Committee because he only plotted to overthrow the election for "a couple seconds."

"I had virtually no involvement!" he said. "Literally, my involvement lasted seconds. OK?" pic.twitter.com/vsTZSCqkYj

— David Edwards (@DavidEdwards) August 21, 2022
Upclose details via Raw Story this morning:
Sen. Ron Johnson (R-WI) has refused to speak to the Jan. 6 Committee because his participation in a plot to overturn the 2020 presidential election only lasted "a couple seconds."

During a recent interview, WISN's Matt Smith asked Johnson if he would agree to speak to the Jan. 6 Committee.

"No, I had nothing to do with Jan. 6," Johnson said.

"If they asked you to testify, would you?" Smith wondered.

"What would they ask me to testify about?" Johnson said.

"The Republican electors," Smith noted, referring to a fake slate of electors that Johnson was asked to deliver to then-Vice President Mike Pence in an effort to steal the election from Joe Biden.

"Again, another grotesque distortion," Johnson complained. "I had nothing to do with the alternate slate. I had no idea anybody was going to ask me to deliver those. My involvement in that — that attempt to deliver spanned the course of a couple seconds."

The senator said that he "fielded three texts and sent two and talked to my chief of staff that somebody wants to deliver something."

"I knew nothing about it," he added. "In the end, those electors were not delivered because we found out from the vice president's staff they didn't want them delivered. End of story. I know that's been blown out of proportion."

"You think so," Smith remarked.

Johnson insisted that it was wrong to look at the plot to overturn the election as a "massive conspiracy."

"I had virtually no involvement!" he asserted. "Literally, my involvement lasted seconds. OK?"

Johnson initially denied having any knowledge of the alternate electors.
In late June, Johnson's bullshit lies hit the wall — from The Washington Post:
Jeffrey Mandell, a Wisconsin attorney on a lawsuit filed in May against the fake Trump electors in the state, said there remain many holes in the timeline, including who from the Trump campaign was in contact with Hitt and Jefferson and who gave the fraudulent documents to Johnson's office. Mandell pointed out that the cover page included with the alternate slate of electors sent to Washington was on official Republican Party of Wisconsin letterhead.

Mandell said that while many questions remain, the committee's implication of Johnson is confirmation of the senator's role in trying to overturn the 2020 election.

"We've known for a long time that he was an adherent of the 'big lie' and was willing to say and do anything to advance that 'big lie,' " Mandell said.
"He has continued to waffle and for the most part has continued to entertain the 'big lie' and support those conspiracy theorists. It wasn't a terrible surprise, but there is something pretty visceral about the image of Senator Johnson physically trying to get these papers to Pence in the light of day, on the Senate floor, at the key moment right before Congress started to count the votes."
Johnson is a typical T-Rump piece-of-shit. And maybe he'll be gone forever in November (per Insider yesterday):
Wisconsin Democratic Lt. Gov. Mandela Barnes has a seven-point lead over two-term Republican Sen. Ron Johnson in one of this year's marquee Senate races, according to a new poll conducted by Marquette University Law School.

The survey showed Barnes with 51 percent support among registered voters in the Badger State, while Johnson received 44 percent support; three percent of respondents were unsure of which candidate they would support in November.

Among likely voters, Barnes led Johnson 52 percent-45 percent.
Hopefully, hell go the way of all those assholes.
In due course, once again here we are…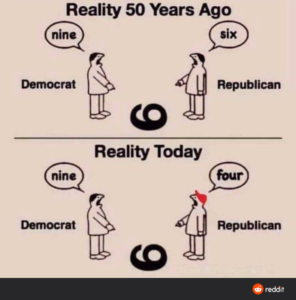 (Illustration out front found here.)