Today one of the nicest events in recent memory — Barack and Michelle Obama returned to the White House for the unveiling of their official White House portraits in a ceremony hosted by Joe and Jill Biden.
The event was fun, and touching, and a sweet reflection of good humor as the world goes to shit around us.
Once again, it was revealed Barack can be cool:
Get you someone who will still embarrass you with their love for you this long into the relationship ? https://t.co/hPSarnhHgt

— Emily L. Hauser ??? ???? ? (@emilylhauser) September 7, 2022
Barack and Michelle have always appeared to have a solid, and sexual relationship maybe displayed in just the way they moved together in public. Most White House couples are old as shit by the time they get to the Oval Office. Bill and Hillary, maybe not so much, but Bill was a 'Bubba' and wasn't that romantic of a guy anyway. GW Bush is an idiot. And WTF was T-Rump and Melania?
In his remarks today about the paintings, Barack had this to say about his wife (per The Hill):
"I want to thank [artist] Sharon Sprung for capturing everything I love about Michelle. Her grace, her intelligence, and the fact that she is fine," Obama said during the unveiling of the portraits in the East Room, prompting loud applause and claps from the audience.

"She is. Her portrait is stunning," Obama said.
Michelle later thanked him for his "spicy remarks," but really got real and candid in her short speech::
just a subtle reminder that long before trump, the conservative movement and the republican party sought to portray mrs obama as an america hating black radical. https://t.co/vxhJ2Fja5e

— Oliver Willis (@owillis) September 7, 2022
And Michelle can talk straight-up, too, within her remarks on her portrait she painted a nifty picture, getting a righteous dig at the T-Rump in the process  — via The Washington Post late this afternoon:
"I never could have imagined that any of this will be part of my story," the former first lady said during some of the most memorable remarks of Wednesday's gathering.
"But even if it's all still a bit awkward for me, I do recognize why moments like these are important, why all of this is absolutely necessary."

"Traditions like this matter not just for those of us who hold these positions, but for everyone participating in and watching our democracy," she added.

…

"The people, they make their voices heard with their vote," she said. "We hold an inauguration to ensure a peaceful transition of power. Those of us lucky enough to serve work, as Barack said, as hard as we can for as long as we can, as long as the people choose to keep us here and once our time is up, we move on. And all that remains in this hallowed place are our good efforts."

Obama, the only Black first lady in American history, spoke of the rarity of the occasion, given her relatively humble upbringing in a working-class family on the South Side of Chicago.

"For me, this day is not just about what has happened," she said.
"It's also about what could happen because a girl like me, she was never supposed to be up there next to Jacqueline Kennedy and Dolley Madison. She was never supposed to live in this house. And she definitely wasn't supposed to serve as first lady."

..

"But what we're looking at today — a portrait of a biracial kid with an unusual name and the daughter of a water pump operator and a stay-at-home mom — what we are seeing is a reminder that there's a place for everyone in this country," Obama added.
"Because as Barack said, if the two of us can end up on the walls of the most famous address in the world, then again, it is so important for every young kid who is doubting themselves to believe that they can, too."

…

"As much as some folks might want us to believe that that story has lost some of its shine, that vision and discrimination and everything else might have dimmed its light, I still know deep in my heart that what we share, as my husband continues to say, is so much bigger than what we don't," she said.

"Our democracy is so much stronger than our differences. And this little girl from the South Side is blessed beyond measure to have felt the truth of that fuller story throughout her entire life."
The enormous and dangerous problem, of course, is that the asshole T-Rump can't 'move on.' And he was such an asshole, he shunned the ceremony on Barack Obama two years ago because, as I've said, he's an asshole. And no way the T-Rump can 'move on,' not in his playbook.
And now the world can't either, despite wanting to way-badly One of the funniest, and yet in hindsight, most sad clips from an era — you can read the despair boiling off the Obamas::
"You're a creep."
Painful laugh as here we are once again…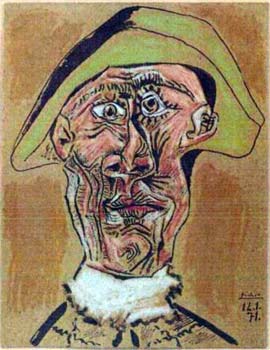 (Illustration out front, 'Tête d'Arlequin,'  by Pablo Picasso, and found here.)