Already in triple digits this near-noon Wednesday here in California's Central Valley — extremely hot outside in the sun right now, such as even a sojourn in the shade sucks. All record-breaking shit.
Supposedly 'cooler' today (forecast high of 110, so 'cooler' is way-relative or non-existent) as compared to yesterday:
Wed, 9/7/22 @ 2:00 AM PDT: All-time record high temp of 116 degrees reached at Merced yesterday (since records began in 1899)! Other locations set record high max temps, along with some record high min temps reached. https://t.co/3GzVTUAnN1 #CAwx

— NWS Hanford (@NWSHanford) September 7, 2022
Even in this, I beg to differ — my own local weather site called it at 119 degrees late yesterday afternoon. Records were broken all over the place, but maybe worse here at my location:– last night from the Merced Sun-Star, my local newspaper:
The blazing heat blistering Merced and the Central Valley climbed high enough Tuesday to break not just the Sept. 6 record, but set the all-time high for temperatures ever recorded at the Merced Yosemite Regional Airport, according to the National Weather Service.

Forecasters' predictions of a 115 degree peak proved true, soaring past the prior high of 108 degrees in 1904.
For context, Death Valley National Park, known as the hottest place on earth and driest spot in North America, clocked in at 124 degrees around the same time.

The scorching heat also ascended past the hottest recorded temperature ever for Merced. The prior all-time high of 114 degrees was measured in 1902, 1905 and 1925.
Briefly, NWS measurements recorded temperatures as extreme as 117 degrees at the Merced airport. But the heat didn't last long enough to constitute an official daytime high, according to the NWS.
And we dodged an electrical/blackout bullet last night, too:
At 8 p.m., the grid operator ended its Energy Emergency Alert (EEA) 3 with no load sheds for the night. Consumer conservation played a big part in protecting electric grid reliability. Thank you, California!

— California ISO (@California_ISO) September 7, 2022
Further from The Weather Channel this morning: 'California's power grid operator announced around 7 p.m. local time that power demand had surged to 52,061 megawatts (MW), a new all-time record. But just an hour later the agency announced that widespread rolling blackouts had been avoided in large part because of the conservation efforts of Californians.'
Plus, just to add some weird shit to the already hot-ass mix, a hurricane:
GOES 18 Satellite loop – Hurricane #Kay spins Southwest of Cabo San Lucas with maximum sustained winds of 105mph. Kay is expected to drift Northwest along the Baja Coast before weakening over cooler waters.#CAwx pic.twitter.com/V805BCErTi

— SoCal Weather Watcher (@SoCalWXwatcher) September 7, 2022
Here in the Left Coast, we're sort of used to the strange — via The Washington Post late this morning:
With much of California baking under a record-breaking September heat wave, it seems hard to believe that the weather could get any more unusual. However, as soon as Thursday, Southern California and other parts of the Southwest may contend with another extreme event.

Remnants of Hurricane Kay — the storm is currently about 200 miles southwest of Mexico's Baja California — are forecast to bring substantial rainfall and possible flooding to the region Friday and Saturday. Some areas, particularly in interior Southern California, could see multiple inches of rain.

"Confidence is rapidly increasing for a significant rainfall event across Southern California, Arizona, and eventually central California and Nevada into Saturday," the National Weather Service wrote in an online discussion Wednesday.

The heat and drought relief offered by such rain would be beneficial in this exceptionally dry region. However, there is a serious risk of flooding as runoff affects the parched terrain.

"It's never a good thing to get too much rain all at once, a trait all too common among slow-moving tropical storms," the Weather Service wrote. "Thus, the flash flood potential is summarily also rapidly increasing."

Forecasters, however, stress that there is large uncertainty in exactly how much rain will fall and where.

…

Kay's size makes it probable that the storm will, in fact, bring notable impacts to Southern California, Arizona and Nevada even though the Hurricane Center has the storm starting to bend away from the California coastline and its offshore islands Friday.

By Thursday, clouds from Kay will begin spreading into the Southwest United States, helping bring relief from the heat. "The huge cloud shield of Kay will very effectively end the ongoing heat wave across the area," the Weather Service wrote.
The heat will reportedly damper down by the weekend, but we're in the throes of a ever-acclerating climate crisis and situations similar to this will continue to happen, and will get worse as time moves along. Unless some drastic measures are taken soon, shit will get too heavy to handle.
And California is on the forefront as this particular 'heat wave' is one for the books — Daniel Swain, UCLA climatologist, noted the moment: '"This will be essentially the worst September heat wave on record, certainly in Northern California, and arguably for the state overall … It might be one of the worst heat waves on record period in any month, given its duration and its extreme magnitude … There really isn't going to be substantial relief in that part of the state until at least Friday or Saturday."'
Even as weather-related events take place on a regular basis — beyond rare, in the US this summer five instances of 1,000-year rain events occurred — and Greta Thunberg continues to speak truth to bullshit:
Seemingly just some more "blah, blah, blah."
Who else to play us out with cool:
Despite the obvious, once again here we are…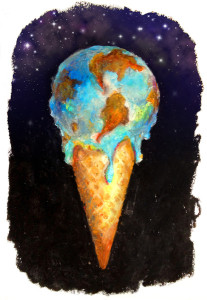 (Illustration out front found here.)