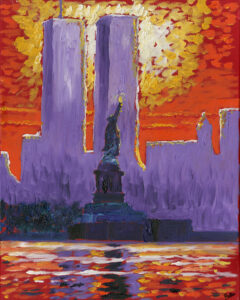 (Illustration out front: 'Twin Towers,' by Preston Sandlin, and found here.)
Another observance of one of America's more recent, most-traumatic experiences — this morning marks the 21st anniversary of the first foreign attack on the US since Pearl Harbor.
Although today's solemn and sober reminders are expressed over much of the media, the major news stories and ceremonies were published/held last year. A 20th-year event is seemingly almost always noted with more awe than a 21st. Expect another big to-do in 2026 at the 25th anniversary.
However, it's still a memorial of what happened that day, Sept. 11, 2001 — in nutshell (which I'm sure you're way-familiar with) from History.com:
On September 11, 2001, 19 militants associated with the Islamic extremist group al Qaeda hijacked four airplanes and carried out suicide attacks against targets in the United States. Two of the planes were flown into the twin towers of the World Trade Center in New York City, a third plane hit the Pentagon in Arlington, Virginia, just outside Washington, D.C., and the fourth plane crashed in a field in Shanksville, Pennsylvania. Almost 3,000 people were killed during the 9/11 terrorist attacks, which triggered major U.S. initiatives to combat terrorism and defined the presidency of George W. Bush.
Regarding that last part about GW Bush in hindsight is way an understatement. And leaves out pertinent facts, like the horror of asshole-arrogant ignorance, the death of thousands and thousands of innocent people, and created craven disasters for entire countries. Despite the actual fright of the attacks, what happened afterwards could also be considered maybe even worse.
Osama bin Laden sucker-punched the US, made us really fuck up and do what his airliners-into-skyscrapers plot called for: Wage an unwinnable series of wars in faraway places at the huge cost of just about everything — according to Brown University's Cost of War project (published last September), GW and his idiot crew (yes, I'm writing about you, Liz Cheney's daddy) created a 20-year supposedly War on Terror that's now cost more than $8 trillion and killed 900,00 people (a way-underestimate).
Catherine Lutz, co-director of Costs of War and a professor of international and public affairs at Brown expressed the reality: '"The war has been long and complex and horrific and unsuccessful… and the war continues in over 80 countries … The Pentagon and the U.S. military have now absorbed the great majority of the federal discretionary budget, and most people don't know that."'
Yeah we do, though, there's not much we can do about it.
My particular 9/11 story comes from the day before — Sept. 10, 2001, a Monday — and how dumb to life one can be, not letting the weirdness of what happens next be part of the conversation.
My similar — 9/11 — post from last year:
Anyway again, on this particular Monday morning, I performed a sometimes-routine of driving that eldest daughter to work — she usually took the bus, but every so often I'd drive her, especially if she overslept or something. And it was an easy trip.
Conversation on the ride that specific morning went from the mundane (details of which I don't have a clue) to her concern for her husband being in the military service. She wondered aloud about his situation, was he actually in danger, would military life be strenuous, are there any positives to him being in the Navy? All general, genuine anxiety-points for any wife.

In my expert wisdom, I told her he would be fine, military service is not so bad (I served four years in the Air Force during the late 60s/early 70s), and on top of that, he's got the GI Bill — he was a computer nerd with some college credit — when he's discharged and returns to college full time.

Clincher wisdom: I told her nothing dangerous could happen to him, "Unless there's a war" — I do way-recollect those exact words. And also way-remember saying those words with a snarky-smirk on my face. Well, fuck, the world was then at near-total peace.

As it played out, maybe worse bullshit to tell your child in all of history.
And I wasn't privy like GW Bush a month earlier to the CIA's "Bin Ladin Determined to Strike in US" briefing (the 36th time so far that year the briefing related to Bin Ladin or al Qaeda, though, the first directly devoted to the likelihood of a US attack), and brushing the intel off, telling the CIA guy, '"All right. You've covered your ass, now."
Less than a month later, the actual shit hit the fan, and the WTC towers.
Despite the calendar, here we are once again…