Partly overcast with dollops of clouds mingled with sharp sunshine this late-afternoon Sunday in California's Central Valley — first time in a decent-sized while it's not unpleasant outside with temps now down in the 80s.
Although the NWS shows heavy rain all around us, the middle of the valley will most-likely not see any wet at all — my area only has a 6-percent chance — down near what's called 'The Grapevine,' today there's a 65 percent chance of rain. All diminishing residue off Hurricane Kay, downgraded Friday to a tropical storm, yet delivered a year's worth of rain in just a couple of days across the southern part of the state.
Weather isn't just a standard, soft-conversational topic anymore, it's freaking-ass weird.
War can be that way, too. As witnessed this past week in Ukraine, where a six-month-old conflict that had lately been pushed to the back burner in the news cycle, hit the top-of-the-headlines. After a marvelous, morale-booster series of counter-attacks nearly a week ago, the Ukrainian army in a so-called 'lightning advance' starting Friday and yesterday knocked the asshole Russians nearly out of the country.
And shocked the shit out of the whole Russian operation, caught the poor shitheels by utter surprise (per The Washington Post this evening):
"They just dropped rifles on the ground," Olena Matvienko said Sunday as she stood, still disoriented, in a village littered with ammo crates and torched vehicles, including a Russian tank loaded on a flatbed. The first investigators from Kharkiv had just pulled in to collect the bodies of civilians shot by Russians, some that have been lying exposed for months.

"I can't believe that we went through something like this in the 21st century," Matvienko said, tears welling.
Payback time — this in the city of Izium, a strategically important railway hub deep into eastern Ukraine:
4th Guards has had issues keeping its vehicles running since the war began. Spare parts shortage, lack of preventive maintenance, or lack of fuel maybe. Perhaps all of the above. If these tanks were running, the UA counteroffensive might not have been as successful as it was. https://t.co/uoDCPcWAls

— Henry Schlottman (@HN_Schlottman) September 11, 2022
Vlad Putin might have shit in his mess kit. Further from the Post story on the situation:
The Russian Defense Ministry's own daily briefing Sunday featured a map showing Russian forces retreating behind the Oskil river on the outskirts of the Kharkiv region — a day after the ministry confirmed its troops had left the Balakliya and Izyum area in the Kharkiv region, following a decision to "regroup."

On Sunday, Ukraine's commander in chief, Valery Zaluzhny, said Ukrainian forces had retaken more than 3,000 square kilometers (1,158 miles) of territory, a claim that could not be independently verified, adding that they were advancing to the east, south and north.

"Ukrainian forces have penetrated Russian lines to a depth of up to 70 kilometers in some places," reported the Institute for the Study of War, which closely tracks the conflict. They have captured more territory in the past five days "than Russian forces have captured in all their operations since April," its campaign assessment posted Sunday said.

The apparent collapse of the Russian forces has caused shock waves in Moscow. The leader of the Chechen republic, Ramzan Kadyrov, who sent his own fighters to Ukraine, said if there are not immediate changes in Russia's conduct of the invasion, "he would have to contact the leadership of the country to explain to them the real situation on the ground."

Evidence of the Ukrainian gains continued to emerge Sunday, with images of Ukrainian soldiers raising a flag in central Izyum, after it was abandoned by Russian forces, and similar images from other towns and villages such as Kindrashivka, Chkalovske and Velyki Komyshuvakha.
Freed residents reported most of the Russians were dumbass kids, and payback/liberation was toned with empathy:
The residents were scared of the Russians, several village residents said. But they almost pitied them in their scramble to escape the recent Ukrainian onslaught.

Half of the soldiers fled in their vehicles in the first hours of the offensive, they said. Those stranded grew desperate. Some residents overheard their radio pleas to unit commanders for someone to come get them.

"They said, 'You're on your own,' " Matvienko recounted. "They came into our houses to take clothes so the drones wouldn't see them in uniforms. They took our bicycles. Two of them pointed guns at my ex-husband until he handed them his car keys."
In the deep shit is Putin, though, he might not be aware of the shape and size of the shit — from The New York Times this morning:
As Russian forces hastily retreated in northeastern Ukraine on Saturday in one of their most embarrassing setbacks of the war, President Vladimir V. Putin was at a park in Moscow, presiding over the grand opening of a Ferris wheel.

"It's very important for people to be able to relax with friends and family," Mr. Putin intoned.

The split-screen contrast was stunning, even for some of Mr. Putin's loudest backers. And it underscored a growing rift between the Kremlin and the invasion's most fervent cheerleaders. For the cheerleaders, Russia's retreat appeared to confirm their worst fears: that senior Russian officials were so concerned with maintaining a business-as-usual atmosphere back home that they had failed to commit the necessary equipment and personnel to fight a long war against a determined enemy.

"You're throwing a billion-ruble party," one pro-Russian blogger wrote in a widely circulated post on Saturday, referring to the Putin-led celebrations in Moscow commemorating the 875th anniversary of the city's founding.
"What is wrong with you? Not at the time of such a horrible failure."
It would be good to see a revolt in the Kremlin, Putin tossed on the T-Rump pile of horror trash.
Once again, here we are…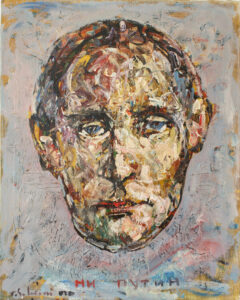 (Illustration out front: 'Vladimir Putin,' oil on canvas, by Tomislav Suhecki, and found here.)