Legal shit pertaining to the T-Rump world is always a stall-ass clusterfuck of delays.
This evening another setback in the Mar-a-Lago document affair — judge asshole again::
Judge Cannon has denied DOJ's motion for a partial stay and named Raymond J. Dearie as the special master to review privilege claims in the #MarALago documents.

On our site thanks to @hyeminjhan:https://t.co/FxFtCeYL03

— Lawfare (@lawfareblog) September 15, 2022
From the Lawfare blog this evening:
Dearie has been in federal judicial service since 1986, when he was appointed by Ronald Reagan and served as chief judge from 2007-2011. Cannon forged ahead with the appointment three days after the Justice Department signaled it would be willing to accept Dearie, one of Trump's proposed candidates, as the special master. (The Justice Department and Trump's counsel had initially submitted a joint filing with differing special master candidates.)
Cannon also rejected the DOJ's motion to continue to use those Mar-a-Lago documents in its criminal investigation of the T-Rump. Now the DOJ will have to wait for Dearie to separate the shit, if they can be separated, before taking up again.
Via The New York Times, also this evening:
In a 10-page decision, Judge Cannon, of the Federal District Court for the Southern District of Florida, declined to lift any part of an injunction she issued last week that barred the department from using any of those documents, including about 100 marked as classified, for investigative purposes until the special master had completed a review.

The Justice Department had asked the judge to partly stay that order so it could immediately resume using the 100 or so documents marked as classified in that trove, saying the freeze was endangering national security. It also threatened to go to the U.S. Court of Appeals for the 11th Circuit, in Atlanta, and seek an emergency stay if she did not agree to its proposal by Thursday.

…

In her order, Judge Cannon said she was unconvinced by the government's arguments that Mr. Trump "could not possibly have a possessory interest" in the classified materials he took to Mar-a-Lago or that he had "no plausible claim of privilege as to any of these documents."

She also noted that the government was unlikely to "suffer an irreparable injury" if its investigation into Mr. Trump's hoarding of the sensitive material was delayed by a special master's review.
One bright spot out of this shit — via The Washington Post, also late this afternoon:
Patrick Cotter, who served as a federal prosecutor in Brooklyn, said he was surprised Trump's team suggested such a smart, low-key judge.

"There wasn't much personality, and I mean that as a compliment. Ray wasn't chummy, and he wasn't a good ol' Brooklyn boy or high-falutin' guy trying to impress you," Cotter said. "He was a very matter-of-fact, down to earth judge with a minimum of pomposity. He will do a credible job, and will do it quickly."
We can only hope.
Law and order not, but here we are once again…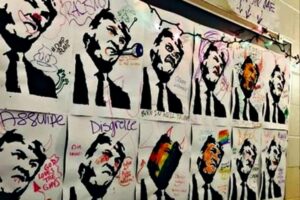 (Illustration out front is of a New York state high-school student exhibit: 'The piece was displayed during student-driven art show at Shenendehowa High School. It consisted of at least 12 identical black-and-white pictures of Donald Trump. There was also a sign above the pictures that read, "Draw on Me." Using markers from the art classroom, some students opted to scribble critical messages and profanities on the pictures' — and found here.)