Wonderful weather this near-noon Friday here in California's Central Valley, in fact, probably as good-as-it-gets around these parts — temps in the low 70s, clear with plenty of sunshine, as seemingly autumn be here a few days early.
Meanwhile, back to shitty — Republicans are becoming more-obvious in being cruel assholes:
Stop and watch this video.

Whatever you thought about the governors' stunt… it turns out it was worse.pic.twitter.com/GASpsChOzl

— John Scott-Railton (@jsrailton) September 16, 2022
And way stupid — they can't read the room, any room, just ask Lindsey Graham this week — and now Ron DeSantis, thinking like Lindsey in being a shithead, has most likely stepped into his own shit. Maybe DeSantis and his asshole people didn't fully understand the reaction to the actions and way didn't think this shit out.
In an initial response, our governor, Gavin Newsom, slapped at DeSantis via the DOJ (SFGate): "I urge the US DOJ to investigate whether the alleged fraudulent inducement would support charges of kidnapping under relevant state laws."
Aaron Blake at The Washington Post this morning examines the law — some snips:
Amid claims that some of those migrants might not have participated willingly or might have been misled, critics are raising questions about the legality of these efforts, likening them to human trafficking.

But legal experts say too little is known at this point to draw any firm conclusions.

In some cases, the migrants have said they were grateful to be transported to places where they'd get more assistance, or just closer to their final destinations. But after Abbott sent other migrants to Chicago this week, Illinois Gov. J.B. Pritzker (D) on Wednesday said state and local authorities were examining whether the effort could lead to "criminal liability." He pointedly raised the issue of whether the migrants might not have "willingly" boarded the buses, saying they appeared to have signed waivers but suggesting they might not have understood.

…

These issues have now also been raised amid DeSantis flying migrants from Texas to Martha's Vineyard. Some said a woman identified as "Perla" told them they were headed to Boston for expedited work papers. One migrant identified as Juan Ramirez told the Miami Herald they were promised work and assistance. "When we get here we find the surprise that no one knew we were coming here," Ramirez said.

Also on Thursday, immigration lawyer Rachel Self told reporters of the migrants, "We believe they are victims of kidnapping." She said the migrants were told to change their addresses with the wrong agency — United States Citizenship and Immigration Services — which she labeled an "intentional attempt to ensure the migrants were removed in absentia when they failed to change their address with the proper agency."

…

Bridgette Carr, a professor at the University of Michigan Law School who specializes in these issues, also said it was possible that a governor or those acting on their behalf might be insulated from potential violations.

"The issue here is whether there is any provision which gives immunity to government officials to move people who entered the country illegally," Carr said, noting that U.S. Border Patrol, for one, is allowed to transport such migrants. She added: "However, I would be curious if that immunity extends beyond federal officials, since immigration is generally a power the feds regulate exclusively."

Sarah Sherman-Stokes, who teaches immigration law at Boston University School of Law and is in touch with advocates on the ground in Massachusetts, said, "It's possible that this [statute] fits."

"I think there are some questions about whether DeSantis is acting in his capacity as an elected official or personally," she said, calling the process of transporting the migrants "opaque."

…

Sherman-Stokes said, if that's the case, it would bring things "perilously close to human trafficking. But it's not clear to me, on these facts, that it's more like human trafficking or like smuggling."

She noted that human trafficking requires force, fraud or coercion and for the people to have been exploited — though it's not clear political exploitation would qualify: "Clearly, DeSantis is exploiting them for political gain, but I'm not sure that rises to the level of human trafficking."

…

Sherman-Stokes said that while much remains unknown, "This very well might be legal with a capital L." She said that doesn't change the real point, though, which is that the tactic is "pernicious" and "horrific political theater that is playing with people's lives."

Carr added: "Unfortunately, I can't think of a law that says, 'We can criminally charge you for being a jerk to vulnerable people for your own political gain.' I wish we did."
Shit-fire, Republicans sure are a pure set of legal-bending assholes.
And to appropriately play us out:
So much for the golden future, I can't even start
I've had every promise broken, there's anger in my heart
You don't know what it's like, you don't have a clue
If you did you'd find yourselves doing the same thing
You doing to me now
Assholes continue, so once again here we are…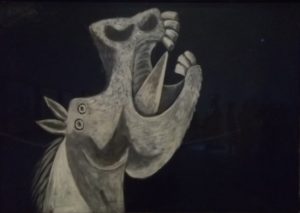 (Illustration out front: Pablo Picasso's 'Agonizing Horse,' found here)