Scrolling through the news this Friday afternoon, I came across some items of interest.
Firsr, I hate optimism when it comes to polls, but I do want to feel good:
Democrats are going into November's midterm surprisingly strong, a New York Times/Siena College poll found. President Biden's approval rating has climbed to 42%, and the number of voters who think the U.S. is on the right track has doubled but remains low. https://t.co/FqmQiLicdY pic.twitter.com/lxM7nRBOds

— The New York Times (@nytimes) September 16, 2022
Nutshell details at The New York Times this morning:
The surprising Democratic strength has been bolstered by falling gas prices and President Biden's success at breaking through legislative gridlock in Washington to pass his agenda. That shift in political momentum has helped boost, in just two months, the president's approval rating by nine percentage points and doubled the share of Americans who believe the country is on the right track.

But Democrats are also benefiting from factors over which they had little control: the public outcry in response to the Supreme Court's overturning of federal abortion rights and the return of former President Donald J. Trump to an attention-commanding presence on the national stage.

Overall, 46 percent of registered voters say they back the Democratic candidate for Congress in their district, compared with 44 percent for Republicans — a difference well within the survey's margin of error. The findings are similar to those from the last Times/Siena poll in July, when voters preferred, by just one percentage point, Democratic to Republican control of Congress.
And voters are getting way-tired of old, white men in DC:
"There's near consensus among age groups —– both the oldest and the youngest voters —– and by party on all the political leaders being too old, or that being some problem," said our senior reporter @eyokley. https://t.co/ehVdqbnjmv

— Morning Consult (@MorningConsult) September 16, 2022
Details/background on the poll via Yahoo! this morning:
Congressional term limits and medical examinations for elected leaders are among the measures garnering overwhelming support among poll respondents. Misgivings about age extend throughout the federal government, from the House of Representatives and Senate, to the presidency and courts, the survey indicated.

Such concerns transcend party politics — both Republicans and Democrats feel similarly — and age. Older respondents favor term limits even more than their younger counterparts. While majorities considered Congress out of touch on the issues as it pertains to their generation, young people felt particularly unrepresented, the poll found.

"There's near consensus among age groups —– both the oldest and the youngest voters —– and by party on all the political leaders being too old, or that being some problem," said Morning Consult senior reporter Eli Yokley.

Just 5 percent of the US Congress is under the age of 38, while nearly half the US population is, and a record-high 23% of Congress is over the age of 70, according to findings of Insider's "Red, White, and Gray" project, which explores the costs, benefits, and dangers of life in a democracy helmed by those of advanced age.
Yet why not to a huge, old Orange Turd that's cruel and shameless:
Classy pic.twitter.com/gIR8TDAnCM

— Aaron Rupar (@atrupar) September 16, 2022
And less than two weeks ago the T-Rump whined.
Today more bullshit behind the Mar-a-Lago classified documents escapade:
Trump team claimed boxes at Mar-a-Lago were only news clippings https://t.co/2OYthsl0UK

— Post Politics (@postpolitics) September 16, 2022
(WashingtonPost): Months before National Archives officials retrieved hundreds of classified documents in 15 boxes from former president Donald Trump's Mar-a-Lago Club, they were told that none of the material was sensitive or classified and that Trump had only 12 boxes of "news clippings," according to people familiar with the conversations between Trump's team and the Archives.
Meanwhile, on the world stage, Vlad Putin is having a time:
This is kind of fun https://t.co/7lYKWuMOmg

— Molly Jong-Fast (@MollyJongFast) September 16, 2022
Putin bullshit. Earlier, he tried to act like an asshole monster, and succeeded (Mint):
Moscow, he said, was in no hurry in Ukraine. And its goals remained unchanged.

"The Kiev authorities announced that they have launched and are conducting an active counter-offensive operation. Well, let's see how it develops, how it ends up," Putin said with a grin.
Maybe Ukraine will slap that shitty smile off your shitty face.
And finish off with some Daily Show and the dastardly DeSantis:
Friday or not, here we are once again…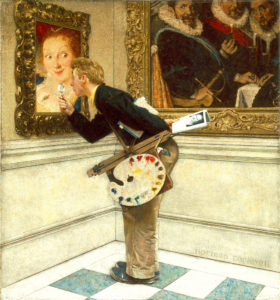 (Illustration out front: 'Art Critic' by Norman Rockwell, found here.)