Rain clouds but no rain to speak of this late afternoon Monday here in California's Central Valley — maybe we'll get some more of the wet stuff tonight and tomorrow, but so far it's been a bust for precipitation for the region.
Of course, not so everywhere — maybe ask the folks way-wet in Japan, and once again in Puerto Rico, too.
Horribly, this seems a special day for earthquakes in Mexico  — today a 7.4 along the central Pacific coast (some buildings damaged, one death so far), while on this date in 1985, an 8.1 earthquake killed at least 6,000 people in Mexico City, plus also on this date, too, in 2017, a 7.1 earthquake killed 369 people in the capital and other parts of the south and center of the country. Weather and climate are handmaidens holding court together in terror.
Anyway,  back to the shitty Republican monster mash and in the word, 'terror' — there's even worse behavior found in the Ron DeSantis/Greg Abbott migrant-pawn game of cruelty that knows no bounds — plus, there's the criminal, ugly, nasty personality of GOPers on these events:
national press is going to have egg on its face when it turns out there's a big story of a governor working with an extra-legal outside group to essentially cross country kidnap a group of migrants https://t.co/P8HtpXlrOY via @TPM

— Josh Marshall (@joshtpm) September 19, 2022
Josh Marshall at TPM late this afternoon:
The national news media seems to have lost interest entirely in the story of the Venezuelan immigrants shipped off to Martha's Vineyard as part of Gov. Ron DeSantis's reelection campaign. The meta-story of course continues to get some attention — how it plays into the midterm, who it helps or hurts as a political story, etc. But I mean what actually happened. That's unfortunate both in journalistic and political terms because even the barest look at the details we know make it very unlikely this was an official or on-the-books government operation. And yet it's one Gov. Desantis has publicly taken credit for and said was paid for with taxpayer funds from Florida.

In the absence of any national press interest the search for answers has been left to a few local news outlets and LULAC, the Latino civil rights organization. Representatives of LULAC, including national president Domingo Garcia, went to Martha's Vineyard on Friday to talk to the asylum-seekers and get more details about what happened. They were able to flesh out the story about "Perla" and her team in San Antonio. Basically all the stories matched to a T. LULAC has posted a $5,000 reward for information leading to her identification. LULAC is also canvassing this week in San Antonio trying to find out more information.

…

Judd Legum of Popular Information got a copy of a brochure the migrants were provided allegedly describing benefits available in Massachusetts, which was apparently fabricated by those behind the operation.
The brochure was given to Legum by a group called Lawyers for Civil Rights, which says it has information that can be used to identify the people in question.

There seems to be a legitimate argument that what happened broke federal laws because the individuals were induced to get on a plane and travel across state lines based on false information. What should interest us more than the specific laws is that this clearly was not a state action. It looks much more like Project Veritas-type stunt. I'm not saying Veritas was behind it. I don't think they are. But that kind of group: right-wing pranksters.
In some way, DeSantis was either coordinating with them or funding them. It's very much worth finding out which it is. You cannot look at any of this and think it was the work of government workers. Just not how those people operate. This is not to mention the fact that it still hasn't been explained how or why the state of Florida had people prowling around a refugee center in Texas looking for people who could be coaxed to get on a plane which would fly surreptitiously to Martha's Vineyard.

There's a big story here and it's no surprise that DeSantis is refusing to answer specific questions.
I hope, too, there are investigations and then prosecutions of those assholes involved, and hopefully also including DeSantis and Abbott.
These assholes are not starting from scratch, they;ve been at the terror/inhumane/shallow kill spot for a long time. The use of shitty techniques and people to make lies and bullshit real has festered even beyond the current cruelty-is-the-point posture of right now.
Yet it's still a new low, right in the sewer:
New Column: Yet another new low, signaling a new phase in right-wing hate trolling. https://t.co/RzxdpeiKVy Follow @newrepublic

— Michael Tomasky (@mtomasky) September 19, 2022
Michael Tomasky at The New Republic this morning — go read it all, this a nutshell of the entire GOPer human grift:
Republicans have hit new low after new low in recent years, really over the course of this entire century. But this is something different. This callous stunt signals a new phase. The American right has long been trying to create an alternate reality to actual reality. They've just never used suffering human beings to do it. We still need to learn more details about who Perla is and who hatched this plot. I suspect that when we do, we'll see that their motivations were born of malevolence, hatred, and — remembering that this is all about obtaining political advantage in the midterms — fear that the voters will deliver a genuinely democratic verdict against them.
However wet, here we are once again…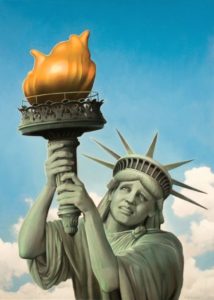 (Image out front by illustrator and portrait painter, Tim O'Brien, and can be found here)