Cool and crisp — if temps in the low 80s are considered brisk — in the outside this late-afternoon Wednesday here in California's Central Valley — now just a day shy of the autumnal equinox (6:03 pm PDT tomorrow), the local environment is fully responding in kind with some really comfortable weather.
This year is way-quickly moving right along.
I really can't believe it's this time of the year already, seems like just yesterday the beginning of 2022, like Feb 24, too, the day Russia invaded Ukraine, and the shit hit the fan. Now seven months and weeks later, the story has shifted to a tale of a dipshit behind a curtain of failure. Although there's a shitload of domestic news today — the Trump family was hit with a $250 million fraud lawsuit in New York; the House okayed reforms to the Electoral Count Act; among other assorted headliners — the chaos in Russia makes for additional fright from Vlad Putin, an asshole humiliated.
He's desperate and scrambling
From The Washington Post late this afternoon:
Within hours of President Vladimir Putin's speech declaring a partial military mobilization on Wednesday, men all over Russia — including some who had tried for months to ignore the messy war in Ukraine — suddenly found their lives thrown into chaos as they were summoned to duty.

…

Google search trends showed a spike in queries like "how to leave Russia" and even "how to break an arm at home," raising speculation some Russians were thinking of resorting to self-harm to avoid the war.
And that 'how to leave Russia' was no joke:
I believe the term is "voting with their feet." https://t.co/JQrd3MMaV0

— Fred Wellman (@FPWellman) September 21, 2022
And in the air:
— Molly Jong-Fast (@MollyJongFast) September 21, 2022
However shitty this looks, Putin is a cornered rat-asshole, and the thought of nuclear weapons being involved turns the T-ump fantasies to shit. Russia affairs correspondent Pjotr Sauer at the Guardian with details:
"This is not a bluff."

The message from Vladimir Putin's ominous morning speech, which marked the biggest escalation of the Ukraine war since the invasion on 24 February, was clear: Russia is willing to use nuclear weapons if Ukraine continues its offensive operations.

While the longtime Russian leader has previously flirted with the grim prospect of using nuclear weapons, experts say his latest statements went further, raising fears around the world of an unprecedented nuclear disaster.

Addressing the nation on Wednesday, Putin confirmed he was planning to annex four partly occupied regions of southern and eastern Ukraine after this weekend's Kremlin-orchestrated "referendums".

He added that he was prepared to use "all means" to defend the "territorial integrity" of the Russian-occupied lands and their people.

"Putin's statements go beyond the Russian nuclear doctrine, which only suggests Russian first use in a conventional war when the very existence of the state is threatened," said Andrey Baklitskiy, a senior researcher in the Weapons of Mass Destruction and other Strategic Weapons Programme at the United Nations Institute for Disarmament Research.

Ukraine, which has been making rapid military gains over the past few weeks, has stressed that it will continue its efforts to liberate occupied lands, with Ukraine's president, Volodymyr Zelenskiy, stating on Wednesday that referendums will "act step by step to liberate our country".

This means Putin's resolve will probably be tested in the coming weeks.

Baklitskiy said the concept floated by Putin of "territorial integrity" was "tricky" given that Russia was planning to absorb four Ukrainian regions, where heavy fighting is taking place.

"What would it mean if Ukraine retook the territory Russia considers its own and Putin did not use nuclear weapons in response?" Baklitskiy added.

"Coming from the person who has the sole decision-making power regarding Russian nuclear weapons, this will have to be taken seriously."
And the brute, horror of the Russian army is shits for all those conscripts.
Despite nuclear war maybe on the horizon, once again here we are…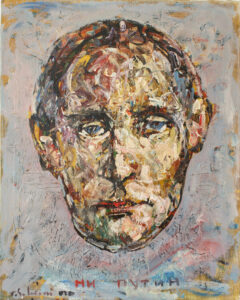 (Illustration out front: 'Vladimir Putin,' oil on canvas, by Tomislav Suhecki, and found here.)