In a seasonal move, instead of 'heat domes,' we're now into hurricanes, typhoons, and ocean warming with the climate.
Three such adventures this Saturday evening, one in the Atlantic, the other in the Caribbean, the last in the far Pacific — destruction and chaos:
Fiona smashed into Canada with by far the lowest barometric pressure ever recorded in the nation.
This is not the same earth we were born onto https://t.co/EuyhbqLYrJ

— Bill McKibben (@billmckibben) September 24, 2022
Two of my favorite climate/weather journalists Bob Henson and Jeff Masters at Yale Climate Connections this afternoon have a detailed, intense post on post-tropical cyclone Fiona's disastrous encounter last night with the Atlantic coast of Canada (after just less than a week ago exploding-destruction across Puerto Rico), and also some insight into tropic storm Ian building in the Caribbean, south of Cuba, and apparently heading for Florida.
Go read the whole piece, excellent informational insights on our present/current environmental calamity (calamities) — this on Fiona's impact:
Fiona made its first Canadian landfall between 3 and 4 a.m. EDT Saturday near tiny Hart Island, Nova Scotia, with a central pressure of 931.6 mb, according to the Canadian Hurricane Centre of Environment Canada. If confirmed, that value will smash the nation's previous all-time record for central pressure in any storm, tropical or non-tropical: 940.2 mb, which was set at St. Anthony, Newfoundland, and Labrador, on January 20, 1977. Several other reports of pressures below 940 mb have been received, making it virtually certain that the record has been broken.

Not only would 931.6 mb be a record for Canada, it may be the lowest pressure ever observed in the eastern United States and Canada from any storm, tropical or non-tropical, north of the U.S. Gulf Coast. Such a value is more on par with what one might expect in a small but intense category 4 hurricane. However, in this case of Fiona, the pressure differential across the storm – which drives the surface winds – was dispersed over an unusually broad region, so winds of tropical-storm and occasionally hurricane strength covered a vast area for hours on end.
And the latest shit on Ian:
NHC currently has Ian topping out as a category 3 hurricane with 120 mph winds on Wednesday morning near the coast of Florida. This forecast should be regarded as highly uncertain: Ian could plausibly be as weak as a category 2 hurricane, or as strong as a category 4, when it nears Florida on Wednesday.

It would not be a surprise if Ian rapidly intensifies at a greater rate than NHC is predicting: The western Caribbean is a notorious breeding ground for major hurricanes, and the 12Z Saturday run of the SHIPS model gave a 67% chance that Ian would intensify by 75 mph in 72 hours, going from a tropical storm with 45 mph winds Saturday morning to a category 3 hurricane with 120 mph winds by Tuesday morning.
Henson and Masters knew their shit, and stay on top of the shit, too — here monitoring Typhoon Noru's currently rapidly becoming a super typhoon bearing down on the Philippines:
Noru's RI of 105 mph in 24 hours is 5th-highest on record, behind Patricia (2015, NE Pacific, 120 mph); Ambali (2019, S Indian, 115 mph); Hagibis (2019, NW Pacific, 115 mph); Ernie (2017, S Indian, 110 mph), all in the last 7 years. Warmer oceans a factor. h/t to Jasper Deng. https://t.co/Akt9r5amtz

— Jeff Masters (@DrJeffMasters) September 24, 2022
Climate change and ocean storms — Michael Wehner, a senior scientist at the Lawrence Berkeley National Laboratory, notes: '"The worst storms will get worse … If you have warmer water, you'll have more evaporation, which means you have more moisture in the atmosphere, which means you can get more precipitation … Hurricane Fiona is a reminder that even though it has been relatively quiet, things can change and strong storms can have a really big impact … These storms are scientifically interesting for sure, but the human tragedy part is far more important."'
Yes, of course.
Even in extreme drought, once again here we are…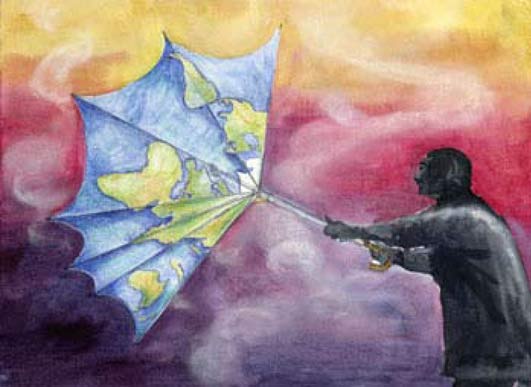 (Illustration out front from the UN's International Children's Painting Competition, and found here.)